The Magic Flute: Recycling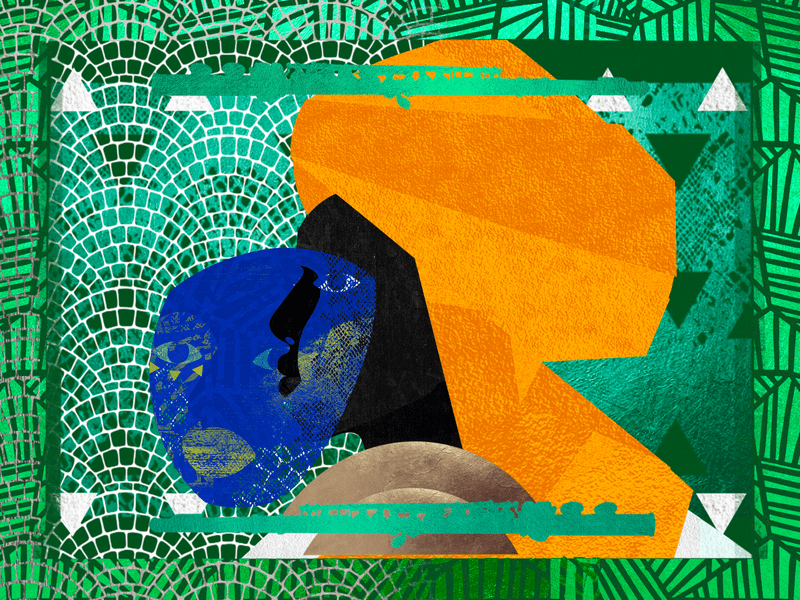 Transcript
Terrance McKnight: This is Every Voice with Terrence McKnight. It's a new podcast from WQXR that interrogates the culture of our classical music scene, and we look at ways to make it more beautiful for all of us. In this series, we're looking at representations of Blackness in opera. Now, if you've ever gone to see an opera, you know that whether it's on or off stage, you don't see an accurate representation of the world's diversity, our beautiful diversity.
Sylvia McNair: can we just get lots of different colors on the stage and cast with great diversity and stop trying to put each race in its silo. These are big issues in the opera business.
Terrance McKnight: That's Sylvia McNair, she knows first hand, her career as an opera singer spanned two decades. In this episode we're talking about Mozart's "The Magic Flute," one of the great operas of all time. And we're talking about the black man in the opera. His name is Monostatos.
"Monostatos…." (x6)
Rodell Rosel: Not a lot of people think that Monostasto's role is very sincere. Only the people who played it, but we only sympathize for Pamina? For Tamino. Oh, it's, it's great. Oh, they, he wants a wife and this and that. What about someone who just wants a friend?
Terrance McKnight: This is Rodell Rosel, he's a tenor who sings the role of Monostatos around the world.
Rodell Rosel: How do we present to it to people where someone who's born different alone wants to be part of something, part of a family. Part of a couple. Part of a group.
[CUE:MUSIC: "Every Voice Shout"]
Terrance McKnight: This is Every voice with Terrence McKnight. Many cultures. Many voices, one people.
In this episode we'll hear from other singers who've performed in the Magic Flute. One says the opera promotes healthy family values. Another says it offers important personal life lessons.
Our exploration of this topic began at Morehouse College in Atlanta. That's where I went to school, it's where I first encountered opera in a serious way.
So we're on campus right now, we're in the parking lot of the Ray Charles Performing Arts Center.
Sound of the car starting
(Terrance under)When I was in school here, and even when I [00:03:00] taught here, we didn't have this building, our music department was over there, further into campus.
Terrance McKnight: I sang in the College Glee Club. Those guys and the professors in the music department were like family for me, and still are.
Terrance McKnight: The Glee Club was the musical ambassador for the college …
Terrance McKnight: This is the fourth episode in the series and we've been talking about Monostatos as someone who was a cultural outsider who just wanted to fit in, be part of a group and wanted some human affection. That's pretty basic. That said, we're inside the Ray Charles Preforming art center now, on the campus on Morehouse. We're hoping to speak with Dr. Melvin Foster. He's one of the voice instructors…and the professor directly responsible for preparing voice majors for operatic careers.
Many of us have noticed a recent movement away from old models. Statues, literature curriculums, totems, that don't affirm one's cultural identity or cultural value. That discussion pertains to some of the operas that are considered standard in the operatic repertoire.
So we'll speak with Professor Mel Foster about the relevance of the Magic Flute and how he prepares these young black men to take on roles that may not always represent their culture in a positive light.
Terrance McKnight: So this is, it's not homecoming, but it's always homecoming for me.
Terrance McKnight: It's always emotional for me, coming back to Morehouse. Every time it gets me. It's like coming to see your family on a big holiday.
Terrance McKnight: You know, some of the corridors in the halls may be new, but they all still have the same feel as when I was here, These students in the practice rooms ..
[Terrance talking to students]
[Student: Hey man, how are you? You in Glee Club?
Student: Yes.
Terrance McKnight: Are you a second tenor?
Student: No, I'm a first tenor.
Terrance McKnight: Oh, I'm sorry.
Terrance McKnight: So we're on the second floor of the music building. I'm here with my producer of the show, David Norville.
[Terrance & Dave greeting Dr. Foster]
Terrance McKnight: For this program man, we're looking at four operas. We're looking at the role of Otello, the role of Monostatos in the Magic Flute. We're looking at Aida and we're looking at Osmin in abduction and…I'll just say, you know, my concern is that when you have these operas where there's one black character or one African character, one Moor, one representation of blackness on the stage, oftentimes that representation is something that's very akin to minstrelsy. How do you prepare your students to, to even embrace the music, man, where that becomes, like, the apex of a career?
Melvin Foster: SIGHS Yeah…So that's one of the difficult parts about teaching students to undertake a career like this.
[CUE:MUSIC: "Marsch der Priester" from Die Zauberflöt]
Melvin Foster: There's the thing of conveying to the student, cultivating the joy of singing, uh, and the power of expression. That power supersedes anything that is as superficial as skin tone.
And I'll share with you that my underlying goal, for all of them, is that because they sing the best that they can, they bring the best that they can, that they'll be able to encourage others to think more broadly and widely about what are perceived performance practices.
We're not in that time anymore. Right. Society changes and as society changes, so too must its art. Because the values of the people who are present, who are coming to that space to share in the art form. Their values are all different.
Terrance McKnight: Yeah
Melvin Foster: They've changed, they're evolved. I think it's important for the art form to evolve as well, uh, in order to remain relevant. Now that we've all gone through Black Lives Matter, uh, or are going through it, I should say. I think more and more we have more people, aside from black people or people of color who are becoming aware of what is wrong with that practice of blackface.
Terrance McKnight: The practice of blackface is on its way out … right? Well, perhaps some of the negative stereotypes will pack up too.
MUSIC: Allegro from Die Zauberflote Overture
Terrance McKnight: The story of the Magic Flute was written in 1791. It's written by the actor Emanuel Schikanede, who also managedowned a theater in Vienna. Both he and his theater were facing financial difficulties and so was Mozart, when he wrote the music that year. So these two men came together to write a comic opera and it was hugely successful. And you know what made it funny, it was the treatment of the outsider, the loner, the Black guy, Monostatos.
He was laughed at when he danced, he was laughed at for doing his job, he was laughed at when he was sent off to be bea
ten. He was the buffoon. The comic relief. Traditionally Monostatos is played by white actors in blackface makeup. Over past few decades, directors have gotten away from that practice.
Sylvia McNair: In the eight or nine different productions I sang of the Magic Flute, not once was the Monostatos as a black man, it was just not gonna be done.It was not gonna be accepted. And that's, that's good because that was not the case 50, 60, 70 years ago
Terrance McKnight: That's Sylvia McNair, whose 20 year career in opera took her around the world as Pamina, the Princess in the Magic Flute, the one who Monostatos was guarding and had feelings for. But there is that issue of the word the Black and the libretto.
Sylvia McNair: The only time I ever sang the Magic Flute in English was at the Opera Theatre of Saint Louis. Every other time I sang the piece, we did it in German. I did it in Berlin, Vienna, Salzburg, places that are, how shall I say, not known for being "woke." And every single time that line, that particular line, I actually have it right here because it's, it's a very troubling line.
The word "Black" is changed to "slave." Okay. SIGH. Not a whole lot better, but. He sings to himself. Pamina is not available to me because I'm a slave, and a slave is ugly. I never heard it sung "schwarze," or black. It was always "sklave" or slave.
Rodell Rosel: I never talk about my skin color as being Black. I had never talked. Her beauty as being white. I have played Monostatos colored green, blue in a clown kind of, uh, face something that shows them that it is ugly or not normal or weird.
Rodell Rosel: We have always substituted words appropriately. I think the only time that I have used the original was when I was still in college and it wasn't even in school. It was a outside of college, local theater. That's one of the reasons why the skin tone of "Black" is never used, because we do not wanna associate ugly or bad or weird with the Black skin tone, which I do agree with, totally agree with.
I think it just sends a different message. But the only thing that I lose, and, uh, we talk about this in books, we still have to find a way to teach people how people thought back then.
MUSIC: "Sunrise"
Rodell Rosel: So we know what the consequences are when people cancel certain books that teach history, yes, it can be offensive, but sometimes there are moments where we need to know why things are offensive now.
Terrance McKnight: Now, Rodell thinks we lose something when we don't look at things historically. I agree with him. But as long as millions of men and women still bear the brunt of racializing and racial injustice, racial profiling, then we have to make adjustments in our institutions and in our art. Beautiful vs. Ugly, good vs evil are major themes in the Magic Flute. And when the only Black guy is in the opera strikes out at birth on both accounts, evil AND ugly? Oh we got to continue to make some adjustments making the art relevant for modern audiences. That's the goal. Making the art beautiful for all of.
Dr. Foster seems to think as a whole, there's been some progress.
MUSIC: "Tito's Wisdom"
Melvin Foster: They are being more sensitive to the microaggressions that occur, uh, in, in art spaces. And that's whether it's the symphony or with ballet, um, you know, theater. People are more aware of what these miniature barbs do to people. Right, to the person who's actually saying it, And to the person who receives it. Right? Often those things are received in silence, but those barbs burrow, they burrow deep into, not into our skin, but into our psyches, and they eat at us.
Terrance McKnight: You're listening to every voice with Terrence McKnight. So glad you're here. Stick around to hear from a coupla Magic flute veterans. Stay with us.
[MIDROLL BREAK]
MUSIC: "Morehouse Glee Club"
Terrance McKnight: This is Every Voice with Terence McKnight. This singing you're hearing, this is the Morehouse College Glee Club. Most of these young men are between the ages of 17 and 21, You know, there are just over 21 million Americans in this age group got young people who have their whole lives ahead of them. And for those who get to present music or art through media and live performance, many of us agree we have a responsibility to present art and culture in a way that uplifts and inspires these young people, not creating or recreating art that intentionally mocks their person or heritage.
Things that are gonna create feelings of insecurity, or burrow into their psyches that will just fester there. Those forces are already out there, but great art is great when it's relevant and connects us to the past and present more powerfully. That's why it has to continue to evolve.
"Marsch der Priester" from Die Zauberflöte
Terrance McKnight: You know, I started this whole discussion talking about being a kid and going with my father up to the corner grocery store, not going to shop, but going to collect trash. Trying to beautify our neighborhood. but I'm thinking about this opera, and other operas, there's so much in it, and with a few changes … you know, recycling these ideas, who knows what could happen.
Bass Kevin Maynor sings the role of Sarastro in the Magic Flute. He's looked at it a lot throughout his career, and he says it a lot to offer.
Kevin Maynor: I think that Magic Flute is one of the favorite operas for building families. It's, it's a great offer to build families around because of all of the different relationships that go on in the piece.
And also, not only the sound of the music, which is utterly gorgeous, it is reflective of the struggles that we encounter today, which is um, which is the way life is. There are prejudices and there is racism and there is sexism and this piece, uh, boldly shows this.
Terrance McKnight: Here's Sylvia McNair.
Sylvia McNair: The universal truth in the Magic Flute is: become a better person. They have to go through trials: Pamina, and Tamino. We all have to go through trials. Oh my goodness. We do. But, let's make sure at the end of our lives that we have been our best selves. We have done everything we can do. We've given everything we can give to anyone who needs it. Let's make sure we've done that.
Terrance McKnight: As music lovers, presenters, and audience members, what does it look like being our best selves in support of the arts? Seems like inclusivity has a lot to do with it. We can do Mozart, and William Grant Still, we can do Anthony Davis and Puccini and T.J. Anderson and Philip Glass. But I think what's key is allocating the funding those operas in a way that's equitable. Let's just be fair about it.
You're listening to Every Voice with Terrence McKnight. It's a new podcast from W Q X R that interrogates the culture of our classical music scene and looks at ways to make it more beautiful for all of us.
In our next episode, we delve into Otello. An opera by Giuseppe Verdi. See you next time.
[CUE:MUSIC: "Every Voice Shout"]
In our next episode, we delve into Otello,
This episode of "Every Voice with Terrance McKnight" was produced by David Norville.
Our research team includesAriel Elizabeth Davis, Pranathi Diwakar, Ian George, and Jasmine Ogiste.
This episode's sound design and engineering is by Alan Goffinski.
And our original music was composed by Brother Jeremy Thomas and featured harpist Dr. Ashley Jackson.
Our project manager is Natalia Ramirez, and Tony Phillips is our executive producer. Elizabeth Nonemaker is the executive producer from WQXR Podcasts and Ed Yim is the chief content officer at WQXR.
This project is supported in part by the National Endowment for the Arts. You can find more information on the web at arts dot gov.
Special thanks to Met Archives for some invaluable research statistics.
If you enjoyed this episode, please take the time to rate and review us on Apple Podcasts, or wherever you listen.
I'm Terrance McKnight. We'll see you next time.
Harlem Cats: We listen to every Voice with Terence McKnight. Woo. Shout out to him and the crew.
Copyright © 2023 New York Public Radio. All rights reserved. Visit our website terms of use at www.wnyc.org for further information.
New York Public Radio transcripts are created on a rush deadline, often by contractors. This text may not be in its final form and may be updated or revised in the future. Accuracy and availability may vary. The authoritative record of New York Public Radio's programming is the audio record.