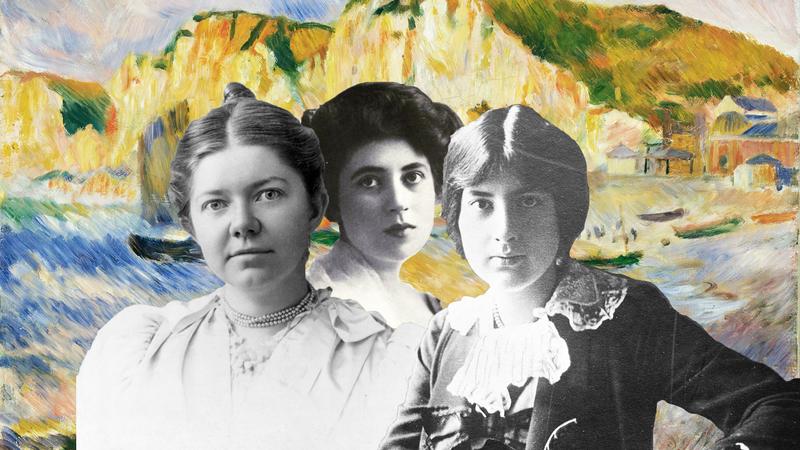 Transcript
Allison: This Her/Music;Her Story The 3 B's 2.0, and tonight we are going to talk about 3 female B's whose compositions and lives we deeply admire; Lili Boulanger, Gena Branscombe and Amy Beach.
Donna: I'm Donna Weng Friedman. I'm a pianist and I'm here today with soprano Allison Charney. 
Allison: Hi Donna. 
Donna: So before we talk about the 2.0 version maybe we should make sure everyone knows who the original three B's were. In 1854 the German composer who also wrote extensively about classical music Peter Cornelius dubbed Bach Beethoven and Berlioz, the founding fathers of classical music. Later that century the famous conductor Hans von Bulow substituted Brahms for Berlioz and the change stuck. So the three B's forever more became Bach Beethoven and Brahms. 
Allison: So when we were thinking about the lives and music of great women composers throughout the ages we wondered if we couldn't come up with our own triumvirate, a new take on the old B's.
Donna: That's right but not as in our founding matriarchs. That's just too stuffy. So basically our three B's 2.0 would be women trailblazers.
Allison: Exactly. 
Donna: Right? One of the reasons the original three B's were chosen, was because you could trace their influence one upon the other. 
Allison: Right. Not so easily however in the case of women's work since historically, women's music has been so rarely performed published and recorded. So it's really hard to be influenced by music you've never heard.
Donna: So why don't we start with Lili Boulanger who lived a tragically short life from 1893 to 1918. Boulanger was born into a very musical family. Her mother was a Russian princess, who fell in love with, and eventually married her Paris Conservatoire teacher Ernest Boulanger. Lili was born when her father was 77 years old. Her older sister, Nadia Boulanger, was a composer, conductor and as one great composer said; the most influential teacher since Socrates. When Lili was only 2 years old she experienced two life changing moments. One was when a family friend, the great composer Gabriel Faure, noticed that she had perfect pitch. And the other was when she contracted bronchial pneumonia which weakened her immune system for the rest of her life and eventually she died at the age of 24.
Allison: So Lili entered the Paris Conservatory at the age of 18 and immediately entered the Prix de Rome competition in 1912. 
Donna: Which was a prize her father had won.
Allison: And her sister had been a finalist for, she hadn't won the grand prize.
Donna: Second place. That's right.
Allison: Lili's health issues however that you're approved to be too complicated. So she had to withdraw. 
Donna: I heard that she fainted during her audition.
Allison: She made it through the very first round.
Donna: Right. 
Allison: And then that was that she just couldn't she couldn't do it. She went into seclusion. She came out and decided this was her chance. It was 1913 and she re-entered. When she made it to the final round, she really turned heads because she was in a crowd of people who were 6 to 10 years older than she and of course all of whom were male. So what happens is the finalists were all given the same text and they then had 30 days to compose both a piano score and a fully orchestrated cantata. Lili created a masterpiece that her sister the brilliant Nadia played the piano score for the Prix de Rome jury and at 19 years old Lili became the first woman in the 115 year history of the contest to win the grand prize.
Donna: Unbelievable. 
Allison: Le Monde paper called her cantata: "a work absolutely beyond compare". And they marveled at Lili Boulanger for having and I quote: "At her age such an ability, such a sense of the stage, a touching musicality turn by turn caressing and despairing rude and supple and the innate ability to see and attain exactly the right means of expression. Her cantata was the revelation of the day". Let's listen now to the dramatic finale of Lili Boulanger's history making grand prize winning cantata Faust et Helene. This is her version of the classic Faust story about the perils of making a bargain with the devil. So this text is taken from Goethe's retelling of the Faust story. Boulanger's version begins when Faust has sold his soul to Mephistopheles in return for one true moment of happiness which for him, is seeing the beautiful Helene of Troy so he can understand what true beauty is. Mephistopheles summons Helene from the grave. She is confused and frustrated that she has been woken up. She doesn't want to hear about Faust's love because she knows how many people in her lifetime had died in her name. And she doesn't want to cause that type of despair again. 
Faust et Helene by Lili Boulanger, performed by the BBC Philharmonic
Donna: Listening to that recording of Lili Boulanger's cantata it's no wonder that one of the outcomes of Boulanger's Prix de Rome win, was a contract with the great publishing house especially famous for their contribution to the operatic field, Ricordi. One of the most heartbreakingly beautiful pieces I have ever played, just happens to be the Lili Boulanger's Nocturne for Violin and Piano. And there's an arrangement for flute and piano as well. And astonishingly Lili composed it in just two days.
Allison: Here is a recording of Lili Boulanger's Nocturne played by violinist Olivier Charlier and pianist Emile Naoumoff, one of Nadia Boulanger's favorite students. 
Nocturne (for Violin and Piano) by Lili Boulanger, performed by Olivier Charlier and Emile Naoumoff
Donna: You know Alison, Lili's health is something that gets mentioned in almost every article written about her. It is a testament to her sheer force of will that she was able to compose at all. The last piece she wrote, her setting of Pie Jesu, was literally composed on her deathbed. When she could no longer use her own hands, she dictated every single note to her beloved sister Nadia to whom she dedicated the piece. Let's listen to this incredible recording of Lili Boulanger's Pie Jesu.
Pie Jesu by Lili Boulanger, performed by Olivier Charlier
Allison: That was the final piece Lili Boulanger wrote before her death. The beautiful Pie Jesu. Donna you studied with Nadia Boulanger didn't you?
Donna: Oh yes. I have to say it was such an honor and such a privilege. It was in the summer of 1978. It was Mademoiselle Boulanger. That's what she liked to be called. It was her last summer. She passed away the year after that. And I was so so thrilled I first met her when she was basically introducing herself to the new students that summer. And it was my turn to pay my respects to her. And she took my hands in her hands and she was blind at that time. And she said "these are the hands of Rubinstein". Then a week passed and then I received a hand delivered note requesting my presence at Mademoiselle Boulanger's apartment to have a piano lesson. I was so so nervous. So I went there and I was thinking what am I going to play. I'm not playing Chopin because that's Rubinstein thing. So I decide to play the Bach Chromatic Fantasy and Fugue. And when I got into her apartment there was nobody in the living room. Her attendant comes out and says "Mademoiselle is not feeling well but she would like to hear you play. So she's going to be in her bedroom on her bed and you're going to play for her out here". And I'm literally shaking. So I decided you know OK I'm going to play what I felt I did best and that was the Bach Chromatic Fantasy and Fugue I start playing and I hear a frail voice yell out and I don't understand what she was saying. So I keep playing. And then I hear again another shout out. So I stopped playing and then she starts talking to me about inner voices, harmony and color. And then I heard nothing. So I kept playing. After I finished playing her assistant comes out and thanks me so much for my time and for playing for Mademoiselle. Then I hear the voice in the back again calling her assistant and the assistant goes back inside. In about 10 minutes later she wheels out Mademoiselle. She wanted to see me before I left. She took my hands in her hands and said "Trois Morceaux", which means three things. So I left and I figured three things; inner voices, harmony and color. It wasn't until much later that I realized that was the name of the pieces by her sister Lili Boulanger and she was basically asking me to learn them. So anyway it was an extraordinary summer. Extraordinary. Now Nadia Boulanger, for those of you who may not know she actually taught some of the greatest composers who ever lived including Aaron Copeland, Virgil Thomson, and Burt Bacharach and Quincy Jones. So all I can think about is, you know Lili Boulanger died at the age of 24. One can only imagine what she could have composed had she lived to hear jazz and all that other wonderful stuff. I'd like to play for you. The second piece from Lili Boulanger's Trois Morceaux called D'un Jardin Clair, of a bright garden. 
D'un Jardin Clair from Trois Morceaux by Lili Boulanger, performed by Donna Weng Friedman (recorded live in WQXR studios). 
Allison: D'un Jardin Clair from Lili Boulanger's Trois Morceaux, performed by our own Donna Weng Friedman pianist. And before we talk about our next B, Canadian born composer Gena Branscombe. Let's take a quick break from her music her story the three B's 2.0. 
BREAK
Donna: Welcome back to her music her story. The 3 B's , 2.0 - I'm Donna Weng Friedman and I'm here with my co-host Allison Charney. 
Allison: We are now going to discuss our second B of the evening, Gena Branscombe. 
Donna: I have to admit I have never heard of Branscombe until you told me about her, and I'm really so glad you did. 
Allison: It's amazing that she isn't better known especially since she was composing until her death in 1977 in New York City. She was born in Picton Ontario in 1881 but moved to the United States in 1897 to attend the Chicago Musical College where she studied piano. She quickly realized her innate skill as a composer and actually amazingly saw her first song, For Love's Abroad in Springtime published when she was only 18. really, just incredible.
Donna: WOW. 
Allison: In 1910 she married John Ferguson Tenney, a man who was really ahead of his time. 
Donna: Oh, even ahead of this time.
Allison: Exactly.
Donna: He was a Harvard educated lawyer with a successful practice in Seattle. That is where he met Branscombe. Recognizing her potential Tenney gave up the practice of the law and took a job in his family's hat factory in New York City where he knew his wife would have the greatest opportunities. He went on to be an active participant in raising their four daughters and even became the proofreader for Branscombe's work. 
Allison: Amazing. Also amazing is that at age 40 Banscombe became a conductor, in the United States at a time when most women weren't even driving cars. She was very aware of her status as a successful woman and she worked hard to promote other women's work. In 1928 she was elected president of the Society of American Women Composers and the same year she also received the annual prize given by the League of American Pen Women for her large scale choral drama called Pilgrims of Destiny. In 1932 she received an honorary Master of Arts degree from Whitman College where she had taught earlier in her career, and I just love this quote of hers from an interview she gave in Musical America when she said: "Music is the most potent force making for spiritual liberation…". 
Donna: Just beautiful. Why don't we listen to a couple of Branscombe's pieces. First we'll listen to the squirrels party and then a memory.
The Squirrel's Party by Gena Branscombe, performed by Joanna Goldstein 
A Memory by Gena Branscombe, performed by Lansdowne Symphony Orchestra and conducted by Reuben Blundell
Donna: The Squirrel's Party and A Memory both by Gena Branscombe. In 1933 she founded the Branscombe Chorale, formerly the American Women's Association Chorale. The Branscombe Chorale performed at Penn Station and Grand Central Station. Can you imagine if today we were going during rush hour and all of a sudden we heard 60 women's voices playing, singing together in harmony. 
Allison: Live. 
Donna: How wonderful would that be?
Allison: Incredible. You know even though we chose these three B's we explain not because they were necessarily connected to each other. It turns out that Branscombe was aware of Amy Beach, who's the next B we will discuss. She programed Beach's music along with some of her own on one of those Town Hall concerts that featured all American music, and I jumped when I read this review in the World Telegram of that concert that said: "American composers living and dead had last night's program of the Branscombe Choral in Town Hall to themselves and nobody missed the three Bs for a change". 
Donna: And I can attest to the fact that we read that review after we came up with the title for tonight's episode. 
Allison: Exactly. Although Branscombe's work as a composer fell by the wayside by the 1950s when the musical inner circles of the time deemed it too old fashioned because she really had not fallen in step with the move towards atonal music, she did continue teaching and conducting for decades. Branscombe never felt any pressure to succumb to the 12 tone trend as she revered above all the beauty of a melody. We'd like to perform one of those melodies for you now. Branscombe's Serenade, a setting of a text by Robert Browning.
Serenade by Gena Branscombe, performed by Allison Charney and Donna Weng Friedman (recorded live in WQXR studios)
Allison: Serenade by Gena Branscombe performed here in the WQXR studio by the two of us. 
Donna: We were so excited to discover that our third B of our 3 B's 2.0, the prolific Amy Beach, also set the same poem by Robert Browning to music in her gorgeous song, I Send My Heart Up to Thee ,which we'd also like to perform for you- but before we get into that, an interesting fun fact about Amy Beach is that she had synesthesia. Synesthesia is when you have two senses that cross over and Amy Beach could hear colors. I think some composers could do that and she had a little color chart. The song that we're about to perform for you, I Send My Heart Up to Thee was composed in the key of Db major which on her color chart was the color violet. 
Allison: So let's make a little Violet happen here, and we're going to perform for you live in the WQXR studio Amy Beach's I Send My Heart Up to Thee.
I Send My Heart Up to Thee by Amy Beach, performed by Allison Charney and Donna Weng Friedman (recorded live in WQXR studios) 
Donna: I Send My Heart Up to Thee in the key of Violet by Amy Beach, the third B of our program tonight. Amy Beach born Amy Marcy Cheney in 1867 in New Hampshire, was a true prodigy. She had memorized 40 songs by the age of one!
Allison: You know people often ask me if their children are talented when they're 3 and they can sing a little ditty, and I always think about well Amy Beach knew 40 songs but she was one, I'm not so sure. 
Donna: She was reading by three and by the age of seven had performed her first public recitals as a pianist. In 1875 the family moved to Boston where Amy studied with the leading pianists there. She made her Boston debut in 1883 and two years later performed her first solo concert with the Boston Symphony Orchestra. She played Chopin's Concerto in F minor. In 1885, she married Henry Harris Aubrey Beach, a physician, Harvard University lecturer and amateur singer. Her husband requested that she limit her public performances. So she turned away from the piano and focused her musical energies on composing.
Allison: Beach achieved incredible success pretty quickly as a composer and in 1893 she was commissioned by the Board of Lady Managers of the World's Fair to compose a choral work, her Festival Jubilate, for the opening of the Woman's Building, which was a building at the World's Fair used to promote incredible achievements of women of the time. Later that year she and the violinist Maud Powell premiered Amy Beach's Romance for Violin and Piano Opus 23 that she wrote for and dedicated to Powell. The first performance was so wildly successful that the audience demanded an encore during which Powell's music fell off the stand. The audience was thrilled because Powell then was able to finish the piece from memory.
Donna: I've had so many page turn mess ups like that, I get it. 
Allison: Why don't we listen to Beach's Romance now.
Romance by Amy Beach, performed by Rachel Barton Pine and Matthew Hagle
Donna: That was the romance for violin and piano by Amy Beach. Beach also achieved great fame as the first American woman composer of larger scale works. Her 75 minute long mass in E flat for chorus, solo quartet, organ and orchestra was premiered by the Handel and Haydn Society in Boston in 1892. And then sadly and strangely enough not performed again for nearly a hundred years. Isn't that crazy? 
Allison: And I think that has been the plight of women composers work throughout history. 
Donna: Let's listen to this performance of just the opening Kyrie by the Stow festival orchestra and chorus. 
Kyrie from the Grand Mass in Eb by Amy Beach, performed by the Stow Festival Chorus & Orchestra 
Allison: The Kyrie from Amy Beach's Mass in Eb. In 1896 Beach hit another milestone with the composition of her Gaelic Symphony, the first symphony composed by an American woman. Composer George Whitefield Chadwick wrote a letter to Beach at the time saying that he and Horatio Parker, a fellow member of the unofficial second New England School of leading composers, had heard and liked the Gaelic Symphony and said: "I always feel a thrill of pride myself whenever I hear a fine work by any of us, and as such you will have to be counted in, whether you will or not one of the boys." The greatest compliment.
Donna: Yeah.
Allison: Not long afterward beach herself became recognized as one of the school, the Boston 6. And again, the Gaelic symphony was forgotten for decades, as we are learning women's music often was. In modern times however it has resurfaced as the world now really has begun to rediscover Amy Beach. Andrew Achenbach wrote in 2003 in Gramophone Magazine that Amy Beach's Gaelic Symphony had big heart irresistible charm and confident progress. 
Donna: Let's listen now to just the beginning of the first movement in this recording of the Detroit Symphony Orchestra.
The Gealic Symphony by Amy Beach, performed by the Detroit Symphony Orchestra
Donna: That was just the beginning of Amy Beach's incredible Gaelic Symphony. 
Allison: We'd like to thank our fabulous production team; Curtis MacDonald, Sapir Rosenblatt, Greta Rainbow, Max Fine and Mike Shobe. 
Donna: And thank you listeners for joining us. We hope you'll tune in again next week when we talk about The Rise and Fall of Cecile Chaminade 
Allison: I'm Allison Charney.
Donna: And I'm Donna Weng Friedman.
Allison: Her/Music;Her/Story is from Classical New York WQXR. As always,  we'd like to leave you with a little music. So here is the exciting ending of Amy Beach's Piano Quintet in F-sharp minor. 
Donna: See you next time.
Piano Quintet in F-sharp Minor by Amy Beach, performed by Nicholas Tavani-violin, Jisun Yang-violin, Caitlin Lynch-viola, Michael Katz-cello, John Novacek-piano
Copyright © 2019 New York Public Radio. All rights reserved. Visit our website terms of use at www.wnyc.org for further information.
New York Public Radio transcripts are created on a rush deadline, often by contractors. This text may not be in its final form and may be updated or revised in the future. Accuracy and availability may vary. The authoritative record of New York Public Radio's programming is the audio record.