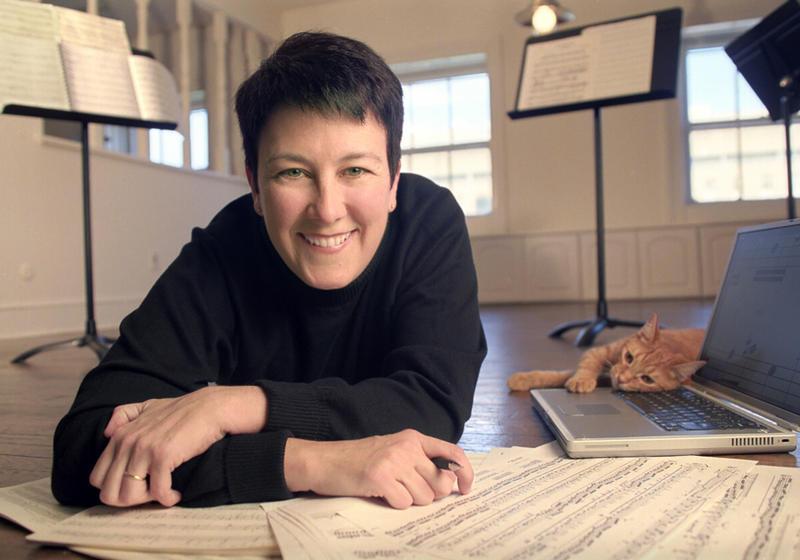 Transcript
Allison: I'm so happy to be here with you today on WQXR with our series Her/Music: Her/Story, where we shine a light on the music and lives of women composers past and present. I'm Allison Charney.
Donna: And I'm Donna Weng Friedman. And today we are especially excited to talk about Women of Our Times.


La Danza de Los Arrieros from Hilos by Gabriela Lena Frank, performed by ALIAS Chamber Ensemble


Allison: That excerpt was from Gabriela Lena Frank's La Danza de Los Arrieros, from her larger work Hilos, performed by the ALIAS Chamber Ensemble. You can hear the full piece on our website by going to WQXR.ORG/HERMUSIC.
Donna: Now I know we're here to talk about music, but I'm feeling a little patriotic today.
Allison: Alright let me guess! You're thinking about the 19th Amendment that gave women the right to vote?
Donna: That's right. And this relates to women composers of our time, because the New York Philharmonic just launched their Project 19, in celebration of the 19th Amendment. They've commissioned 19 women composers to write 19 pieces - "the single largest women only commissioning initiative in orchestral history." And one of the composers being featured is a native New Yorker Jessie Montgomery.
Allison: It turns out Jessie Montgomery is really an amazing renaissance woman who somehow manages to do many things full time. Specifically, she's a full time performing virtuosic violinist and a full-time in-demand award winning composer. She was asked about how she divides her time between playing the violin and composing music, and she humorously said "it's like a 100% and a 100%."
Donna: I think most women feel that way at some point in their lives.
Allison: Exactly.
Donna: You know I was really moved by something else Jessie Montgomery said; "I imagined that music is a meeting place, at which all people can converse about their unique differences and common stories...".
Allison: I love that. Let's go to that meeting place, and listen to Jessie Montgomery's intense piece called Strum.

Strum by Jessie Montgomery, performed by Catalyst Quartet

Donna: Strum: Music for String by Jessie Montgomery.
Allison: You know Donna, we were talking about the Philharmonic's commissioning project, but let's just explain the whole concept of commissioning. Basically, a commission is a request for a creation of a new piece of music accompanied, importantly, by funding for that piece of music. And one of the aspects of Her/Music: Her/Music that we love the most, is exactly that. We get to commission new musical compositions.
Donna: And our first commission for Her/Music: Her/Story, came together so beautifully. Right away we knew that we wanted a piece written for soprano, violin and piano. A combination of instruments that not a lot of composers have written for. And we wanted it to be a song cycle of three songs that would combine the three instruments in unusual ways.
Allison: I knew exactly who I wanted to compose the music; my dear friend, Kim D. Sherman, Many of whose works I've premiered over the years.
Donna: And I knew exactly who I wanted to write the poems for the songs; my longtime college friend, the poet, journalist and author Royce Flippin. His writing is so beautiful and very musical. But more importantly, Royce and I played in a rock band together, and the name of our band was the Tiny Studs. Need I say more?
Allison: No! (laughingly)
Donna: But I will add that our first commission, the Clara Cycle, would not even exist were it not for the support of my dear friend Ronnie Weiner whose mother was an incredible violinist.
Allison: All right why don't we perform just one of the movements from the Clara Cycle here at WQXR. Here is Composition by Kim D. Sherman, with beautiful text by Royce Flippin.


Composition from the Clara Cycle by Kim D. Sherman and Royce Flippin, performed by Allison Charney and Donna Weng Friedman (recorded live in WQXR studios)


Donna: Composition from the Clara Cycle, Her/Music: Her/Story commission by Kim D. Sherman performed by us, Donna Weng Friedman.
Allison: And I'm Allison Charney.
Donna: You know Allison for years I used to start my day by reading the paper because I found it so relaxing.
Allison: Imagine that time, things certainly have changed.
Donna: Exactly. So I've changed my routine and now I start my day by listening to music. And one morning on YouTube I found a piece for piano, violin and cello called Pale Yellow by Jennifer Higdon. The title intrigued me, and, as I listened to it, I just started to cry... uncontrollably. It's really difficult to put into words, but I was overcome with an indescribable feeling of tenderness, nostalgia and hope tinged with regret. Pale Yellow has since become part of my morning ritual.
Allison: You know apparently you're not the only one listening to Jennifer Higdon very regularly. She's a Pulitzer Prize winning composer, a two time Grammy Award winner, a recipient of Guggenheim and Pew fellowships as well as many other awards. In fact she is in such demand as a composer that she has commission contracts through the year 2024.
Donna: You know since I'm obsessed with her music, maybe one day we could commission something from her.
Allison: But only after 2024.
Donna: Well, that would be worth the wait. Anyway, I almost fainted when Jennifer Higdon agreed to chat with me recently. She is one of my musical idols, so for me it was like talking to Clara Schumann or the Beatles! But like her music, Jennifer is warm, generous and inviting. And of course, I asked her what her inspiration behind Pale Yellow was and she said: "I grew up in a family of visual artists, so sometimes my reference point is a visual description. When I played some of this for my partner, she mentioned that it sounded somewhat sad. I was truthfully still in the grieving stages of having lost a younger brother to cancer. At that moment I realized that this movement was for me an expression of tears which immediately translated to pale yellow in my head. As I thought more about it, it felt appropriate as a title..."
Allison: Why don't we listen to Higdon's poignant trio now, here is Pale Yellow performed by Theresa Bogard, John Fadial and Beth Vanderborgh.


Pale Yellow by Jennifer Higdon, performed by Theresa Bogard, John Fadial and Beth Vanderborgh


Allison: Pale Yellow, Jennifer Higdon's incredibly moving piano trio. Let's take a quick break. We'll be back with more of Her/Music: Her/Story - Women of Our Times.


BREAK


Donna: Welcome back to Her/Music: Her/Story - Women of Our Times. I'm Donna Weng Friedman.
Allison: And I'm Allison Charney.
Donna: OK. Not to change the subject but Allison, what does greed, power, lust, scandal and the masters of the universe have to do with Her/Music: Her/Story?
Allison: Let's see... The story of our careers?
Donna: Oh, I wish! Actually I was thinking more along the lines of Tom Wolfe's Bonfire of the Vanities, which was turned into an opera written by one of Her/Music: Her/Story's favorite living composers, my dear friend Stefania de Kenessey, who is with us here today. Hi Stefania.
Stefania: Hi Donna, Allison. Great to be here.
Allison: We're so glad you could stop by the studio today, Stefania. We really want to hear you tell us about your Tom Wolfe connection, and how it brought you to your opera version of Bonfire of the Vanities.
Stefania: Well, I was a composer in residence at the Bridgehampton Summer Music Festival one summer, and Tom Wolfe happened to be in the audience for the opening concert. He heard my flute concerto and was smitten with it. That led to a professional friendship between the two of us, and we started talking about ways we could possibly collaborate. So I said, why don't we write an opera together? He thought about it he called me back a couple of weeks later and said "You know I don't know a great deal about opera, and I know very little about writing a libretto, and furthermore I might be really bad at it." So when somebody says that, you take them at their word. So I asked him on the spot if he would simply give me the opera rights to the novel The Bonfire of the Vanities, and without a second's hesitation, he said "Yes, it's yours!"
Donna: Amazing! And I remember that you made several significant changes to the story.
Stefania: Yeah, there were a couple of big alterations, one of them which I suggested was to take Sherman McCoy's defense attorney, in the novel he is kind of a low rent, semi illiterate Irish male lawyer, and I turned him into a very powerful, complicated, highly educated African-American female attorney. I wanted this story to have more resonance, to have more racial character and more strength, more female voices and frankly to be updated to our times.
Allison: Fantastic. I'm curious, what did Tom Wolfe think about those types of updates?
Stefania: He loved it. He didn't blink for a second when he saw or heard any of it. And I remember at one of the rehearsals we had, he listened very intently to one of the arias from my opera that's sung by Judy McCoy, the wife of our protagonist, and it's an aria that she sings at the moment that she finds out that he's been cheating on her and everything that he stands for is a complete lie. And he not only loved the aria, but came up to me afterwards and said, " You know that was so fascinating, because when I wrote the novel I honestly wasn't really thinking about what the woman was thinking at that moment in the story."
Allison: Isn't that amazing? And really quite a compliment, because it is acknowledging limitations on his own part.
Stefania:Yeah, he was a truly great man in that regard.
Donna: Why don't Allison and I perform an aria from that very same scene that caught Tom Wolf's attention? Here is Woke Up This Morning from the opera Bonfire of the Vanities by Stefania de Kenessey.


Woke Up This Morning from the opera Bonfire of the Vanities by Stefania de Kenessey, performed by Allison Charney and Donna Weng Friedman (recorded live in WQXR studios)


Donna: Stefania, we just love performing your Aria, and we thank you for joining us here today at the WQXR studios.
Stefania: My pleasure, you know I'm a huge fan of Her/Music: Her/Story and of WQXR.
Allison: Which works out well because we are huge fans of your music and your stories.
Donna: In fact, let's listen to one of Stefania's earlier works now. Here is Bobolink from Magic Forest Dances, performed by the composer herself along with oboist William Meredith.


Bobolink from Magic Forest Dances by Stefania de Kenessey, performed by Stefania de Kenessey and William Meredith


Allison: Bobolink from Magic Forest dances by Stefania de Kenessey.
Donna: You know we celebrated Clara Schumann's birthday with our first episode a few weeks ago, and now we get to celebrate another birthday. That of trailblazing, Scottish born composer Thea Musgrave, who turns 90 this year!
Allison: Which hasn't slowed down her composing at all. In fact I was just speaking to her husband, the brilliant conductor Peter Mark, who was listing truly a dizzying number of concerts Thea had scheduled this summer alone, including a world premiere of her brand new trumpet concerto.
Donna: Given the longevity of her incredible career, isn't it amazing that Thea Musgrave started out thinking she was going to be a doctor and not a professional musician!
Allison: Exactly. Although, she did know that music would always be a part of her life, but she was studying medicine at Edinburgh University, and luckily for the world of music it turned out that the medical school was separated by quite a distance from the entire rest of the university.
Donna: Except for the music school, where Thea ended up spending all of her time.
Allison:Thea told me that she finally decided to give up and I quote her: "cutting frogs", and instead she dedicated her professional life from then on to her lifelong passion of music.
Donna: As a student of music, Thea went on to France from 1950 to 1954 to study with none other than Nadia Boulanger.
Allison: There she is again, the teacher of all great musicians. There in France when she was studying with Boulanger, she became wonderful friends with another student, who ended up being just coincidentally one of the most important teachers in my life, pianist Luise Vosgerchian. Why don't we listen to one of Thea's magnificent pieces now, that she says was inspired by the paintings of Joseph Mallord William Turner. So here is The Shipwreck, the second movement from Thea Musgrave's Turbulent Landscapes.


Turbulent Landscapes: II. The Shipwreck by Thea Musgrave, performed by the BBC Orchestra


Donna: The Shipwreck, the second movement from Thea Musgrave's Turbulent Landscapes played by the BBC Orchestra. I definitely visualized Turner's evocative paintings while I was listening. Allison, we performed Composition, the second movement from Kim D. Sherman's the Clara Cycle earlier on the show. Wasn't Kim a student of Thea Musgrave's?
Allison: Exactly. So I asked Kim about this and she said that before she worked with Thea, she thought of a melody as something that moved from one note to the next note. Thea taught her to think about melody in longer sections, in bigger musical lines or gestures. Kim felt that she really accomplished that bigger picture look at melody in her truly touching piece the Wedding Song from her longer song cycle called Song of Songs.
Donna: Interestingly, staying with one of the themes we've uncovered tonight, Kim wrote this cycle as a commission from the San Jose Chamber Orchestra, and here's a little trivia for you listeners. The San Jose Chamber Orchestra commissioned the piece as part of a gift, a wedding gift, to Allison's brother! Now this is a story we have to share.
Allison: Well, it's a story born from necessity really. I was desperately trying to come up with a wedding gift for my brother and I suddenly had an epiphany. So I asked one of my all time favorite conductors Barbara Day Turner, who is always a champion of new works, if she just happened to want to commission a new song cycle from one of my favorite composers Kim D. Sherman, and then if she would like to have me premiere that cycle with her orchestra.
Donna: And then Allison asked Kim to rush one of the pieces, and use words that would be appropriate for a sister to sing to her brother.
Allison: Which actually if you read the text of Song of Solomon from the Bible, it's hard to find appropriate text that isn't too romantic. And amazingly for me and for the sake of my having a present to give my brother, Barbara and Kim both said yes. And then just to keep things in the family, my father, actor Jordan Charney, adapted the text from Song of Solomon in both Hebrew and English to fit the occasion.
Donna: Wow, what a gift! I only wish that you and I were friends back then when I was getting married. Why don't we listen to it now.
Allison: Great.
Donna: Here is the ARK Trio performing Kim D. Sherman's the Wedding Song.


The Wedding Song by Kim D. Sherman, performed by the ARK Trio


Donna: The Wedding Song by Kim D. Sherman performed by the ARK Trio - cellist Kajsa William-Olsson, pianist Reiko Uchida, and our very own soprano, you, Allison.
Allison: You know Donna, we have time for just one more piece, and I don't know about you, but I'd like to hear a little more Higdon. We played Jennifer Higdon's colorfully titled piece Pale Yellow, earlier, and I'm struck by the use of color in the title of its companion piece Fiery Red. You remember in one of our early episodes of her music her story, the Three B's 2.0, we talked about how Amy Beach experienced synesthesia. In other words, where two of her senses crossed over, and in her case she actually felt that she heard colors.
Donna: I brought this up with Jennifer when we spoke, and she said "I don't have synesthesia, although I'm asked that quite a lot. I find it an interesting artistic question of whether we can capture visual colors and their characteristics in music. I have a feeling this became much more of an issue after my brother's passing. His middle name is Blue..."
Allison: It's amazing how openly Jennifer talks about her family. One of the things that she said that I just love is that she was the "odd one out" because she lived in a "rock and roll household", and that she only decided to go into classical music when her mother bought her a flute from a pawn shop.
Donna: Well I'm certainly glad she did. But before we play this last piece, we'd like to thank you, our listeners, for joining us.
Allison: Special thanks to our fabulous production team Curtis Macdonald, Sapir Rosenblatt, Greta Rainbow, Max Fine and Mike Shobe. Her/Music: Her/Story is from Classical New York WQXR. I'm Allison Charney.
Donna: And I'm Donna Weng Friedman. We leave you now with the electrifying and colorful Fiery Red by Jennifer Higdon.


Fiery Red by Jennifer Higdon, performed by the Lincoln Trio
Copyright © 2019 New York Public Radio. All rights reserved. Visit our website terms of use at www.wnyc.org for further information.
New York Public Radio transcripts are created on a rush deadline, often by contractors. This text may not be in its final form and may be updated or revised in the future. Accuracy and availability may vary. The authoritative record of New York Public Radio's programming is the audio record.