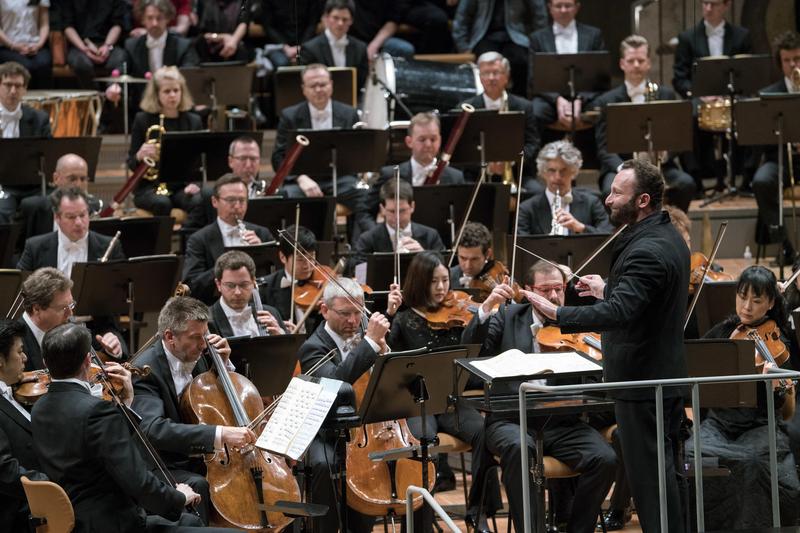 Transcript
Where to?
Carnegie Hall please.
Okay. Here are your tickets. Enjoy the show
Your tickets please? Follow me.
Jeff Spurgeon: How do you get to Carnegie Hall? Lots of people practice, but if that doesn't work for you, you can always take the subway or a taxi or a walk down 57th Street in Manhattan. And this is another way to get to one of the world's most famous concert halls. Listening here you are part of the experience of music making from Carnegie Hall Live on this program.
The Berliner Philharmoniker returns to the stage of Carnegie Hall after a six-year absence. This time with their most recently appointed chief conductor, the Russian born Kirill Petrenko who took that position with the orchestra in 2019 and on this concert, there is one work on the program, but it is a great one and a large one, Mahler's Symphony No. 7. I'm Jeff Spurgeon, backstage at Carnegie Hall alongside John Schaefer.
John Schaefer: And when you are bringing Mahler Seven, you don't really need to bring anything else. It is, as you say, Jeff, not just a large work, it calls for a huge orchestra, full of unusual colors that had not been heard in an orchestral setting before.
We can talk about that in a minute. But this is the first of a three-night visit by the Berlin Philharmonic here at Carnegie for two of the nights this night and Saturday they are playing Mahler Seven. Sandwiched in between is an evening of works by Korngold, Mozart, and the American composer Andrew Norman.
So, this is officially the Berliner Philharmoniker, but here in the States they'll answer to the Berlin Philharmonic. Founded in 1882, they have a long history as being one of the world's leading orchestras. And if you look at the list of conductors that they've worked with,
Jeff Spurgeon: it's extraordinary.
John Schaefer: Uh, just like some of the greatest from Hans von Bülow and Arthur Nikisch into the 20th century,
Jeff Spurgeon: Furtwängler and Herbert von Karajan, who has had perhaps the greatest influence on the orchestra as it is today. He's credited with the signature sound of the Berlin Philharmonic. He also was the conductor who came with the orchestra when the Berlin Philharmonic came to the United States for the first time, which was in 1955. And one of their stops on that tour was Carnegie Hall.
For more than a dozen years, they were, uh, under the, uh, uh, music directorship of Claudio Abbado, the great Italian conductor. He championed contemporary composers and expanded the orchestra's repertoire. And then after Abbado, uh, from 2002 to 2018, it was Sir Simon Rattle. So, a long list of esteem conductors in the past and in the most recent past as well.
John Schaefer: And it was under Sir Simon Rattle that they began to, uh, to put their concerts online, what they call their digital concert hall, one of the first orchestras anywhere in the world to do that. Uh, reaching a much larger audience by putting the music on this platform, the digital concert hall. Um, the Chief Conductor and artistic director nowadays is Kirill Petrenko. He's been leading the Berlin Philharmonic since 2019. He's originally from Siberia. Studied music. Moved to Austria and has spent much of his career in the opera world, including seven years with the Bayerische Staatsoper. He's also worked with the Vienna State Opera, the Paris National Opera, The Met here in New York, and you know, has conducted many of this country's great orchestras as well.
Jeff Spurgeon: He's worked with Cleveland and the Chicago Symphony and has been a champion as well of some lesser-known composers, Josef Suk and Erich Korngold, whose music the orchestra will be playing in one of their concerts on this current visit.
And John, you know, standing backstage, this is an absolutely relaxed atmosphere to me among when I think of the orchestras who've been crowded around us. Just a few feet off the stage door here at Carnegie Hall, uh, the players are around. You can hear clarinet warming up a horn once in a while or bassoon, and everybody appears pretty relaxed. It doesn't look like they're gonna go out and play about 80 minutes of some incredibly intense music of Mahler.
John Schaefer: We are expecting 80 minutes. Um, this is a piece that has turned out to be rather accordion shaped.
Jeff Spurgeon: has some elasticity in it.
John Schaefer: I, I remember an old Otto Klemperer recording of this piece. It was barely over an hour. I mean, he just raced through. And I remember seeing Klaus Tennstedt conduct this with the New York Phil. It must have been back in the eighties, and I mean, must have been over 90 minutes, so depending on the conductor, it is a piece that can change pretty dramatically in terms of timing, Tempe and things like that.
Jeff Spurgeon: All based on the interpretation. Well, Mahler's Seventh was written in the early part of the 20th century. Worked on it between 1904 and 1905. And it's a, it's a tricky one. I mean, to say that any of the Mahler symphonies does not have its own tricky patches would be incorrect. But, um, well, Petrenko has described it as enigmatic. He's talked about it difficult to find the center of
John Schaefer: Well, it, it is, uh, I mean, I, I, I personally feel that it has a very beautiful center. The second, third, and fourth movements collectively are just this wonderful, kind of evocative night music or Nachtmusik as, as Bartok called it. And I think Mahler even uses that word.
Jeff Spurgeon: That's right. Yeah.
John Schaefer: Um, but Kirill Petrenko told us that he didn't think that when Mahler first came to America, he, he, he didn't think that Mahler wanted to bring the Seventh Symphony because he didn't think Americans were ready for it.
Kirill Petrenko: Uh because Mahler said, "my humor, it's a special sort of humor. Not, not everyone can understand this." And as he was, uh, preparing his tour in America, he was asked "which symphony would you like to start with?" And maybe seven because it was right composed that, that, that period he said, "No, if I, if I go first time to America, I don't want to play the seventh symphony, cause it's, uh, difficult to understand. Let's take the fourth."
Jeff Spurgeon: Kirill Petrenko, we had a chance to speak with him. He did a, a press conference. It was part of a press conference the Berlin Philharmonic offered, uh, before this tour began. And it was, frankly, it's a rare thing to get any conversation out of Kirill Petrenko. He is not a man who does interviews, so to get any words from him was, was really quite wonderful.
John Schaefer: And, and the idea that Mahler wanted to bring his fourth symphony makes total sense. I mean, of all the Mahler symphonies, it is the most immediately accessible with the, the bells, and that that finale with the, the, the Sopranos singing about all the food in Heaven. I mean, it's, it's just a, a real crowd pleaser. The Seventh Symphony is full of mystery, and then after this kind of journey through the night, including a stop in Nightmare Land, you've got this blazing sunrise of a finish. It, it's, it just must have, it must have really, puzzled people back in 1908 or 9 in the first performance, yeah.
Jeff Spurgeon: 1908, I think. And I, but I don't get the sense though that, that if it's difficult to shape for a conductor and maybe it difficult for an audience. I don't think the sounds are unusual today. I don't think they're going to strike audiences as, as puzzling in the way that they did a hundred years ago.
John Schaefer: Well, you, you're talking about instruments that are played off stage. You're talking about instruments like the guitar and the mandolin, which-
Jeff Spurgeon: wait a minute say that again because people just went "What?"
John Schaefer: Right.
Jeff Spurgeon: In this symphony, the score calls for a guitar and mandolin, not the only time that Mahler included mandolin in his symphonies, by the way. But you will hear some unusual string sounds and you'll think that they, did they mangle a violin to get that to happen? No. It's in the score. It's a mandolin.
John Schaefer: And the point is to create this sense of a, a serenade, you know, a, a lover serenading, his betrothed from outside the window at night or some, you know, some kind of Romeo and Juliet thing was happening.
Jeff Spurgeon: Well, Leonard Bernstein, who of course championed Mahler so well, uh, had this to say about the Nachtmusik sections of the Seventh Symphony. Uh, Bernstein said these words, he said," "The minute we understand that the word Nachtmusik does not mean nocturne in the usual lyrical sense, but rather nightmare. That is night music of emotion recollected in anxiety instead of tranquility. Then we have the key to all this mixture of rhetoric, camp, and shadows." Bernstein, calling Mahler "campy." Yeah, it's really something, isn't it?
John Schaefer: All right, well, let's, let's see if we can, um, set up this mysterious Seventh Symphony for you. The first movement includes a prominent solo for what Mahler called a tenor horn. But here in America, if you were, if you were in a band in school, you would call this instrument a baritone horn. It's the same instruments, just a different way of naming. Um, then Mahler has a couple of instruments, like the violins and trumpet, especially playing in the extreme high part of their register to represent the struggle of life.
Jeff Spurgeon: The stage doors have opened here at Carnegie Hall. The bassists at least, were pretty much already on stage, but most of the rest of the orchestra is just filing on now. Uh, and, uh, this audience, as you hear is full of anticipation,
John Schaefer: a sold-out audience here at Carnegie Hall.
Jeff Spurgeon: Yeah, well, it's been a long time since the orchestra was here, and it's their first time in New York with Petrenko. Um, and the performances that this orchestra and conductor have created together have brought real excitement, very strong words from the viewers in lots and lots of places.
John Schaefer: So, we have the first movement with this tenor horn slash baritone horn. Second movement, third movement, fourth movements. These are the journey through the night. Second movement and fourth movement are marked, Nachtmusik, night music. And the fifth, the, the third movement, the middle of the arch, so to speak, is a scherzo that Mahler calls Schattenhaft, shadowy. So, this is like the realm of dreams, and they are very unsettled dreams musically speaking. Um, there's a, there's a part where Mahler has the cellos and basses playing with, it's marked with five F's,
Jeff Spurgeon: so that's fortissississimo, I think. I think we counted that right...
John Schaefer: Something like that and tells 'em to pluck the string so hard that it hits the wood. That's a direct quote. So presumably, some calluses occurring on stage.
Jeff Spurgeon: Maybe that's why the bassists are already out there. So yes, the house lights are down, the orchestra's on stage. Um, perhaps a couple of final adjustments. And as we mentioned earlier, there is no late seating for this concert. So, uh, this side of the performance may be ready to go, but they might be holding off to get a couple of people in their seats. Um, uh, who have come to see the concert. We heard that there was trouble with the elevator to the balcony, so that might have slowed things down. But at any rate, the orchestra's all on stage. The audience is pulsed, and we are ready to go.
And as if on cue the stage door opens and out walks. First Concert Master Daishin Kashimoto. The Berlin Philharmonic has two first concert masters. A little numbers game, no idea. Uh, but the other first concert master, Noah Bendix-Balgley, will be a soloist in tomorrow night's concert. Now a tuning by the Berlin Philharmonic, um, with Maestro Petrenko backstage and we'll get ready to take this amazing journey that Mahler had trouble with. He struggled in writing it, um, and actually got some help because he went out on a boat. He wrote these things in the summer because he was a full-time conductor. Um, but he was really troubled for a few weeks in the middle of the symphony and, and wrote to his wife and, and said he was ready to just give up and go home. And he thought the summer would be wasted. He wasn't gonna get a breakthrough on the symphony, but he went for a boat ride on the lake. And he said at the first stroke of the oars, I found the theme, or at least the rhythm and style of the introduction for the first movement. And within weeks everything had poured out. So, he was ready and here we are too.
John Schaefer: And he did say that it was four or five weeks to, uh, to finish this amazing piece. And then of course longer to orchestrate it. And there were some revisions. And once again, the stage door swings open, and this time it is Kirill Petrenko who strides through walking purposefully towards the center of the stage here at Carnegie Hall.
Jeff Spurgeon: Some New Yorkers know this conductor from other appearances here, but this is the first time that he has been on this stage with the orchestra whose music directorship he overtook in 2019. And now Mahler's Symphony No. 7 from the Berliner Philharmoniker and conductor Kirill Petrenko from Carnegie Hall Live.
MUSIC - Mahler: Symphony No. 7
A performance from Carnegie Hall Live. The Berliner Philharmoniker back in New York City after several years away and making their first concert appearance with their most recent chief conductor, Kirill Petrenko in a performance of the Symphony Number 7 of Gustav Mahler Backstage, I'm Jeff Spurgeon. John Schaefer's here as well.
John Schaefer: And that was, I just, uh, you could hear the audience erupting with applause as soon as the last note was played, hadn't finished ringing out here at Carnegie Hall.
Jeff Spurgeon: So much excitement.
John Schaefer: Kirill Petrenko being called back out to center stage, as you can plainly hear from the sold-out audience here at Carnegie Hall,
Jeff Spurgeon: which is on its feet.
John Schaefer: And, um, Kirill Petrenko will now start pointing out the various soloists. This may take almost as long as the piece itself.
Jeff Spurgeon: How many people are in the orchestra?
John Schaefer: It is a huge orchestra that Mahler calls for, uh, with an enormous percussion section. Including some offstage bells that took place, not three feet away from where Jeff and I are sitting. There's the onstage harp, guitar, and mandolin combo, which adds such a magical touch to that fourth movement,
Jeff Spurgeon: very special sound,
John Schaefer: and of course, the tenor horn in the first movement. And then the conventional instruments of the orchestra. The English horn and oboe have an important role to play.
Jeff Spurgeon: The contra bassoon shows up in a lot of really rich places, and this symphony is filled with these, these changes of mood and motif on a dime. It's like it's, it's almost like film score cues spliced together. That is what audiences in Mahler's day didn't get because this symphony didn't take the classical form. It didn't take the theme and rebuild it and transform it. It just kept bringing in these new ideas all over.
John Schaefer: And, and some of those new ideas are old ideas. I mean, in the, in the finale there, I mean, it almost sounded like it wanted to be Die Meistersinger, you know, the Wagner overture. And then a second later, they were about to burst into Joy to the World, and, and yet it was none of those.
Jeff Spurgeon: Right, right.
John Schaefer: Um, but, uh, just a, a remarkable weaving together of all of the things that Mahler was and was feeling. I mean, he wrote this piece during a very kind of peaceful moment in his life when, when things were going well, he was making his reputation both as a conductor and as a composer. And then three or four years later, when he finally premiered the piece, everything had changed,
Jeff Spurgeon: had fallen apart.
John Schaefer: He had lost a daughter. Um, he had basically been run outta town on a rail when the Vienna Music community turned against him. And he had been diagnosed with an incurable heart condition. So, if, if there is this kind of creative tension between the different moods of the piece. You can certainly understand how that happened.
And Mahler's music
Jeff Spurgeon: was also informed by his memories of his childhood growing up in a small town, hearing simple peasant music, and, and then had the skill to create this amazing grandeur in sound as well. And that was another thing that was perhaps confusing for audiences in his day, is there was so much of his personal life in his music. And it just, you didn't put emotion out in front in that form, in that way in music. That was something he did that had not been done before. And now the Berlin Philharmonic on its feet with Maestro Petrenko as well on stage,
John Schaefer: accepting the plaudits of a standing audience here, a standing ovation at Carnegie Hall for Kirill Petrenko and the Berlin Philharmonic.
Jeff Spurgeon: And as eager as the audience was to erupt at the end of that work, they were also completely patient and at ease in between movements. Yeah. This is an audience that came, they came for the whole thing. They came for the orchestra and the conductor and the two together, and they came to hear this symphony.
John Schaefer: And, and Petrenko took his time between movements, which is a service to the audience between movements four and five, especially because movement four has this wonderful ending. It just ends with a gently strummed guitar chord. A lovely lullaby, very rustic. And if you have nodded off during that fourth movement, you're in for a rude awakening. When the, when the timpani starts pummeling out the beginning of the fifth movement.
Jeff Spurgeon: It is a dawn that comes up like thunder for sure. And it's a really exciting moment. So, the, uh, house lights are up. This concert has concluded. Uh, and coming off stage, the members of the, uh, Berlin Philharmonic, and one of them has wandered to our microphones. We're so pleased to be able to welcome one of the Berlin Philharmonic's, uh, first concert masters, Noah Bendix-Balgley. Welcome.
Noah Bendix-Balgley: Thanks.
Jeff Spurgeon: Thank you. That was a, that what a trip you take us on. What is it like to be out there in the midst of all of that happening?
Noah Bendix-Balgley: This, this piece is really covers everything. It's, um, from the grandiose to the intimate to the absurd. So, it's really, you're right, it's a journey, um, from beginning to end. And, um, I mean, that has always been said that Mahler symphonies are the world within one piece, and I think this one particularly embodies that, that sense.
Jeff Spurgeon: Had you worked with the seventh in other, in other contexts, with other conductors, it said to be the trickiest, perhaps?
Noah Bendix-Balgley: Yeah. I mean, in my years in the Berlin Philharmonic, I, I worked with Simon Rattle. Um, we played this a lot as well, and now we've played a few times this year with Kirill Petrenko, as well. Yeah.
John Schaefer: You know, we, we have the same view of Kirill Petrenko that you do, which is, we're seeing his face, the audience in the hall is not, is he always smiling, beaming through performances? The way he is with this?
Noah Bendix-Balgley: Um, he, he completely opens up and, and, um, in the concert, I mean, when we're rehearsing, it's very serious, methodical work. Um, even like in, in our, our acoustic rehearsals before a concert like this on tour. Um, but he, he does that also so that when, when we're actually playing, then he can let go and, and do things in the moment that are inspired and be, you know, have, have a back and forth with the orchestra and be really involved in that. And, you know, you can see he's really playing the characters and dancing along. You know, sometimes I do wish that audiences could see also his facial expressions because it's so, you know, if you look at him, you just, you know exactly what he wants musically in that moment
John Schaefer: and he's swaying his hips and...
Noah Bendix-Balgley: absolutely he's having a good time.
Jeff Spurgeon: Yeah, he looks like he's really enjoying it. The, the Berlin Philharmonic has a wonderful home, um, uh, in, in Berlin, but it's a very different kind of home from Carnegie Hall. Um, and so when you come to a place like this, does it take you long to adjust? And is there a lot of work to sort of figure out how to be in this space?
Noah Bendix-Balgley: Well, I mean, that's one of the, the challenges, but one of the nice challenges of touring and of course Carnegie Hall is a hall that, that we know well, although we haven't been here in a few years. Um, so people who have played on those previous tours sort of know a little bit what they expect playing here. But yeah, there's, there's, in that acoustic rehearsal, we're all figuring out how best to adjust certain dynamics, um, balances. You know, how low dynamically can we go, or do we have to go? How loudly can we play? Um, are there certain places where we have to let certain instruments through in a texture? That's what that acoustic rehearsal is for. And it's very important because, you know, an orchestra has a sound, but also a hall is its own instrument too, and has to be played as well. And so that's, that's one of the, the challenges. But what one of the really exciting things about touring
John Schaefer: Well and when the orchestra includes a mandolin and a guitar instruments, it normally does not play with that, that sense of those balances have…
Noah Bendix-Balgley: Yeah. And some cowbells too.
John Schaefer: And some cowbells, yes. Um, as Jeff said, you are one of the first Concert Masters of the Berlin Philharmonic. Every orchestra has a concert master. The Berlin has two first concert masters. What's the distinction?
Noah Bendix-Balgley: Yeah, actually we have three first concert masters. Um, one of the positions is open at the moment, but, um, yeah, I mean we, we shared a position in all the Principals in the Berlin Philharmonic are also two solo flutes, two solo horns and such. Um, and so because of the, the size of the orchestra, and also because of the number of concerts we play every year, um, it just makes sense to have that kind of flexibility of, of having multiple principals who, who, and for example, tomorrow with a different program, you'll see many different wind and brass, um, principals who are also first principals as well. So that, that's one of the things that we, we do. And we have, you know, it requires a lot of flexibility, um, to keep our sound and, and, and character of the orchestra. But it's, we, we really like that, that flexibility and that ability to kind of, um, have different leaders that bring different things, um, and different sounds sort of in that position.
Jeff Spurgeon: And tomorrow you are a soloist in a, in, it just sounds so different from what we've heard tonight. It's the Mozart's first violin concerto, so, um, that feels like a, just a complete sea change. So, is your head ready for that? Do you have to, how do you get your game face on to move from Mahler Seven to the Mozart?
Noah Bendix-Balgley: Well, it's, yeah, you're right. It's a completely different world. I mean, we've just played this program that we're playing tomorrow, um, in Berlin a few times, um, with, with the Mozart violin Concerto and the Korngold Symphony. Um, and so we've, we've been warming that up in, in Berlin as well. But the Mozart is of course a very, very classical delicate, um, piece, a wonderful one. It's not really played that much. The first concerto has sort of been forgotten in comparison to the third, fourth, and fifth ones. But this is really a beautiful piece, a gorgeous slow movement and lots of vitality and energy in, in the quick movements as well. And it gives us a chance to kind of have a chamber orchestra size rather than the huge orchestra we have here, or that you'll see with the Korngold Symphony tomorrow.
Jeff Spurgeon: Did you have a voice in picking that?
Noah Bendix-Balgley: We talked about which one to do. I, I played a couple years ago, a different one. I played the Mozart fifth concerto with the orchestra. And as you may have noticed, uh, my Maestro Petrenko likes to do things that are a little bit, pieces that are a little bit less known, you know, great pieces that are a bit off the beaten path. And so, the Korngold Symphony is definitely one of those. And choosing the first violin concerto of Mozart rather than the, the so-called Turkish or, or the, the third one, for example, is another way to, to, to bring, to light a piece that's maybe been relegated to the sidelines. But I think unjustly so.
John Schaefer: And then, this program again on Saturday night. So, you that journey once again.
Noah Bendix-Balgley: Exactly. And it's a heavy one every time around.
Jeff Spurgeon: Which that was a question: is, is playing this piece as you're doing in two concerts, in a single stop on the tour, is Maestro Petrenko looking for one central performance or does he mix things up for the orchestra a little bit?
Noah Bendix-Balgley: Well, I mean, the, the, I think the ideal is to get to the point, um, with the piece, um, that we feel comfortable doing things a little bit differently on the spot, depending on the mood. And you sense that in, in the orchestra, that, that, you know, perhaps, you know, one night that, that the orchestras in a mood where they're, they're sort of galloping ahead, going, going, going for the victory.
And other nights you, you, you sense the orchestras in a more introspective mood maybe looking for, for a quieter sort of vision of, of things and that, that really affects how we play it. And that's this, this, uh, symbiosis, hopefully between players and between the conductor and the orchestra. So, it's, you know, I don't want to predict it too much. It's the same thing playing, you know, the concerto, the Mozart concerto that I'm playing tomorrow, we did in Berlin three times. And every night is different. And, and I don't try to make it the same.
Jeff Spurgeon: Sure. That's wonderful. Well, uh, thank you for your time tonight. We'll look forward to your performance tomorrow night. Uh, one of the Berlin Philharmonic's first Concert Masters, Noah Bendix-Balgley. Thanks for spending a little time with us.
Noah Bendix-Balgley: Thanks, it's great to talk to you.
Jeff Spurgeon: All right.
John Schaefer: And we'd also like to thank some of the other folks who made this broadcast possible. Clive Gillinson and the staff at Carnegie Hall and the WQXR engineering team, George Wellington, Chase Culpon, Irene Trudel, and Duke Markos.
The production team included Eileen Delahunty, Christine Herskovitz and Aimee Buchanan. I'm John Schaefer.
Jeff Spurgeon: I'm Jeff Spurgeon. This program is a collaboration between Carnegie Hall and WQXR in New York.
Copyright © 2022 New York Public Radio. All rights reserved. Visit our website terms of use at www.wnyc.org for further information.
New York Public Radio transcripts are created on a rush deadline, often by contractors. This text may not be in its final form and may be updated or revised in the future. Accuracy and availability may vary. The authoritative record of New York Public Radio's programming is the audio record.