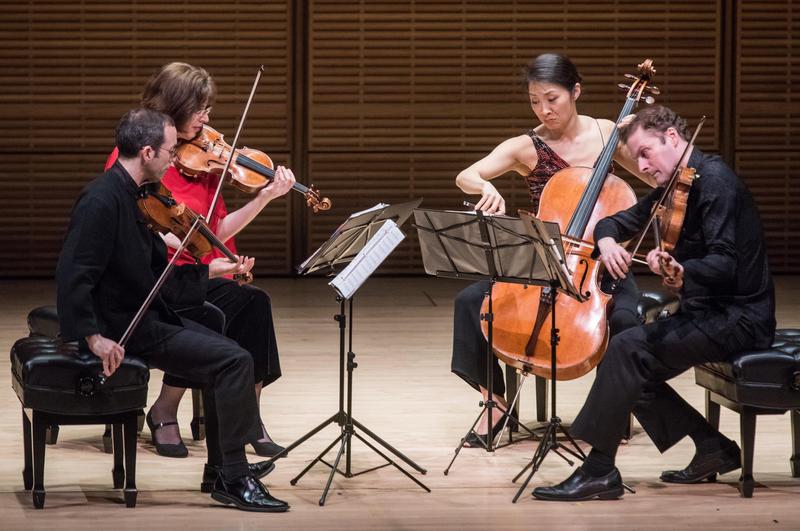 Transcript
 Where to?
Carnegie Hall please.
Okay, here are your tickets. Enjoy the show.
Tickets please.
Jeff Spurgeon: We might be below grade tonight, but the music certainly is not. We're coming to you from Carnegie Hall's subterranean venue, Zankel Hall, with a program from the Brentano String Quartet, a group that's been performing together for more than three decades. I'm Jeff Spurgeon. This is Carnegie Hall Live, and I'm joined by my cohost John Schaefer.
John Schaefer: And Jeff. It's uh, there's some great music on the concert tonight. String quartets by two of the leading composers in the form, Haydn and Bartók, and also a work by Mendelssohn, not Felix Mendelssohn, his sister Fanny, who was also a fine composer, although her career as a composer was curtailed by the sorts of expectations that a woman had in 19th century Europe. Bela Bartók, perhaps best known for his masterful weaving together of folk music and western classical music. But the program does begin tonight, fittingly with a work by Haydn.
Jeff Spurgeon: And fittingly. I presume you mean, John, because Haydn is known as the father of the string quartet. So, you might think, Haydn, I got his number. We know his stuff, exactly what to expect. But Mark Steinberg, one of the violinists in the Brentano Quartet, told us why there's always something new to be found in the works of this legendary composer.
Mark Steinberg: You know, quartets sort of start from Haydn, their genesis is in Haydn. And although I–I really hope no one ever makes me do this. If someone told me you could only play one composer for the rest of your life, I wouldn't hesitate long. I would choose Haydn. Because there's so much in there. There's so much about the flavor of how we converse, how we deal with music.
We're starting out with a Haydn quartet. And of course, there's such an astonishing number of quartets that he wrote. And, it may be tempting to think, oh, a Haydn quartet. I sort of know what a Haydn quartet is like. But when you get right into it, they each have very individual identities, and they're so full of–of possibility and meaning and beauty.
People are very fond of talking about the wit in Haydn, and that's on full display in this quartet for sure. It's sort of like Shakespeare is with punning. Like the first movement of this quartet is filled with music where endings become beginnings and endings are thrown into question and the whole way, the musical grammar is expected to function. It sort of gets turned on its head over and over and over, and it's rather delightful. It really has the feeling that we're joking around, palling around with each other, and the audience has a chance to eavesdrop on that, which is a lot of fun.
John Schaefer: That's Mark Steinberg, one of the violinists in the Brentano String Quartet. And just like he says, you can expect to hear that delight by the quartet in the piece that they'll start the concert with, uh, a piece that comes from a set of six quartets. Jeff, you referred to Haydn as the father of the string quartet. Of course, he's also known as the father of the Symphony.
Jeff Spurgeon: Right.
John Schaefer: But, uh, he wrote dozens and dozens of string quartets. And his Opus 33 is a collection of six quartets known usually as the Russian Quartets. There's nothing Russian about them, but they were written for a Russian crown prince. Um, they're also sometimes known as Gli Scherzi, the jokes.
Jeff Spurgeon: And the lightness in, in Haydn that is so prevalent in so much of his music is certainly on full display in this string quartet. So, you'll hear the little harmonic turns that are a surprise. You'll hear the little adjustments in rhythm that is sort of Haydn saying, are you listening? Are you, are you here? Um, all through the work, it's an absolute delight. And then after the Haydn, we'll hear, we'll hear another master of the form, but in a completely different style. The string quartet, number five of Bela Bartók. And, um, uh, violinist Steinberg told us a little bit about what we can expect from the second work on this program.
Mark Steinberg: The Fifth Bartók Quartet really plays around with musical elements and reinterpreting them in various ways. So, the five movements of this big and important and wonderful quartet have a lot of interrelationships between them. This piece is one of his two pieces that's in what we call an arch form. So, the first and fifth movements sort of mirror and echo each other. The second and fourth movements are variations of each other, and the central movement in this particular piece is a dance in the Bulgarian style, which has very special rhythmic flavor and is a lot of fun.
John Schaefer: Well, we'll talk a bit more about that Bela Bartók piece after we hear the Haydn, which will start the concert. That was Mark Steinberg. He is one of the two violinists in the Brentano String Quartet. The other violinist is Serena Canin. The viola is Misha Amory, and the cellist is Nina Lee. And, uh, Jeff, as he mentioned before, they have been playing music together for more than 30 years, uh, 31, to be precise.
Jeff Spurgeon: It's amazing.
John Schaefer: And. You know… It, it's been this quartet, these four musicians, and they have an almost telepathic musical communication developed at this point.
Jeff Spurgeon: After all of that time. You would certainly hope that that would happen, and now the stage door opens at Carnegie's underground space Zankel Hall, and out on stage to a very eagerly anticipating crowd. It's the Brentano String Quartet to bring you Haydn's Opus 33 Number 4. From Carnegie Hall Live.
MUSIC – Haydn: String Quartet in B-flat Major No. 4, Op. 33
Jeff Spurgeon: The delight and wit of Joseph Haydn's String Quartet in B-Flat, the Opus 33 Number 4, the opening selection on this concert that you're hearing from Carnegie Hall Live from the Brentano Spring Quartet. Backstage at Carnegie's Zankel Hall, I'm Jeff Spurgeon alongside John Schaefer.
John Schaefer: Not bad when a piece of music that's almost 250 years old can still elicit chuckles. You know, that's a joke that keeps on giving, you know, at the end you're expecting they've, they've built up the momentum with the bowed strings, and then just suddenly at the end, pizzicato to end the piece.
Jeff Spurgeon: And it just, the piece just tiptoes away. It's, it's, it is, it's the delight of Haydn for sure.
John Schaefer: Um, and that string quartet is the fourth of the six string quartets in Haydn's Opus 33. The so-called Russian quartets written for a, uh, a Russian crown du- uh, Grand Duke and Mozart would later release his set of six string quartets dedicated to Haydn, the so-called Haydn quartets. And they were modeled on these sets, on these quartets. The, the Russian quartets. I'm not sure what it is about the number six, but well before Haydn and well after Haydn pieces were often published in groups of six. So, you would have. Six string quartets in the Russian quartets. Six string quartets in the Haydn quartets of Mozart. And now the members of the Brentano String Quartet return to Zankel Hall to the stage to play a work by Bela Bartók.
Jeff Spurgeon: Not the sixth but the fifth
John Schaefer: String Quartet number five in five movements. In arch form, the first and fifth movements a matched set, the second and fourth, and that tricky Bulgarian central movement full of rhythmic complexity. Here's music from Bela Bartók played live by the Brentano String Quartet.
MUSIC – Bartók: String Quartet No. 5
Jeff Spurgeon: Music by Bela Bartók coming to you from Carnegie Hall Live, a performance by the Brentano String Quartet of Bartók's Quartet Number 5 composed in 1934. Five movement quartet. Centered by a work in Bulgarian style. Backstage at Carnegie's Zankel Hall, I'm Jeff Spurgeon alongside John Schaefer. That was a wonderfully cohesive performance. This group is obviously, they know these quartets forwards and backwards, and it was such a pleasure to hear this music, which can be complex, laid out so clearly.
John Schaefer: It, it's real, really striking in context with the other piece that we heard in this half by Haydn, because both composers are endlessly inventive. You have a sense of the music just as a kind of pell-mell, uh, you know, series of, of ideas and sounds that the, that the artist wants to get across and yeah to make all of that cohere is the mark of a, of an ensemble like the Brentano Quartet who, as we've mentioned a couple of times now, have been doing this together for three decades.
Yeah. Um, really wonderful performance and you know, like Haydn, Bartók, I mean, Jeff, you said earlier that with the Haydn string quartet, he was constantly inserting these little musical moments to find out if you were still listening. Right. The Bartók is full of those. Yeah. The little lullaby tune just before the end. The very sardonic harmonization of it. The woody sounding tremolos, the glassy sounding harmonies of the fourth movement. And yeah, those tricky Bulgarian rhythms in the central movement. Uh, just one fascinating sonic idea after another in this work by Bela Bartók, Hungarian composer who spent his last years right here in New York City and, um, while that brings us to the conclusion of the first half of this concert, it, uh, is not the last that you'll hear of Bartók because we'll, uh, explore a little bit more of his interest in, uh, east European folk music during our intermission.
Jeff Spurgeon: And in the second half we'll hear a work that was written a hundred years before the Bartók that we just heard. The only string quartet we have of Fanny Mendelssohn. This is listener supported Classical New York, 105.9 FM and HD, WQXR Newark and 90.3 FM WQXW Ossining. But now it's intermission here at Carnegie Hall, this performance by the Brentano Quartet, who just played you music of Bela Bartók.
Um, and the people in the Brentano Quartet obviously appreciate Bela Bartók's work very much. He was a great composer. But as violinist, Mark Steinberg of the Brentano Quartet told us, Bartók was a great deal more than just that.
Mark Steinberg: Bartók of course, he's really well known for being not only a great composer, great pianist, but also a rather important ethnomusicologist, and went and collected music from mostly all-over Eastern Europe, but even ventured into Northern Africa and lived in villages with people who spoke music as part of their daily lives and really got to know it. Not, not like earlier composers where they, they took some of this folk music and used it as a sort of exoticism more symbol of something, but Bartók sort of imbibed it and digested it and made it his own language and came out the other side and spoke in that language, in his own music in a really exciting way.
John Schaefer: Mark Steinberg of the Brentano String Quartet, and you know, you could easily hear that third movement marked "Alla bulgarese", in the Bulgarian style. You could easily hear that and not know that Bulgarian folk music was at the root of it. But if you do know that, it's interesting to hear how Bartók has abstracted those sounds and, and incorporated them into his own musical language.
Um, Bela Bartók's legacy as an ethnomusicologist has been much discussed, uh, deeply influenced by folk music traditions. He would travel not just in Hungary but in Romania, and quite possibly there were times he didn't know which country he was in because that border has shifted pretty dramatically over the years. Um, but right now we want to take you back to a concert from April of 2019 when the Budapest Festival Orchestra and their conductor, Iván Fischer highlighted the strength of those folk traditions in some of Bela Bartók's music. It was a really interesting thing that Fischer did with some of the members of the Budapest Festival Orchestra because they were steeped, these musicians are steeped in this tradition, and so they presented Bartók's Romanian folk dances, a work that he based on actual folk music that he heard in those song collecting trips, but instead of playing just the large scale orchestral work, uh Iván Fischer had three of the orchestra's musicians perform the folk songs that Bartók's work was based on.
John Schaefer: All right, so let's, let's hear that now. The Budapest Festival Orchestra led by Iván Fischer with Bela Bartók's Romanian Folk Dances and its source material.
MUSIC - Bartók: Romanian Folk Dances
Jeff Spurgeon: A very special experience with the Budapest Festival Orchestra on an earlier Carnegie Hall Live broadcast when Iván Fischer brought his musicians here to Carnegie Hall and then drew three of the members of the orchestra forward to play the Romanian Folk Dances of Bela Bartók. The work that you just heard, uh, played in traditional style and so István Kádár and András Szabó and Zsolt Fejérvári. Just members of the orchestra but stepped forward and put a whole different perfume in the room for a few minutes in, uh, playing those Romanian dances in the traditional style.
John Schaefer: and then the full orchestra playing the piece called Romanian Folk Dances by Bela Bartók. And it, it, you know, it reminds me a little of Aaron Copland when he would draw on American fiddle tunes. The same kind of activity at work here, you know, taking these traditional sounds.
Jeff Spurgeon: And how, the question for the orchestrator is how do you take the, the richness and the rustic energy of a work like that and then make it happen in a more refined sensibility with a whole bunch of other instruments. But still, it's a real trick. I think that Bartók really, that those insistent pulsing notes of the string section tell you of the fervency that, uh, and the energy that's in those old folk tunes.
John Schaefer: So, Bela Bartók. Not just a great composer, but also a great fan and documenter of the traditional folk music of all over Southeastern Europe. Uh, we heard the Brentano String Quartet playing his Quartet Number Five with its, its Bulgarian themed central movement. Uh, before we leave that part of Europe, and we will leave it for, uh, a string quartet by Fanny Mendelssohn in just a couple of minutes, let's listen to a live performance that, uh, the Mandolinist Avi Avital did.
He's visited our studios on a couple of occasions. And this piece is one he keeps in his back pocket for what will become very obvious reasons. Uh, this is a live performance from The Greene Space, our ground floor performance venue by Avi Avital of his arrangement of a traditional Bulgarian tune called Bucimis.
MUSIC – Bucimis
John Schaefer: Well, he's just getting going there, folks. Avi Avital and a Bulgarian tune called Bucimis. But the Brentano String Quartet are back on stage at Zankel Hall and they are about to perform the one and only string quartet by Fanny Mendelssohn, Felix's sister. A work lost for 150 years now to be performed live at Zankel Hall.
MUSIC – Fanny Mendelssohn: String Quartet in E-Flat Major
Jeff Spurgeon: A Mendelssohn string quartet from Carnegie Hall. Live from Zankel Hall, where the Brentano String Quartet has just played a Mendelssohn String Quartet. The one written by Fanny Mendelssohn. The third work on this program by the Brentano Quartet tonight. Presenting works by Haydn and Bela Bartók. And this single work by, by a woman who was prodigiously talented. She was prodigiously talented, Fanny Mendelssohn,
John Schaefer: and her brother, Felix Mendelssohn also would not publish his own music without running it by her first. And apparently, she did likewise.
Jeff Spurgeon: Yeah, they had a wonderful exchange. There were four years difference, uh, in their ages, but they were close, uh, musically. But Fanny didn't get the opportunities that Felix did because of the way the world worked in the middle of the 19th century in Germany. The Brentano Quartet taking a big and very well received bow, as you hear from this crowd of Carnegie's underground performance space. Years ago, it was a movie theater. But today it's Zankel Hall, and that is where the Brentano String Quartet has presented their program tonight, and they're back on stage.
John Schaefer: Like her brother Felix Mendelssohn, Fanny Mendelssohn, uh, Fanny Mendelssohn Hensel, to use her full name, she married a pretty well-known painter named Hensel. They both, uh, Felix and Fanny died young. Uh, both left behind this sense of unfulfilled potential, even though Felix Mendelssohn obviously wrote many works that are continued, that continue to be part of the standard repertoire, but the, you know, that, that nagging sense of what could have been…
Jeff Spurgeon: Well, and we, and we wonder that about Fanny additionally because of two things that were, that, that restricted her possibilities for being a musician. One was she was a female, and the second was that she was, she was high born. This was a high-class family. The Mendelssohn family.
John Schaefer: And it was considered beneath them to have their daughter and possibly even their son out there pedaling their wears as musicians.
Jeff Spurgeon: A little gauche, a little, it's a little gauche to be a musician, which is a wonderful transition as we welcome one of the members of the Brentano Quartet to the Carnegie Hall Live microphones. Violist Misha Amory, welcome.
Misha Amory: I'm just an in-house musician, pleased to join you.
Jeff Spurgeon: That was a wonderful performance. And the, the, the work that is, I think the trickiest on the program by far is the Bartók, but the four of you practically tossed it off. So, you've played this work for a very long time, I hope.
Misha Amory: We've played it a lot, and yet after all these years, it never quite ceases to feel like a video game when you're playing it. It's, it's definitely, it's the Think Quick Quartet by Bartók, the one which requires, uh, the, the most reflexes. It often feels to us.
Jeff Spurgeon: That thrilling middle movement, that scherzo with that, with that, that tricky rhythm, by now, you must feel it. I think that for people who have not heard the quartet a lot, the rhythm may be tough to get a feel of, but John had talked about those, those Bulgarian style rhythms and how once you're into them you can feel them, but it maybe it took a while to get to that place.
Misha Amory: It really did. It really took a while. And even now I kind of feel like one of my legs really would need to be longer than the other for, for me to completely internalize it. So even now, I still think. Four plus two plus three, four plus two plus three. You know, it's, it's, it's some strange dances they have down there, I suppose.
John Schaefer: Yeah. And, and it, you know, I having, having seen a lot of Balkan music, you know, and there, there is actually a surprisingly large and well long established Balkan music scene here in New York City. And you know, I've asked musicians and the people who are dancing, how do you get. Aren't you counting like crazy, right? And the answer is you can't be counting like crazy. If you're so busy counting, you're gonna lose your at some point…
Misha Amory: This is the catch 22. At some point you have to trust the lilt. Even if part of your brain is telling you this is impossibly complicated and you're definitely gonna drop the ball if you relax for a second. But kind of yeah, you know…
John Schaefer: Now it was, it was great that you, uh, played a work by Fanny Mendelssohn, also that you gave it pride of place by itself in the second half of the concert. And of course, you are a quartet that is named after a woman. So, for folks who don't know the derivation of the, the name Brentano ex, explain who she was.
Misha Amory: Sure, yes. So, we're named after a particular Brentano, not necessarily the most famous one, but Antonie Brentano was part of the family of Brentano's that included the philosopher and poet Clemens Brentano. He was her brother-in-law. Antonie Brentano was a, a patron and a close friend of Beethoven. Beethoven gave her piano lessons at one point on more than one occasion. The rather wealthy family supported Beethoven and gave him outright gifts of money. I think, and um, some people have advanced the theory that, that Antonie Brentano was Beethoven's mysterious, unnamed immortal, beloved, to whom he wrote a famous love confession.
Um, I don't know if that's the majority opinion at the moment, but, uh, back when we formed as a quartet, it was definitely a contender. And, and so we thought, well, if Beethoven liked her, then maybe he might like us if we name ourselves after her.
John Schaefer: And, and the rest, as they say, was history. And that was, that was some 30 years ago. And with the exception of original cellist, Michael Kannen leaving and then coming back as a sub for Nina Lee. It's been, it's been this lineup for that entire period.
Misha Amory: Yes. We've been pretty much the same. I, I guess we, um, can somehow tolerate each other. Well, it's usually the test of time, isn't it?
Jeff Spurgeon: Well, I mean the string quartet has been described as a marriage without the sex, and that's a pretty wonderful designation.
Misha Amory: I can, I can certainly say that's the case with us.
Jeff Spurgeon: Thanks. Thanks for that reassurance. Yes. An additional point of this broadcast. After 30 years of playing together, you've, what are the mountains that you have to climb as the quartet moves forward?
Misha Amory: You know, I mean, I don't know. There's always more, there's always more stuff. I mean, in a certain way what we, we now often come back to repertoire that we've played before, and we, we've by no means played the entire standard canon, but often we come back to pieces that we remember fondly from the past. And, uh, the, the big mountain that will always be climbing is reinvention, reassessment, refreshing. Uh, if we ever try to do exactly the way we played it the last time, something's off. It's never satisfying. So, you know, one's work is never done in that regard.
John Schaefer: Well, and now you're a quartet in residence at Yale University. So, if you're going through that constant process of reassessment and you know, trying to think what's the next step? Having a residency at a place like that, I, I would think is kind of helpful.
Misha Amory: It's helpful in every imaginable way. I can't begin to tell you. I mean, um, from health insurance, um, all the way to being constantly challenged by always new waves of wonderful, inspiring students and figuring out how we can be most of service to the community there, which is already such a richly cultural and varied community of which, you know, of which it's an honor to be a part. Um, there are so many sides to our life there, and we were just there yesterday as a matter of fact.
John Schaefer: Mm-hmm. And what does a quartet in residence do?
Misha Amory: We, a big part of what we do is to work with the students in chamber music. Coach them in working exactly the way we work and share like what works for us. Um, we help run the summer music school at Norfolk, uh, Norfolk, Connecticut. It's the Yale Summer School of Music, and we do intensive chamber music there.
We play a recital each semester there, and then occasionally, you know, this or that random other thing will come up, you know, whatever who's, whoever's interested in involving us in projects and, and, and so on and so forth. So, it's a wonderful collaboration for us.
John Schaefer: It's also lousy with composers up there.
Misha Amory: It sure is.
John Schaefer: So there's, there's possibilities there as well. You know, the Quartet has worked with, uh, Gabriela Lena Frank,
Misha Amory: and Martin Bresnick also who's there. Yes, yes indeed. Yeah. So it's, um, it's great. There's so many possibilities.
John Schaefer: Misha Amory is the violist of the Brentano String Quartet. They've just completed their concert here at Carnegie's Zankel Hall. Misha, uh, I for one was flashing back to the nineties and the days when we would broadcast the four of you from Chamber Music Society.
Misha Amory: Absolutely, we remember it well.
John Schaefer: So great to see you.
Misha Amory: You've been seeing us for a long time.
John Schaefer: Very long time. And you don't look at day over,
Misha Amory: aren't you nice? I don't look a the day older on the radio.
Jeff Spurgeon: That's right. That's why the radio is such a powerful and important medium.
John Schaefer: When we say the magic of radio, that's what we're talking that, that's an example.
Jeff Spurgeon: Misha Amory, violist in the Brentano String Quartet. Thanks for spending some time with us and thank you for a wonderful performance tonight.
Misha Amory: My pleasure. Thanks for having us.
Jeff Spurgeon: Thrilling to, um, hear these artists and then speak with them as well in these concerts that we bring you from Carnegie Hall. Our thanks to Clive Gillinson and the staff of Carnegie Hall. WQXR's team of Engineers includes Edward Haber, George Wellington, Chase Culpon, and Bill Siegmund.
And our production team includes Lauren Purcell-Joiner, Laura Boyman, and Aimee Buchanan. I'm Jeff Spurgeon.
John Schaefer: And I'm John Schaefer. Carnegie Hall Live is a co-production of WQXR and Carnegie Hall.
Copyright © 2022 New York Public Radio. All rights reserved. Visit our website terms of use at www.wnyc.org for further information.
New York Public Radio transcripts are created on a rush deadline, often by contractors. This text may not be in its final form and may be updated or revised in the future. Accuracy and availability may vary. The authoritative record of New York Public Radio's programming is the audio record.