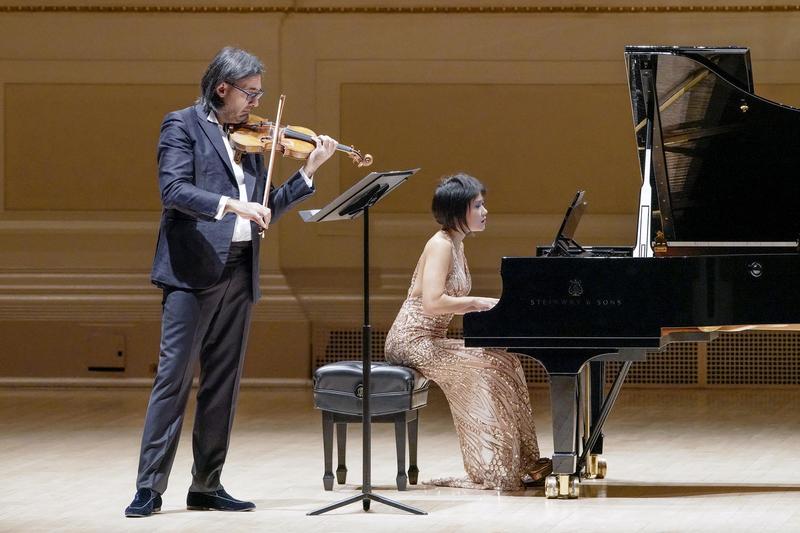 Transcript
Intro: Carnegie Hall, please.
Here are your ticket.
Jeff Spurgeon: The sounds of New York. The city that never sleeps, took an 18 month nap in the midst of the pandemic. But as we slowly rise from the slumber, live music is coming back to the city and we're thrilled to have the second of our live broadcast this season from Carnegie Hall, live. I'm Jeff Spurgeon and alongside is co-host and someone who never tires frankly, John Schaefer.
John Schaefer: Never tired of coming here to Carnegie Hall, Jeff that's for sure. You'll recall the last time we were here was an historic occasion. It was the, the grand reopening of Carnegie after the longest closure in its long and storied history. And when we were here last time, the stage was full backstage, where we are was full. We had the Philadelphia Orchestra and conductor Yannick Nézet-Séguin. Tonight, things are paired down a bit. You can almost hear the tumbleweeds blow by backstage here, only two musicians. Although I think it's fair to say that these two form a combination greater than the sum of its parts. Our featured musicians tonight are the much acclaimed violinist Leonidas Kavakos and the world renowned pianist, Yuja Wang. These two have performed together quite a few times over the years, and they've collaborated in the recording studio as well. Back in 2014, they made a CD of all the Brahms violin sonatas.
Jeff Spurgeon: Brahms not on the bill tonight, though. There are three works in this, uh, intermissionless concert. Of course you listening don't have to experience intermission at all, but, uh, but neither will the audience here at Carnegie Hall tonight. There are three pieces on this program, sonatas by Dmitri Shostakovich and Ferruccio Busoni. And to start us off, Johann Sebastian Bach's Violin Sonata no. 3, not a randomly designed program by any means both the Busoni and the Shostakovitch make direct references to Bach in their works.
Leonidas Kavakos has talked about the design of the program that you're about to hear.
Leonidas Kavakos: The recital program I have with my very dearest, Yuja. We are exploring a program which starts with Bach and then goes totally different direction. Composers of 20th century - Busoni and then goes to Shostakovich, totally different could not be more different. But who both in the works in the specifics and others we're going to play the ending in relation with Bach. Shostakovich more indirectly, but uses a passacaglia as the last moment, which is a form that is directly addressed to the time of Bach. And Busoni, who actually in the last movement of his sonata uses a barcarolle with variations. So we have this kind of projection of Bach into different eras, different areas, different sound worlds, different times.
John Schaefer: That is the violinist Leonidas Kavakos with a little bit about what's to come on the program tonight, and we'll hear more about those musical relationships throughout this program. Jeff, did you hear the birds in the background while he was talking?
Jeff Spurgeon: I, I did notice that I, well, you know, times are hard, um, in New York and a bird has got to vary his approach in order to have success. I thought maybe we just had some, some fine seagull impressionists among New York pigeons. You can get a french fry or two extra that way.
John Schaefer: I thought maybe Leonidas was, uh, moonlighting as a fishermen or something. Uh, in fact, he was in Switzerland doing a remote interview with our friends here at Carnegie Hall, because in addition to tonight's concert, Leonidas Kavakos is a Perspectives Artist here at Carnegie Hall. It was supposed to be a Perspectives Artists last season, of course, that was, there was not going to happen. Uh, so this year he will be curating a whole series of concerts at Carnegie Hall, including performances with the Boston Symphony Orchestra, Yo-Yo Ma, and Emanuel Ax. And of course tonight's program with Yuja Wang. Now Leonidas Kavakos is originally from Athens, Greece, and every year there, he hosts a violin and chamber music class which brings in musicians from all over the world. And he is recognized as one of the leading violinists of his generation placed with all the best orchestras and chamber ensembles.
And in recent years, he started conducting as well. And he's led some powerhouse orchestras like the London Symphony and the New York Philharmonic and the Dallas and Houston symphonies.
Jeff Spurgeon: His partner tonight is pianist Yuja Wang. Part of our opening night concert as well was Yuja Wang with the Philadelphia Orchestra. She played the piano concerto, number two by Shostakovitch. Uh, and Yuja Wang is certainly at the top of her game right now. There's a couple of decades between the two of them, so Kavakos is in his middle fifties. Uh, Yuja Wang born into a musical family in Beijing and after studying piano as a child in China, she first came to North America to Canada and went to school there. And then somebody said that she ought to go to the Curtis Institute of Music in Philadelphia. So she did where she studied with one of the great pianists and one of the great piano teachers of our time now, uh, Gary Grafman who just turned 95 a few weeks ago.
Their international breakthrough, uh, Yuja's came in 2007 when she replaced Martha Argerich as a soloist with the Boston Symphony Orchestra. And then she was named Musical America's Artist of the year in 2017. This year, right now, uh, Yuja Wang and Leonidas Kavakos are criss-crossing the United States, uh, presenting these very programs of Bach and Busoni and Shostakovich, including the one that we're hearing from Carnegie Hall tonight. Yuja talked a little bit about one of her favorite concert partners, Leonidas Kavakos.
Yuja Wang: He is what, 20 years older? And, um, he's been there, done that. You know, we go to a city, he knows where to go for great food. He has friends taking us out to see the city. So it becomes much more to life becomes much more, you know, we relaxed, but also in reaching because you, you get inspirations from everywhere.
Jeff Spurgeon: Leonidas Kavakos may be relaxed, says Yuja Wang when it comes to traveling and grabbing a bite to eat, but when it comes to practicing and performing well, listen to her, struggle to find the words, to say what she wants to say.
Yuja Wang: Leonidas is extremely, um, intensive of really high standard in everything we do. So we do rehearse. I mean, the rehearsals can go on for, for hours. I remember I was, um, something I hold against him (laughs). I was in Athens to play a concert with him because he's pretty much the God there. And then, um, I was very excited to see the city, but we ended up rehearsing from 10 to 10 in the hall.
John Schaefer: Well, we're going to give, uh, we're going to give Yuja Wang and Leonidas Kavakos a chance to put all of that rehearsing to work in their, uh, program tonight here at Carnegie Hall. The program begins with a work by Bach the violin Sonata in E Major, one of six violin sonatas that Bach wrote as a set when he was in his thirties at a time that he was the music director for Prince Leopold of Anhalt-Köthen.
Now Bach's life had its ups and downs, but this was a very happy time for him. Uh, he felt that the prince knew and loved music and it was during this time in Köthen that he wrote much of his most celebrated instrumental music, including the six violin sonatas and of course, the Brandenburg concertos.
Jeff Spurgeon: Although Bach is known primarily as a keyboard player, most famous, of course, as an organist, uh, he also could play the violin and did so quite well. His son, Carl Philip Emmanuel said his father played the violin clearly and penetratingly, which may not be the most flattering description of a violinist's technique, but it did allow Bach to lead performances from the concert master's desk, which was very much the custom in that time. And certainly Bach is at the absolute core of this program.
We're about to hear tonight from pianist Yuja Wang and violinist Leonidas Kavakos who we're now hearing I think warming up over there.
John Schaefer: Okay. Now I mentioned earlier that the two of them had made a recording of all the violin sonatas of Brahms. And although you, Jeff then piped up with, well, "Brahms isn't on the program tonight," we can give our listeners a chance to hear these two in just a moment. The "Presto Agitato" from the Brahms Violin Sonata in D minor.
Just a little bit of the "Presto Agitato" movement from the Brahms Violin Sonata in D minor. That's from a recording that these two musicians made together, Leonidas Kavakos the violinist, Yuja Wang the pianist, but now they are walking past us is as we sit here, just off stage at Carnegie Hall. And she mentioned Jeff, there is a recital hall for this exact kind of program, a violinist and a pianist here at Carnegie Hall.
Jeff Spurgeon: Yes, but it won't accommodate all the people who want to see these two artists in a recital program.
John Schaefer: In fact, we have a sold- out Carnegie Hall here tonight.
Jeff Spurgeon: Absolutely. For these artists who have performed here at Carnegie Hall before, and we're getting ready now for a program of Bach and then, uh, Busoni and Shostakovich, very interesting program. The, uh, audience is certainly ready and the stage door is about to open. There it is.
John Schaefer: And out walks Leonidas Kavakos and Yuja Wang to the big stage, the Isaac Stern stage here at Carnegie Hall to perform this recital of music that begins with the Bach Violin Sonata in E major.
Jeff Spurgeon: From Carnegie Hall you've heard violinist Leonidas Kavakos and pianist Yuja Wang play J.S. Bach's Violin Sonata in E. The catalog number 1016 for this Sonata that opens this concert of three works by three very distinctly different composers, but all of them anchored in this initial work, this Bach work. Backstage I'm Jeff Spurgeon, John Schaefer's here. And so are our artists. It's just the audience that's waiting for something to happen. The final work on the program is by Dmitri Shostakovich. And it's the newest of the works in this program as well. This particular Sonata we're about to hear was written in 1968 and David Oistrakh and, uh, Sviatoslov Richter, played it on this very stage in the very early 1970s. Was actually a piece that was written for, for Oistrakh. So by the late 1960s, Shostakovitch had a little more freedom to travel outside the Soviet Union. And so he was able to meet Benjamin Britten. And it was this at this time, that Shostakovich learned about the, the 12-tone row system.
And I'm so happy, John Schaefer, to allow you to explain to our listeners what the 12-tone row system is. That's going to be introduced as the Shostakovich sonata begins.
John Schaefer: Gee, thanks.
Jeff Spurgeon: You're welcome.
John Schaefer: So look, the 12-tone system simply means that all 12 notes of the chromatic scale are used as often as one another. So if you want to use C-sharp, that's fine, but you can't come back to C-sharp until you've used all the other 11 notes. Everything is given equal importance. There is no key, no tonality to a 12-tone piece. And you might think, well, what does that have to do with Bach, who is supposedly tying these three pieces together?
Well, in the final movement of this piece by Shostakovich, he is using a passacaglia, a kind of repeating baseline for lack of a better word, uh, which is a form that Bach used to great effect very often in his music. And so even though he's using this 12-tone system, he's using a Bach style passacaglia form.
So the content is new. The form is very much from Bach. Here's a little bit of Bach's "Passacaglia in C minor."
So you hear those repeating motifs that's that sets this up as a passacaglia by Bach the "Passacaglia in C minor", uh, Schmieder listing 582 in the catalog of Bach works and so, uh, that is the form that we'll hear in the final movement of this Shostakovitch violin sonata.
Jeff Spurgeon: And we are about to enter a, a darker mood world in this Shostakovitch sonata. So he's known for some jaunty circus tunes and some very bright splashy sounding things. You'll hear moments of that too. But there's a lot of the darker world of Shostakovich in this sonata. Onstage now, violinist Leonidas Kavakos and pianist Yuja Wang for Shostakovich's violin sonata from Carnegie Hall Live.
From Carnegie Hall Live we've just heard Leonidas Kavakos and Yuja Wang perform a violin sonata by Dmitri Shostakovich. A piece of fragmentary ideas informed by what a Carnegie Hall's annotator Harry Haskell called a "compositional toy" that Shostakovich used, the 12-tone row technique that's that, uh, appears throughout this piece. Doesn't, doesn't occupy the entire thing, but it's definitely a part of the structure.
John Schaefer: Very interesting how Shostakovitch somehow still sounds like Shostakovich while occasionally using the 12-tone row, right? Mostly in the last movement, little bit in the first movement in between the snarling sarcasm of that middle movement, vintage Shostakovich.
Jeff Spurgeon: Absolutely. Composition from 1968. And now Yuja Wang and Leonidas Kavakos are back on stage for a bow before a sold-out, sold-out and, uh, by and large, fully masked Carnegie Hall audience. Kavakos and Wang are in the middle of a tour of this program of Bach sonatas paired with works by Busoni and Shostakovich that is taking them across the country. I'm counting nine concerts in 11 days. I think that's right, including this tonight, when they played last night and a series of upcoming dates that are going to take them from New York to the middle part of the country, and then to the West Coast.
John Schaefer: And much of it, um, with programs like this one that have a connecting thread in this case, the music of Bach, the last movement of the Shostakovich, not withstanding the 12-tone row was paced on a passacaglia form that Bach was so enamored of. You can hear Leonidas Kavakos behind us. Um, he's not done playing.
Jeff Spurgeon: Nope, and Yuja Wang is telling him go out on stage. So they're concurring. But they did just finally cross the threshold onto the stage once again. And you hear how pleased the audience is at the prospect of an encore from these two great solo artists who have also in the past few years, found enormous pleasure in collaborating with each other on stage and in the recording studio as well.
John Schaefer: And Yuja Wang is taking her place back at the piano. Leonidas Kavakos at center stage and we'll have an encore from Carnegie Hall Live.
Jeff Spurgeon: An encore from Leonidas Kavakos and Yuja Wang. The final movement of a 1932 work by Igor Stravinsky for violin and piano, his duo concertante. The last movement of that work titled, Dithyramb, which is a, it's a Greek hymn and a great big choral hymn to die in Isis.
John Schaefer: And usually a little more Dionysian sounding then, then Stravinsky's, uh, interpretation of it in this piece.
Jeff Spurgeon: This was a pretty subdued salute, but still a very distinct flavor and a lovely compliment to the works that we heard earlier in the program.
John Schaefer: You know, the, uh, the Shostakovich for all its many, um, attributes has a somewhat enigmatic ending.
Jeff Spurgeon: For sure.
John Schaefer: And I guess they felt like there needed to be something for the, for the audience to hang on to at the end. And that, that Dithyramb by Stravinsky certainly is, uh, seems to be a crowd pleaser. The sold-out crowd here at Carnegie Hall.
Jeff Spurgeon: And the audience mostly on its feet as well, perhaps in anticipation of the conclusion of the concert, but also an appreciation for the work of these amazing artists, Leonidas Kavakos and Yuja Wang.
Part of the "Perspective" series of concerts that Leonidas Kavakos has been charged with at Carnegie Hall this year, he will be, uh, well among other things, he'll be joined by a couple of, uh, musical collaborators of a generation beyond his own.
John Schaefer: Well Emanuel Ax and Yo-Yo Ma, an all- Beethoven program back here on, uh, on March 8th. And then March 14th with the Boston Symphony Orchestra, all part of the "Perspective" series here at Carnegie Hall. I'm John Schaefer, alongside Jeff Spurgeon and Leonidas Kavakos joining us.
Jeff Spurgeon: Congratulations, wonderful program. You must be appreciating the audiences who are coming back now to see you. I presume that you are-
Leonidas Kavakos: I have to say that, um, to see Carnegie Hall like packed as we had it today, it was a sold-out concert is, is not only a great honor for us, but it really, um, is the definition of hope is a definition of people, um, enjoying wanting to live again. And, uh, and things like music that have that, that is such a blessing for all of us, um, are essential. And, uh, when you see this happening um, I just have to say I was very moved already from the afternoon. They told me at some point that the concert was sold out and I was very moved by that.
John Schaefer: Well, it was an audience that was ready to be moved. And, uh, during the, uh, th there was that moment during the second movement of the, the middle piece in the program, the Ferruccio Busoni sonata where, uh, with, with hand still to the bow, you had to wave a finger to the audience, to signal to them, "I'm not done yet."
Leonidas Kavakos: Well, you see the structure of this piece is such that it's like a long journey and, uh, and, uh, so there are movements that could be the last moment.
John Schaefer: Exactly, yeah.
Leonidas Kavakos: And it's in a way a natural reaction.
Jeff Spurgeon: It's also appreciation.
Leonidas Kavakos: Yeah, of course. Of course, of course. But the thing is that the music already from the first moment, which is so dreamy and intense and, and thoughtful. And romantic and emotional. And then you have this explosion in the, in the second movement, which is of course also very virtuosic and so on so and so people are just ready to, you know, applaud, but that's why he has written that note right after. That means, you know, that should take the applause. I thought they were going to stop, but it didn't. So I had to replay that note, you know, that's the joy of the live concert.
Jeff Spurgeon: Yeah. I wrote that one extra and it wasn't quite enough to stop Carnegie Hall tonight, but, um, this is, uh, uh, an ambitious program, I think, in some ways for an audience too. How long did it take you to find your way through that Shostakovich sonata, because it is an intricate and I would say for many people, I'm one of them. It's a difficult piece.
Leonidas Kavakos: Yes. It's very, well, the thing, what is really difficult, um, about that piece is that you have to try to get to a mood that as a human being, you don't never want to experience in your life. So it's like this kind of depression that, um, it happens to everybody, but you just don't want it.
Now, when you look at the music and you start playing it and you hear what's going on, it just takes you in this kind of world. And what is very difficult is to sustain the, uh, so the, the patience. So this is, you know, one has to imagine the was not there when he wrote, for instance a waltz, like a three beat movement.
He was not aware of the Viennese Waltz. He was not aware of the grace that the Viennese Waltz has. So it has to have another articulation. So all these da, da, da, bum bum, which would be like the da, da, bum, bum to be like a gesture of happiness, like a Polonaise or something like this, right? In his case is absolutely nothing like this. Is a very, it's a very, uh, how can I say, uh, is a moment where one wants to, but one never is allowed to, and that is extremely hard to achieve uh, spiritually and emotionally,
John Schaefer: Leonidas, a final question before we let you go, uh, you will be back here at Carnegie Hall with the Boston Symphony Orchestra on March 14th. I know you've been conducting as, so what will your role be? Will you be soloist, conductor, both?
Leonidas Kavakos: No, when I am here with the Boston, Boston Symphony, we are doing actually a very interesting, uh, uh, thing so we are doing the New York premiere of the new concerto that is, has been written for me by Unsuk Chin.
And it has been a co-commission of the Gewandhaus in Leipzig the Boston Symphony in the LSO in London. And, um, we were supposed to premiere it last year, but due to the situation and, uh, having, uh, it was a very stressful thing because Unsuk thought even of making a smaller orchestration so that we would be able to fit it with the regulation of the COVID regulations on stage, because it has a big orchestra, but that in the end we decided that it's not worth that the piece should be given the proper premiere.
And we're going to be bringing that here for the first performance in New York. And I have to say, um, I have started to learning as you can imagine, the premiere is in January
Jeff Spurgeon: It's probably time.
Leonidas Kavakos: Exactly. And it is an extremely atmospheric piece. Yeah. I think it's going to be, it should be a very, very wonderful, uh, significant addition to the repertoire of the ballet. I hope.
Jeff Spurgeon: Well, it's very exciting.
And, and yes, you'll have an audience who will be grateful to receive your work as they were tonight. Thank you so much, Leonidas Kavakos. .
Leonidas Kavakos: Thanks everybody for being here and honoring us
John Schaefer: And thanks also to Clive Gillinson and the staff here at Carnegie Hall.
Leonidas Kavakos: And everybody who makes that possible. I know it has taken incredible energy. I saw coming here, the people queuing up with a certificate. Who's everything, you know, getting is not easy anymore as it is to be right. So it takes effort from everybody and therefore we are very, very thankful.
Jeff Spurgeon: And we're grateful to you too. Thank you so much. Thank you.
John Schaefer: And that's going to do it for our live broadcast from Carnegie Hall. The WQXR recording crew led by Edward Haber, including George Wellington, Chase Culpon and Duke Marcos, the production team, Eileen Delahunty, Christine Herskovitz, Lauren Purcell-Joyner and Max Fine. Carnegie Hall Live is a co-production of WQXR and Carnegie Hall.
Jeff Spurgeon: I'm Jeff Spurgeon for John Schaefer. We thank you for listening and return to our studios in Manhattan. Now with some music by Mozart, a performance of the Symphony No. 29 from Claudio Abbado and his orchestra Mozart.