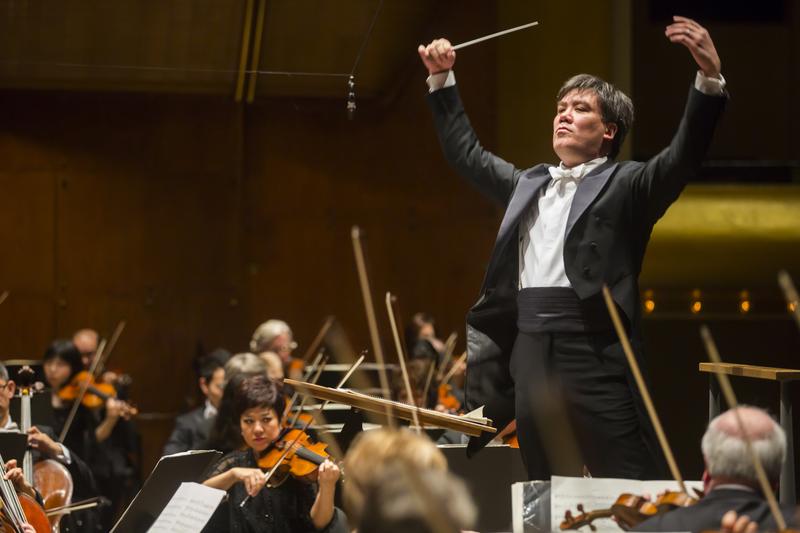 Transcript
Speaker 1: Where to?
Speaker 2: Carnegie Hall, please.
[music]
[sirens]
Speaker 3: Okay. Here are your tickets. Enjoy the show.
Speaker 4: Your tickets, please. Follow me.
[music]
Jeff Spurgeon: On this season of Carnegie Hall Live, we're sharing highlights of the past 10 years of concert broadcasts from this legendary temple of music. This program features works by Russian composers, Stravinsky, Tchaikovsky, and Shostakovich. The performers are Sir Simon Rattle and the Berliner Philharmoniker, Alan Gilbert and the New York Philharmonic, the Munich Philharmonic, and conductor, Valery Gergiev. I'm Jeff Spurgeon. Carnegie Hall Live is a co-production of WQXR and Carnegie Hall. We'll start this program with a selection from one of Stravinsky's most beloved works.
We're going to hear the closing scenes of his 1910 ballet, L'oiseau de feu – The Firebird, the story of Prince Ivan and his victory over Koshei the Deathless, with the help of the mysterious enchanted Firebird, a synopsis drawn from Russian folklore. It will be performed by the orchestra that we call the Berlin Philharmonic. They prefer to be known as the Berliner Philharmoniker. Their music director at the time of this Carnegie Hall performance was Sir Simon Rattle, who told us how remarkable this piece is, especially for a composer who was not even 30 when he wrote it.
Sir Simon Rattle: I would like to find the 27-year-old composer who could write anything like that now. It is simply astonishing, and this ability to say, "Okay, all you Russian composers, Rimsky, Mussorgsky, Glinka, Tchaikovsky, I'm actually going to do everything you could do, just a little bit better right now, and then we'll see what happens."
Jeff Spurgeon: Stravinsky wrote the Firebird for the impresario Serge Diaghilev and his famous troupe of Paris dancers known as the Ballet Russes. The Firebird was a hit from the start, but Sir Simon Rattle told us it almost didn't happen.
Sir Simon Rattle: He nearly didn't write it. It was supposed to be Lyadov. If Lyadov had actually got his act together, we would maybe not have had any Stravinsky Firebird, if Stravinsky hadn't been either Diaghilev's very close friend, or his lover as it now appears, maybe this would never have seen the light of day.
Jeff Spurgeon: Besides Anatoly Lyadov, the names of several other composers, Tcherepnin, Glazunov, Sokolov, were floated around the nascent project before Stravinsky got the go-ahead. Stravinsky said that after he discussed the libretto with the choreographer, Mikhail Fokine, he knew exactly what the music was supposed to do. Its success has led to more Stravinsky masterpieces for Diaghilev's Ballet Russes, including Petrushka and the Rite of Spring. We're going to hear the three final scenes of the Firebird, the last 15 minutes or so of the ballet, the Infernal Dance, an exhausting spell cast by the Firebird upon Prince Ivan's enemies, Koshei, and the creatures in his control.
The Berceuse, the lullaby that puts them off asleep afterward, and the destruction of Koshei, and the grand finale, in which all of Koshei's captives, including 13 princesses are restored to their real selves for general rejoicing. The Firebird takes place in a magical world and Stravinsky wrote the magic right into this incredibly exciting music. He used an incredibly big orchestra to do it too, extra woodwinds, extra brass, three harps. The orchestra just goes on and on. Here are the Berliner Philharmoniker, their music director, Sir Simon Rattle, and the final moments of Stravinsky's The Firebird in a performance from Carnegie Hall Live.
[MUSIC - Igor Stravinsky: L'oiseau de feu – The Firebird] [applause]
Jeff Spurgeon: It is such exultant music, the bright shimmering sound of The Firebird, the magical creature of Russian folklore. Just one of its discarded feathers can light up a whole room. Igor Stravinsky's music lets us hear all of that blazing light. We've just listened to the concluding moments of Stravinsky's music for the 1910 ballet that was a great early triumph for him and for Sergei Diaghilev's Ballets Russes. Sir Simon Rattle conducted the Berlin Philharmonic, or rather The Berliner Philharmoniker as the orchestra prefers to be called, in a performance that opened the 2014 season of music-making at Carnegie Hall.
In this year when Carnegie Hall has been caught in the spell of the COVID-19 pandemic, we are recalling some of the magical performances we've shared in previous seasons of our broadcast series, Carnegie Hall Live. Our next work on this program of music by Russian composers is one of the foundations of the piano concerto repertoire. A late edition, yes, in the 19th century, Tchaikovsky's Concerto No. 1. The composer is Russian, so is the soloist in this performance, Evgeny Kissin. The orchestra, on the other hand, is the very American New York Philharmonic conducted by then-music director, Alan Gilbert.
We often hear about collaboration between soloist and conductor in a concerto, and sometimes that word is a polite euphemism for competing visions about how the piece should go. In the case of this performance, Alan Gilbert told us he was happy to collaborate with Evgeny Kissin's vision.
Alan Gilbert: He has an extremely powerful point of view about every piece of music he plays. It's deeply personal, it's very intense, and it's very different from the way a lot of other people play music. I've never once felt less than 100% convinced by his vision. It's so compelling, and it's so powerful that you just go along for the ride. It's a joy, and it's a challenge in a way, but it's incredibly riveting, and there's a reason why he's such a beloved star.
Jeff Spurgeon: Conductor Alan Gilbert on Evgeny Kissin. Kissin was born in Moscow and began picking out tunes on the piano in his home at age two. He made a splash on the international concert scene playing the Chopin concertos at age 12. He first appeared in recital in Carnegie Hall in 1990. We are going to hear him in the hall a quarter century after that debut. From a concert broadcast from Carnegie Hall Live in 2015, here are Evgeny Kissin and the New York Philharmonic conducted by Alan Gilbert, and the Piano Concerto No. 1 of Pyotr Ilyich Tchaikovsky
[MUSIC - Pyotr Ilyich Tchaikovsky: Piano Concerto No. 1]
[MUSIC - Pyotr Ilyich Tchaikovsky: Piano Concerto No. 1] [applause]
[MUSIC - Pyotr Ilyich Tchaikovsky: Piano Concerto No. 1] [applause]
Jeff Spurgeon: That is a work that resounds with all kinds of history for lovers of classical music. Tchaikovsky's Piano Concerto No. 1 with soloist Evgeny Kissin and the New York Philharmonic, conducted by Alan Gilbert in a performance broadcast from Carnegie Hall Live in 2015. The Concerto was written in Russia in 1875, but its premiere took place in Boston where soloist, Hans von Bülow was on tour in the 20th century. The work's most famous performance was the prize-winning one given by Van Cliburn in the first Tchaikovsky competition in Moscow at the height of the Cold War in 1958.
Cliburn returned to the United States, and with the Symphony Of The Air and conductor, Kiril Kondrashin repeated that performance in a concert that was also broadcast from Carnegie Hall Live on WQXR, the radio station producing the program you're listening to now. Our Carnegie Hall Live Russian retrospective continues in just a moment with a great symphony of Dmitri Shostakovich. This is Carnegie Hall Live. The doors of Carnegie Hall in New York have been closed in this season of the COVID-19 pandemic, but that has afforded us the opportunity to enjoy, once again, some performances we've brought you during some 10 years of concert broadcasts.
I'm Jeff Spurgeon, and on this program exploring Russian repertoire, we have a performance by the most prominent Russian conductor of his generation. Valery Gergiev will be on the podium as the Munich Philharmonic plays the Symphony No. 5 of Dmitri Shostakovich, who, in the 1930s, was constantly walking a fine line between writing music that would please Soviet leaders and still allow his personal creative expression. The symphony was written in 1937, a horrible year of Stalin's purges across Russia, and trouble was brewing elsewhere too. Conductor Valery Gergiev told us, Shostakovich, in this symphony, was channeling the turbulence of that time and of the time to come.
Valery Gergiev: It was clear that he expressed the most phenomenal, even dramatic, and even tragic feelings of millions of people who lived not only in Russia, in the entire continent in Europe. First of all, he couldn't ignore it. Second, he, as a composer, as a prophet also, was hearing the trouble, hearing the tragedy. It was becoming like everyone was facing a huge fire which will burn so many lives and so many cities and so much of cultural heritage, but his symphonies are a document of an epoch where people lived from early '30s to early '50s, I would say, easily.
Jeff Spurgeon: Valery Gergiev, expressing the idea that Shostakovich's Symphony Number 5 is the voice of a prophet lamenting his own time and times to come in his own land and in foreign lands.
The final movement of the symphony is a triumphal march, and it is possible to hear this march as being a bit too triumphant, falsely triumphant, hollow in the center, but Valery Gergiev interprets it differently.
Valery Gergiev: For me, it's not that jubilant kind of march, it's just pride. A proud young man with colossal gifts tells the world I'm going on, I'm continuing with my symphonies, and the country, and the musical tradition, and my colleagues, no matter what, we will continue. That's why we perform his music. He was right. He continues.
Jeff Spurgeon: Valery Gergiev suggesting it's not necessary to put any political gloss on the last movement of the Shostakovich 5. You can listen to this performance with just that idea in mind. No matter what meaning you give to the symphony, I think you will have to listen very, very hard indeed to experience this work in the way its first audience did in Leningrad in late 1937. More on that after we hear it.
Shostakovich's Symphony Number 5, the Munich Philharmonic, and conductor, Valery Gergiev. A performance broadcast in 2019 from Carnegie Hall Live.
[MUSIC - Dmitri Shostakovich: Symphony Number 5] [applause]
Jeff Spurgeon: There are symphonies that end on notes of celebration, of joy, of rapture, but there are not many that sound as forcefully extroverted as the Symphony Number 5 of Dimitri Shostakovich. You've been listening to a performance by the Munich Philharmonic and their music director, Valery Gergiev, broadcast from Carnegie Hall Live in 2019, and presented here on this all Russian retrospected episode in our pandemic season when new performances have not yet presumed.
Earlier I mentioned that it would take deep listening to hear this symphony as the audience did in 1937 when it was premiered by the Leningrad Philharmonic. The music had such an impact at that performance that the ovation afterward lasted for half an hour. There are many reasons why it might have touched people so deeply. A moment of catharsis amid the horrible oppression of the Soviet people in that particularly awful year of Stalin's reign, an expression of patriotism and defiance of the growing shadow of fascism from central Europe, or just the sympathetic communication of human feeling that is available to us in music. It certainly is an expression of Shostakovich's love for the sound of the symphony orchestra. In that way, at the very least, it still touches us too.
With a bit of time remaining in this All Russian program, we'll scale back to just two instruments and hear an excerpt from the Carnegie Hall recital debut of cellist Sheku Kanneh-Mason, and at the piano, his sister, Isata Kanneh-Mason.
Sheku had already achieved worldwide attention by playing at the royal wedding of England's prince Harry and Megan Markle, but this was the duo's Carnegie debut in the most intimate of the hall's three stages, Weill Recital Hall. Here's an excerpt from Sergei Rachmaninoff's Opus 19 Cello Sonata in G minor. Sheku and Isata Kanneh-Mason on Carnegie Hall Live.
[MUSIC - Sergei Rachmaninoff: Cello Sonata]
Jeff Spurgeon: An excerpt from Sergei Rachmaninoff's Cello Sonata. Performed by the duo Cellist Sheku Kanneh-Mason and Pianist Isata Kanneh-Mason, brother and sister. Recorded in December of 2019 in Carnegie's Weill Recital Hall.
That concludes this All-Russian program. With thanks to the staff of Carnegie Hall and to WQXR's production staff. Thank you for listening. I'm Jeff Spurgeon. Carnegie Hall live is a production of WQXR in New York.
[MUSIC - Sergei Rachmaninoff: Cello Sonata]
[01:58:02] [END OF AUDIO]
Copyright © 2023 New York Public Radio. All rights reserved. Visit our website terms of use at www.wnyc.org for further information.
New York Public Radio transcripts are created on a rush deadline, often by contractors. This text may not be in its final form and may be updated or revised in the future. Accuracy and availability may vary. The authoritative record of New York Public Radio's programming is the audio record.