Carnegie Hall Live
Re-Play: Dudamel and the Vienna Philharmonic Present an All-Brahms Program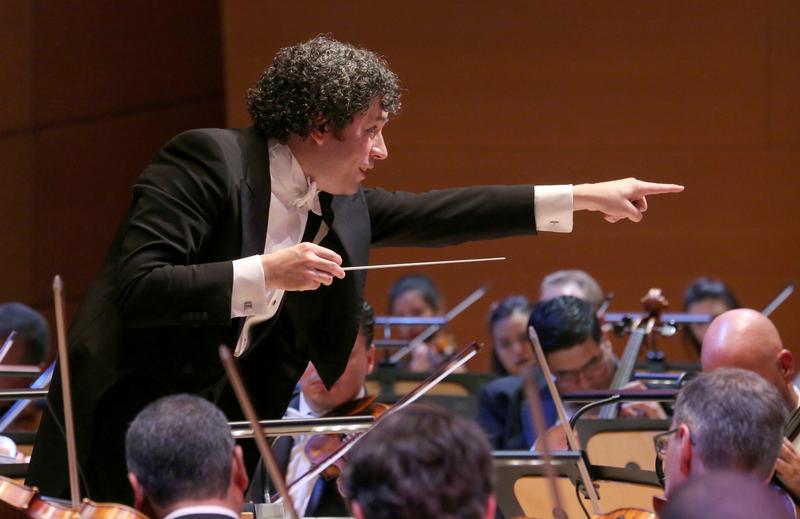 Transcript
Announcer: The following program was previously recorded.
Jeff Spurgeon: In New York City, there are lots of ways to get to Carnegie Hall, the subway, a taxi, a walk down 57th Street. This is another way to get to America's most famous home for classical music. Welcome to Carnegie Hall Live. I'm Jeff Spurgeon.
John Schaefer: I'm John Schaefer. This broadcast series brings you Carnegie Hall concerts by some of the world's greatest artists, and you'll hear those performances exactly as they happen. You become part of the audience experiencing great music in one of the world's great concert halls, namely Carnegie Hall.
Jeff: Now, over the next couple of hours, you're going to hear what happens when a celebrated young conductor meets an iconic, venerable orchestra, 37-seven-year-old Venezuelan Gustavo Dudamel, one of the hottest conducting talents in the world, and the 176-year-old Vienna Philharmonic Orchestra, one of the greatest standard bearers in all of classical music. They're together at Carnegie Hall.
John: Not for the first time, either. Here's an amazing fact. Even though he's only 37, Dudamel has conducted this orchestra nearly 100 times already in a concert. He first worked with them in 2007 and he still remembers the first time he heard that Vienna Philharmonic sound while standing in front of them on the podium.
Gustavo Dudamel: Imagine only this image. A young boy, 25 years old, go into the podium of the legendary Vienna Philharmonic Orchestra to do Mahler's First Symphony. Mahler was their conductor, so he's in the soul of the musicians even if they don't play. I remember one anecdote. The first cello player, he is saying, "My grandfather played this symphony on their mother." They have the music at that time. This is the kind of history, the kind of tradition that the Vienna Philharmonic care. For me, as a young musician, it was like to open the door of the Sistine Chapel and be alone there and enjoy and to touch every single corner, every single wall of that. That is the Vienna Philharmonic.
Jeff: Gustavo Dudamel taking about conducting the Vienna Philharmonic, which he is about to do here at Carnegie Hall. This is a one composer concert, Brahms, the Academic Festival Overture, the Variations on a Theme by Haydn and, after intermission, the First Symphony. Brahms is a deep part of the Vienna Philharmonic identity. Brahms was born in Germany, but he spent a better part of is professional life in Vienna, and this orchestra has his music in its bones.
[applause]
Gustavo: Brahms is source of power of the soul of this orchestra. You can only imagine when I went to the first rehearsal, and I said like, "Wow, what a sound." Of course, we balance things, I work in the interpretation, but the spirit of the sound of the orchestra is so unique that you-- It's a privilege to be swimming in that pool, that pool of beauty.
Jeff: The Vienna Philharmonic now on its feet, Gustavo Dudamel on the podium bowing to the audience of Carnegie Hall for the Academic Festival Overture of Brahms from Carnegie Hall Live.
[music]
[applause]
Jeff: You've just heard Brahms's response to an honorary degree given to him by a university. The Academic Festival Overture, a witty work by Brahms, though perhaps the wit escapes us in this time. The student drinking songs are not part of our culture, but the audience that Brahms first presented this work when he conducted the premier certainly knew what it was all about. The Viennna Philharmonic Orchestra conducted by Gustavo Dudamel in a performance that comes to you tonight from Carnegie Hall Live.
John: Now, the second work on the program that Gustavo Dudamel will conduct with the Vienna Philharmonic is another Brahms favorite, it's the Variations on a Theme by Haydn, as he goes striding past us to rejoin the orchestra onstage.
[applause]
This work is based on a theme that may or may not have been by Haydn, but classical music is full of that sort of thing. What we do know is that Brahms did this series of variations, it's become a concert favorite, and here it is from Carnegie Hall Live.
[music]
[applause]
Jeff: Two bravos from this Carnegie Hall crowd. Gustavo Dudamel and the Vienna Philharmonic have just performed the Brahms' Variations on a Theme that Brahms thought was by Haydn.
John: That's not the title, Jeff.
[laughter]
John: The title is Variations on A Theme by Haydn.
Jeff: You're right, you're right, and that's what Brahms thought. The musicologists now think that theme The Saint Anthony Chorale was maybe written by one of Haydn's pupils he got to play, or somebody else, but at that time, Brahms thought it was a Haydn piece and he grabbed this beautiful melody and wrote a set of eight variations.
When we talked to Gustavo Dudamel today, he made an interesting point about the idea of variations. You might think that, "You're not creating anything new, you're just playing with something old," but Gustavo Dudamel told us why he admires this piece a great deal.
Gustavo: The variation form is one of the most difficult ones to develop for a composer. To write a variation of a melody of a theme is a big deal. Brahms was a specialist on that. Only thinking about his Fourth Symphony, the last movement in all of this variations is trying to develop beauty through a challenge, through a musical technical challenge, and that is what he does.
Jeff: Gustavo Dudamel speaking about variations and Brahms's special skill at them. You've just heard a performance by the Vienna Philharmonic, and now you're hearing the Vienna Philharmonic too. They're not playing, they're walking past our backstage microphones. Intermission has began at this concert that's coming to you tonight from Carnegie Hall Live.
John: Just off the stage and joining us at the microphones is Daniel Froschauer who is not only one of the violinists, but also the chairman of the Vienna Philharmonic. Welcome.
Daniel Froschauer: Thank you. Good evening.
Jeff: Good evening. A wonderful performance of Brahms in the first half, more in the second. This is a familiar stage to you. You've been in the Vienna Philharmonic for a number of years.
Daniel: Actually, I was hired in '95, but I was subbing in this orchestra for a long time before that, so I actually played on the stage with Bernstein-Mahler 5. I remember I have a lot of memories here. As I was a student at Juilliard from '82, I heard incredible performances here.
Jeff: You're an honorary New Yorker then.
Daniel: Yes, it's me. Thank you, Jeff.
[laughter]
Jeff: This is a special concert for the orchestra. It's the Vienna Philharmonic's 125th performance here at Carnegie Hall.
Daniel: As you see, it's very important to come to New York, to America. It's a big evening for us.
John: Gustavo Dudamel is certainly no stranger to the orchestra.
Daniel: No, no. He really counts to the inner circle of our conductors since he conducted in New Year's concert, he's conducted ABO. We've truly enjoyed working with him and making music with him. It's wonderful. He's not only a great conductor but also a great person, and that shines through in the music making onstage and shines through offstage when we travel together. We're having a good time. I'm happy about him.
John: [laughs]
Jeff: I'm really curious, Mr. Froschauer, about your musical education. As I said, you were an honorary New Yorker, you spent some time at Juilliard studying with Dorothy DeLay, one of the most renowned violin teachers at the school. You've also were in the Vienna Boys' Choir. Is that what we understand?
Daniel: Where did you dig that up?
[laughter]
Jeff: The internet is full of interesting things.
Daniel: Okay, the internet. It's right, I was in--
John: If it's on the internet, you know it's true.
[laughter]
Daniel: That's true. My father also was in the Vienna Choir Boys actually, so that also has a tradition in my family. I was also at Carnegie Hall with him, 1976.
Jeff: You have also a future to consider. I think that there must be some push and pull between holding on to tradition and moving into the music [unintelligible 00:09:22].
Daniel: Of course. In that respect, I have to say, we're a very young orchestra. Young people have very strong needs, and you have to listen to these needs. Young people today, they want to plan their free time, they want to-- They're very communicative about their social responsibilities, so it's--
Jeff: They're telling you what they want.
Daniel: They're basically, [chuckles] yes, telling you what they want.
John: Is the Vienna Philharmonic largely Viennese?
Daniel: No, no. I would say, if you look at us, we have Italians, we have Polish, we have Czech, we are quite international, but we also a violinist from New Zealand, we have two Australian violinists, viola. You need really to have an openness to trying this orchestra. You need to have the ears and the intelligence listening and combine it to your instrument and then join us on this trip. You don't have to be from anywhere in the world. You just have to have that ear and the willingness to try, and also in opera orchestra. We play opera, over 300 performances per year. Not everybody wants to play opera at the same time as a symphony. For me, it's that combination that's unique. At the opera, we're employed. At Vienna Philharmonic, we're self-employed, make our own decisions.
John: We wish you the best of luck going forward-
Daniel: Thank you.
John: -in the immediate future. The Brahms' Symphony No. 1.
Daniel: I'm looking forward to that. It's one of my favorites.
Jeff: You should have a little downtime, too. We'll say thank you-
Daniel: Thank you.
Jeff: -so much. Daniel Froschauer,-
Daniel: Thank you for having me. Thank you.
Jeff: -he's the violinist in the Vienna Philharmonic, first violinist, and the chairman of the orchestra as well. Thank you so much. This is intermission. It's Carnegie Hall Live coming to you. You know the Vienna Philharmonic, around for 176 years? They've made a record or two.
John: They've made a whole series of annual albums out of their New Year's Eve concert or New Year's Day concert. We're going to hear some music from the 2017 edition of that concert series conducted by none other than Gustavo Dudamel. This work is by Johann Strauss Jr. It's the Pepita-Polka.
[music]
Jeff: A little bit of the Pepita-Polka by Johann Strauss Jr.
John: It is intermission here at Carnegie Hall. Coming up in the second half of the program, more Brahms, the Symphony No. 1. This is Carnegie Hall Live.
Male Speaker 6: Tonight is the--
Male Speaker 7: Dudamel among other things.
Male Speaker 8: Vienna Philharmonic conducted by Gustavo Dudamel--
Male Speaker 9: Vienna Philharmonic and Dudamel conducting.
Male Speaker 10: An All-Brahms program featuring Brahms' first, I would imagine.
Male Speaker 11: I've always wanted to see Gustavo Dudamel.
Female Speaker 1: Of course.
Male Speaker 12: I've seen him on TV but not in person.
Female Speaker 2: They have this fresh young guy from Latin America.
Male Speaker 13: Their conductor, he's very interesting. I read about him. [unintelligible 00:12:23], right?
Male Speaker 14: We'll see. I haven't heard him before.
Female Speaker 3: I saw Dudamel conduct the New York Philharmonic the day that they let him use Leonard Bernstein's baton. That was a big deal.
Female Speaker 4: The Dude.
Female Speaker 5: I saw Dudamel actually out in the Hollywood Bowl.
Male Speaker 15: I know everybody called him The Dude.
Female Speaker 6: I live in Los Angeles. I see The Dude all the time.
Female Speaker 7: Dudamel, the Vienna Philharmonic? I've been looking forward to this all year.
Female Speaker 8: Vienna Philharmonica? [laughs]
Female Speaker 9: We love Vienna Philharmonic.
Male Speaker 16: Vienna, I love Gustavo Dudamel. He's very special. I don't know of any time when there was not a sold-out house for the Vienna, especially with Gustavo Dudamel. He was the rock star.
Female Speaker 10: Yes, he's brilliant. It's Vienna Phil, and it's Brahms. How could you not be here?
Male Speaker 17: Whoever conducts the Vienna is special, because it's the greatest musicians in the world. You can't go wrong. It's a win-win situation for everyone.
Jeff: Concert goers tonight at Carnegie Hall. They are here for the win-win situation of sitting in this hall and hearing the Vienna Philharmonic.
John: We heard some classic New York accents.
Jeff: Yes, we did.
[laughter]
Jeff: A couple of Viennese touches, too. I had a really interesting chat today, John, with Gustavo Dudamel. We talked about the music. We talked about playing with the Vienna Philharmonic. We spoke about his work in Los Angeles.
John: The LA Phil has become a model for a successful American orchestra. About 10 years ago, Dudamel started a program there similar to the highly regarded Venezuelan music education program known as El Sistema. It's an intensive program that gives less fortunate kids access to instruments and music lessons. It's in LA, of course, so it's called YOLA, Youth Orchestra LA.
Gustavo: These have became a symbol of their community. The people care about YOLA because it's what you build. A good symbol of a community that is surrounded by difficult and not good elements in bringing art as very important part of the society for your learning of life. For me, that is a motif of life, because I had the chance to grow up in that way. I have that access to music, to art. That, for me, is my treasure.
John: El Sistema in Venezuela, and now YOLA, Youth Orchestra of LA. Gustavo Dudamel, instrumental in founding and continuing that operation in Southern California. Jeff, the final piece on the program, we've alluded to it several times already, is the Brahms' Symphony No. 1.
[applause]
Jeff: The stage door has just opened, and out onto the stage of Carnegie Hall Gustavo Dudamel has walked, the Vienna Philharmonic on its feet. Dudamel on the podium. You can hear the warmth and the sold-out Carnegie Hall audience tonight. Now, the Brahms' Symphony No. 1 from the Vienna Philharmonic and Gustavo Dudamel from Carnegie Hall Live.
[music]
[applause]
Jeff: From Carnegie Hall Live, you've just heard the Vienna Philharmonic and the first symphony of Johannes Brahms, a performance conducted by Gustavo Dudamel. If you'd like to call it a May, December romance between orchestra and conductor, I guess, you could. I'm not sure that May and December are spread far enough for this 37-year-old Venezuelan maestro and this 176-year-old orchestra. Clearly, they are working together in a very beautiful fashion. Backstage, I'm Jeff Spurgeon, alongside John Schaefer. It's an amazing, amazing, powerful sound that Brahms creates. It's just a force in this closing moment.
John: As an early review of the piece said, "The Brahms' C minor symphony sounds, for the most part, morbid, strained, and unnatural, much of it ugly."
[laughter]
John: That review from Boston in 1878.
Jeff: First impressions are not always correct, I think we should say.
John: Having composed this piece under the weight of expectations that he would be the heir to the mantle of Beethoven, he came up with what some people consider to be the best first symphony ever. I know a few Mahler fans who might have a different opinion about that. Certainly, that finale is something that stays with you.
Jeff: I would say, again, that the power of the sound, just the volume and the density of that orchestra and that orchestral sound are just amazing, and they leave you a little bit pushed back in your seats. Now on stage Gustavo Dudamel, signaling individual members and sections of the orchestra for individual praise. You hear the audience of the sold-out concert at Carnegie Hall, on its feet, acknowledging all of those musicians that are being given recognition by Gustavo Dudamel.
John: Just one indication of how popular this symphony is that it has been played over 300 times here on this stage alone at Carnegie Hall, including five performances by this orchestra on this stage. The Vienna Philharmonic and the Brahms' first symphony. We mentioned this earlier in the broadcast that Brahms is part of the DNA of this orchestra, that he lived in Vienna, worked in Vienna, died in Vienna, and this was his band.
Jeff: You bet. Tonight, it's Gustavo Dudamel's band, the Vienna Philharmonic, which does not have an artistic director or a permanent conductor. They hire maestros year by year. The orchestra association chooses the men and women who will lead them from the podium. Gustavo Dudamel backstage for a moment.
John: We might catch a word with the maestro when he's truly done, but given the audience's reaction here, I don't think we expect him to be done just yet.
[applause]
Jeff: The Viennese nightcap from the Vienna Philharmonic and Gustavo Dudamel in a concert from Carnegie Hall Live coming to you with a touch of winter, the Winterlust Polka of Josef Strauss. That's where those sleigh bells and that whip came in. They were moving that sleigh around.
John: A little wintery music, a little Viennese music, "mit schlag" as they say, with a little whipped cream on top.
Jeff: It's the perfect capper to this All-Brahms Program with a salute to Leonard Bernstein and then that signature touch from the Vienna Philharmonic in the music that they play as no one else does.
John: There is Gustavo Dudamel back at center stage, this time, basking in the applause of the sold-out crowd here at Carnegie Hall.
Jeff: The Vienna Philharmonic's 125th concert on the stage. They first came here in 1956.
John: Here is Gustavo Dudamel joining us backstage. Congratulations.
Jeff: A fabulous performance and thanks for the touch of old Vienna on the end there.
Gustavo: At the end? Yes.
Jeff: Do you pick those pieces when you conducted the New Year's Day concert?
Gustavo: We did together because of course he's a-- You cannot imagine how many pieces by the Strauss family you have, 900-something, and of course, they really know this-- It's not easy. It sounds easy, it sounds light, it sounds beautiful, but it's complex and it's-- The beauty sometimes is more complex than what you see, but it's beautiful. We had a lot of fun.
John: Let me ask you about this program tonight, this All-Brahms Program with the Strauss. Is this something you would do with any other orchestra, or is this specifically for the Vienna Phil?
Gustavo: I think for the Vienna Phil. Since the first rehearsal, when we started to work at the music rhyme, I was so-- I don't know how to say, because in love, impressed, amazed by the sound of the Brahms that they produce, that beautiful, elegant, powerful, deep sound. For me, honestly, it's a privilege. Of course, we work deeply in an interpretation, but at the end of the day, it's the soul of this wonderful orchestra that brings this beautiful tradition sound that is amazing.
John: They do have a different sound. The winds have their own sound. Traditionally, the Vienna Philharmonic has been pitched a little lower than most other orchestras. Is that still the case?
Gustavo: No, it depends also. It changes a lot. It can change a lot. Look, it can change with the temperature, with the weather, everything, so I think there is a flexibility in this orchestra because they play at the opera, and that is unique. It's a philharmonic orchestra that comes from the beat from an opera orchestra, and they have this ability to be so flexible for everything, in case of the intonation, of the tempos, of the way how we phrase. It's beautiful because every night is a discovery.
Jeff: Those are wonderful observations on music, but I have something much less important to ask you. Do you watch Mozart in the Jungle?
Gustavo: Yes. Look, I'm a very good friend with Gael, and I did one cameo.
Jeff: Yes, you appeared on the show.
Gustavo: I was stage manager in Los Angeles.
[laughter]
Gustavo: I think it's great. Of course, people relate that with my life because the beginning, all of that, but my life is not like that. I'm crazy, but not so crazy as Rodrigo.
[laughter]
Gustavo: It's fun because it's a way for the people to connect with the classical music, with music in general, especially classical music.
Jeff: What's your routine? Is it a night to relax?
Gustavo: It's a night to relax, absolutely. We have a little jet lag because in Vienna, it's around four o'clock in the morning, but the energy, the commitment is always the same. I think it's- as I said, it's always a discovery, it's always a new world, and I'm amazed, I'm very impressed, I'm really honored to be part of this.
Jeff: For the orchestra and for you, being at Carnegie Hall is now a familiar thing, but I guess it's the sort of thing that never gets old.
Gustavo: No, absolutely. For me, it's an honor. Look, I know that the Vienna Philharmonic concerts here in New York is always something very special and always with the big conductors, and for me, it's an honor. I came as a young man with them, six, seven years ago and now, as an old man,-
[laughter]
Gustavo: -doing this with [unintelligible 00:23:56]
Jeff: I was wondering where that sentence was going to lead.
Gustavo: At least I have grey hair.
[laughter]
Jeff: Just the beginning of it.
Gustavo: Yes.
Jeff: You also have lots of people waiting to see you. You've been so gracious to speak to us.
Gustavo: Thank you.
Jeff: Thank you so much. What a privilege to talk to you on a great, great evening of music.
Gustavo: Thank you very much.
Jeff: Congratulations.
Gustavo: My pleasure. All the best.
Jeff: Thank you.
Gustavo: Bye.
Jeff: Conductor Gustavo Dudamel joining John Schaefer and me backstage for a Carnegie Hall post-concert chat.
With a little time remaining in this broadcast, let's hear a performance from another Carnegie Hall Live concert. Not too long ago, pianist Leif Ove Andsnes took a big Beethoven Journey in a touring exploration of the composer's piano concertos with the Mahler Chamber Orchestra. Leif Ove plays the solo part and conducts from the keyboard here with the Mahler Chamber Orchestra in a bit of Beethoven's Piano Concerto No. 2 from Carnegie Hall Live.
[music]
Jeff: Just to tantalize you for an upcoming program from Carnegie Hall Live, that was some of Beethoven's Piano Concerto No. 2 with the Mahler Chamber Orchestra conducted from the piano by Leif Ove Andsnes in Carnegie Hall, but all of that is for another time. For now, we've reached the conclusion of this broadcast which featured the Vienna Philharmonic with conductor Gustavo Dudamel. I'm Jeff Spurgeon. Carnegie Hall Live is a production of WQXR in New York.
Copyright © 2020 New York Public Radio. All rights reserved. Visit our website terms of use at www.wnyc.org for further information.
New York Public Radio transcripts are created on a rush deadline, often by contractors. This text may not be in its final form and may be updated or revised in the future. Accuracy and availability may vary. The authoritative record of New York Public Radio's programming is the audio record.