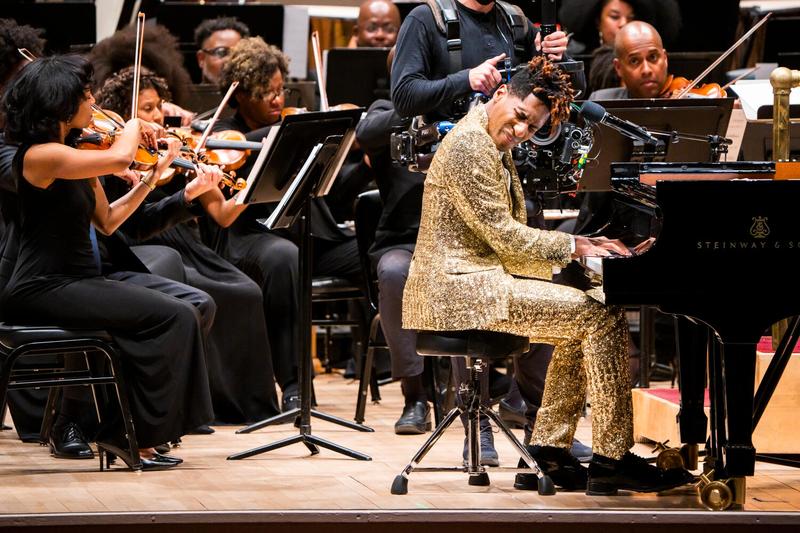 Transcript
Gateways Music Festival Orchestra
April 24, 2022
3:00 pm Stern Auditorium/Perelman Stage
HOSTs: John Schaefer and Jeff Spurgeon
Male Speaker: Where to?
Speaker: Carnegie Hall, please.
Female Speaker: Okay. Here are your tickets. Enjoy the show.
Female Speaker 2: Your tickets, please. Follow me.
[music]
Jeff Spurgeon: It was 110 years ago. In May of 1912 at Carnegie Hall, where the stage welcomed a large ensemble of African American musicians, the Clef Club Symphony Orchestra. They were led by James Reese Europe, and they were one of the finest Black music ensembles to perform in Carnegie Hall and one of the first at that time. Today, 110 years later, another African American orchestra is making its first appearance on the stage of Carnegie Hall. The Gateways Music Festival Orchestra, making their debut today, taking their place alongside the Clef Club Orchestra and a lot of other great African American musicians in the illustrious history of Carnegie Hall. This is Carnegie Hall Live, I'm Jeff Spurgeon joined by my colleague, John Schaefer.
John Schaefer: It's a big event for the members of the Gateways Music Festival Orchestra coming down to Carnegie Hall from their home in Rochester, in upstate New York. What's making the occasion even bigger is that they will be presenting a world premiere, a piece so new, the ink has barely dried on it. It's a new work by Jon Batiste, the Grammy-winning pianist and band leader you may know from The Late Night with Stephen Colbert. The orchestra just rehearsed his new piece for the first time on Thursday, it's called I can. It's a work for piano and orchestra.
Jon Batiste in addition to being a pianist is also a Perspectives Artist here at Carnegie Hall. This concert is part of his perspective series. Not surprisingly, he will be the piano soloist in that piece.
Jeff: The ensemble taking center stage is part of the Gateways music festival, a larger organization dedicated to providing a community and a performance hope for classical musicians of African descent. We talked on Friday with Lee Koonce, the festival's president, and artistic director about exactly who it was, who started this whole Gateways thing, and what her vision has led to.
Lee Koonce: Armenta Hummings Dumisani, I think the term force of nature was created for her. I believe she's 84-85 years old. I'm sure she wouldn't mind me telling her age. She's never taken medication. She climbed Mount Kilimanjaro five years ago. She's a person that no one really says no to. She had this great idea to provide a safe affirming space for classical musicians of African descent. She created Gateways. There was this outpouring of interest from all over the country. The festival has just grown and grown and grown since 1993, from that vision
John: It turns out that Gateways isn't just an organization that serves musicians. He also told us they want to be a resource for the larger community.
Lee: It's this kind of dual mission. They're equally important to us. This place for musicians is key and essential and critical to the mission because most of our players work in environments where there are very, very, very few people, if any, who look like them. To come to a place where there are folks who've had a shared life experience, it's extraordinary for them. Michael Morgan, our late and beloved music director called Gateways family reunion with instruments and it feels just like that.
I think that them being together, there's something that happens to the air when they're all together because it is such an experience for them to be together and then to play great music at a high level, it's extraordinary. Our mentor's other vision was that the Black community in particular, all communities but the Black community needs to see people of African descent up on the stage playing this music and it's about representation. She thought, "If a five-year-old kid sees the Gateways orchestra up there and that kid will say, You know what, I can play hip hop. I can play rap. I can play gospel. I can play jazz, but I can also play Beethoven.'" It opens up all these realms of possibility. That was our mentor's vision.
Jeff: If you can see it, you can be it, is the expression. That is as Lee Koonce told us again and again, that's one of the most important things that's happening here this afternoon.
John: We are about to hear this performance of the The Variations on a Theme by Haydn, music by Johannes Brahms based on a theme that probably wasn't actually written by Haydn. It's thought to be an old Pilgrim chant known as Saint Anthony's Chorale, but under any name, a virtuoso showpiece for the orchestra. Applause is for Anthony Parnther now taking center stage here at Carnegie Hall, and beginning this concert by the Gateways Music Festival Orchestra with this work by Brahms, his variations on a Theme by Haydn. [applause]
Johannes Brahms - Variations on a Theme by Haydn in B-flat Major, Op. 56a
Jeff: Music of Johannes Brahms begins this concert by the Gateways Music Festival Orchestra in their Carnegie Hall debut. Conductor Anthony Parnther led this orchestra, all musicians of African descent, and The Variations on a Theme by Haydn as the work's known the music of Johannes Brahms.
John: George Walker was the first Black composer to win a Pulitzer prize in music that was in 1996 for his piece Lilacs. Although certainly, his most famous piece is the Lyric for Strings. If you're a fan of Barber's Adagio for strings, I urge you to check out George Walker's Lyric for strings. The two pieces are musical cousins and were actually intended to be so.
The work we'll hear today is a bigger piece by George Walker, his Sinfonia No. 3, which has a little more of a modernist aspect to it, at least at the beginning, although the texture clears out a little bit as the piece goes along. That'll be the next work on the program.
Jeff: That composition is also being given its first hearing in Carnegie Hall in this performance. George Walker composed it in 2003. Another first for this concert by the Gateways Music Festival Orchestra. Kelly Hall Tompkins, the concertmaster giving the Gateways Music Festival Orchestra a chance to retune after that Brahms opening.
John: We should also mention Kelly Hall Tompkins, if that's a familiar name to our WQXR listeners, there's a good reason for that. She was part of the inaugural class of the Artist Propulsion Lab at WQXR. You'll find lots of stuff on the wqxr.org website that Kelly was involved with during her time with the APL. Right now, the stage door opens and back out to center stage here at Carnegie Hall, strides the conductor Anthony Parnther to lead this first performance at Carnegie Hall of George Walker's Sinfonia No. 3. Three-movement work played by the Gateways Music Festival Orchestra in their Carnegie Hall debut from Carnegie Hall Live.
George Walker - Sinfonia No. 3
[applause]
From hall music by the late American composer, George Walker, his SinfoniaNo. 3. That is the first time that piece has been played on stage here at Carnegie Hall, by an orchestra also making its Carnegie Hall debut in this special event.
Jeff: Backstage at Carnegie Hall, I'm Jeff Spurgeon. John Schaefer's here as well. The Gateways Music Festival Orchestra, most of them at least are leaving the stage. The chairs can be adjusted and the Brahms piano can be pushed out.
John: A drum kit as well will be called for in this next piece by Jon Batiste, who is a Perspectives artist here at Carnegie Hall, which means he gets to oversee a whole series of events during this 2021-22 season. This concert is in fact part of his Perspectives series, but today's premier. is a work for piano and orchestra called I Can. This is a guy, Jeff, who is having a moment.
Jeff: He's having so many moments at one time, yes. Best known popularly in the world these days is the music director for The Late Show With Stephen Colbert. He's also just won an Oscar-
John: For Soul.
Jeff: -for Soul, the Pixar film, and has also just won five Grammys, including Record of the Year at the most recent Grammy Awards just a few weeks ago.
John: For his album, We Are. Those 5 Grammy Award wins came on the heels of 11 Grammy nominations an almost unheard-of hall for one artist, including a nomination in the best classical composition category.
Jeff: Now, we spoke with Lee Koonce, who is the president and artistic director of the Gateways Music Festival, whom we had a chance just to say what Jon Batiste's piece that he had heard, and what we could expect.
Lee: I think it is very much Jon. It is his voice. It is his heart. It's full orchestra and piano and just him. There are parts that are written out, and then, there are parts that he will improvise. It's a world premiere. We purposely did not do it in Rochester because we wanted this to be the world premiere.
Jeff: This is going to be quite a wonderful world premiere and a big occasion. I love the way this harkens back to the days of Mozart and Beethoven, who would also write works that contained a great deal of written music finished for the players but also places for them to improvise. This work that Jon Batiste is going to perform with the Gateways Music Festival Orchestra has that same kind of structure.
John: It is interesting that you went to Mozart and Beethoven. I thought you were going to say George Gershwin because what strikes me is the similarity to the Rhapsody in Blue, which Gershwin famously-
Jeff: Forgot to write.
John: -did not have fully finished at the time of the world premiere, and famously in the written score for the conductor, wrote the words, "Wait for a nod."
Jeff: Now, the stage door opens.
[applause]
Jeff: A great big deep bow and a warm welcome to this Carnegie Hall audience. Conductor Anthony Parnther is also out on the stage now with the rest of the Gateways Music Festival Orchestra.
John: Jon Batiste is pointing to Maestro Parnther and to the Gateways Music Festival Orchestra. We are going to hear the world premiere of I Can.
Jon Batiste: We are here.
[applause]
Jon: First, I would love to thank everyone who made it possible for us to be here, the ancestors who are watching over us.
[applause]
Jon: In the spirit of sharing a little of the backstory behind this piece, I want to share a poem that I wrote. I wrote this poem in the summer of 2020. Before I'd conceived this piece, I had this poem, and it just kept resurfacing in my subconscious. It would come up. When I got the call to be part of this momentous occasion tonight and the request was to write a piece that was inspired by a written word, this felt very apt. I'll share it with you now. Then we'll proceed into the piece, I Can.
With darkness in the hallowed halls
When summer's end dissent to fall.
With ballots waving,
justice hazing,
viral crazing,
be at peace.
Destruction has a season too.
A bitter taste within the roux.
Systemic razing,
self-isolating,
but as we're raging,
be at peace.
The summit peak is higher still.
With summer sun for us to swill.
Auric wisdom
Through the prism
Of the system
be at peace.
The search for justice in our blackness
Met with violence and slackness.
Devastating
Exasperating,
but we won't let them steal our peace.
Breonna Taylor, rest in peace.
George Floyd, rest in peace.
Walter, Freddy,
Alton, Sandra,
Botham, Ezell,
rest in peace.
Tamir, John,
Michael, Michelle,
Atatiana
rest in peace.
Dominique, Tanisha
Philando, India
Trayvon and Emmet
rest in peace.
We won't rest until it's done
The mountain top is far-away
But one day we will see the sun
So be at peace this is our long day.
So keep on raging
Keep on thumping
From Beirut to Baton Rouge
We're stumping
from a place of strength,
and sans a grudge
So be at peace,
and rage in love
Jon Batiste - I Can (World Premiere; orch. Matt Wong)
[applause]
Jeff: From Carnegie Hall Live, the world premiere of I Can, composed by Jon Batiste and performed by him at piano and the Gateways Music Festival Orchestra, making its Carnegie Hall debut in this concert under the direction of conductor Anthony Parnther. Now, Batiste on his feet, really not moving away from the piano, receiving the applause from this audience and passing it on to all the members of the Gateways Music Festival Orchestra, and a deep bow from everyone on the stage.
John: I Can, the name of that piece. World premiere, so a song and a kind of sweet for piano into orchestra all in one extraordinarily well-received performance here on the main stage at Carnegie Hall.
Jeff: Jon Batiste once at the center stage. We should mention too that I Can, this new work also is credit offered in the program to orchestrator Matt Wong. This is the intermission of this concert, the Gateways Music Festival Orchestra. They're leaving the stage for a few minutes, but we have managed to grab one of them by the coattail as he walks by. We're delighted to welcome to the Carnegie Hall microphones, Alex Laing, who is the principal clarinet of the Gateways Music Festival Orchestra, and also with the Phoenix Symphony, and is an educator and a speaker around the country.
John: And serves on the board of directors in this orchestra.
Alex Laing: I do. Nice to be here.
Jeff: It's wonderful to have you here. What does it mean to this orchestra? You've been in the Gateways Orchestra since the start.
Alex: Not since the start, but since 2001. That was my first Gateways.
Jeff: That's more than 20 years now. What does it mean to have you and your colleagues in this place at this time?
Alex: The role this hall plays in this music is understood by all. We understand its importance, so that's really significant. I think also really significant for us is this is the first time that the orchestra or the festival has toured, has branched out of being in one place.
Jeff: Been outside of Rochester?
Alex: Yes. The festival originated in Winston-Salem and then moved with our founder, Armenta Hummings Dumisani to Eastman where she was on faculty. That's a big step for us as well. As you know, you're moving an orchestra or a music festival across a giant state like this is a big effort.
John: Can you distinguish for us the difference between the festival proper and the festival orchestra? What else is Gateways beyond this?
Alex: Sure. Of course, the orchestra, a whole bunch of people on stage, makes a great sound, gets a lot of attention, makes a big statement. In addition to this, the festival includes 27 performances this week, chamber music, lectures, a screening of a film, panel discussions. This is really, I think what Gateways does for us, in addition to bringing us together to make a joyful noise, in addition to bringing together a community that is often geographically separate but spiritually connected, it allows for an intellectual exchange that is captivating to us and we're finding to others as well. It's an incredibly exciting week for all of us. Exhausting, but exciting.
John: I want to come back to Jeff's first question to you, which was about the significance of being here. Last week I spoke to Carl Craig, who is one of the pioneers of the second wave of Detroit techno, who played here as part of Carnegie's Afrofuturism festival. I asked him what was it like to be at Carnegie Hall. His answer was, "I felt that Carnegie Hall, that places like that were not meant for people who looked like me and it was important to make that step and to be seen on that stage. Does that resonate with you?
Alex: Well, I think as artists in this music that's called classical, we have always felt that Carnegie is a place for us, but what we think is important is we know that there are audience members that, until we grace this stage, did not know that Carnegie was a place for them. I think that's really a significant thing that's happening right now in real-time.
Jeff: That feels like the two-fold idea of Gateways too. One of which is to support musicians of African descent who are isolated even in the ensembles in which they play as happens in other kinds of workplaces in the world, but also looking out at, as you said, the audience members who haven't found that Carnegie Hall is for them as well.
Alex: This music we call classical likes to drape itself in narratives of universality and likes to position itself as being aracial and reflecting some universal culture. There are some elements of truth to that, but what's happening in a concert hall is not just a celebration of Brahms and Walker and Batiste and Price, but it's also a celebration of the audience. People come to, I think, to concerts halls, not only to hear music but also to be affirmed culturally in their selves. I think we're really making some ground today in terms of that piece of it, in terms of, is this a space that celebrates and uplifts Black people, Black culture, not just Black performers.
John: I think it's really interesting, Alex, that this idea that-- Representation, of course, is important, but this idea of the narrative of classical music is beyond race, is something universal. That's a narrative that can be true, but it doesn't just happen. You have to make it true. It takes active participation to do that.
Alex: Yes. It can also serve as a beard or it can veil other, I think, less inclusive narratives. Also, sometimes I think we've used it to absolve ourselves as an art form from the issues of the day. "Oh, well this is classical music. We exist outside of space, time or this place." Of course, that's not true.
John: As Jon Batiste's piece just showed.
Alex: Well, I think that's another thing we're saying about what do we think can and should happen in a concert that would be called classical and where is this music coming from and who are our composers. Also particularly looking at it from the context of American orchestras. My good friend Titus Underwood likes to often post the question to American orchestras, "Are we American orchestras or are we European approximations?" There's a great degree to which American orchestras and American so-called classic music generally has really kept its most powerful legacy at arm's length, which is the music of Black people and Black Americans. It's our greatest cultural export as a nation. That's available to everyone. It's available to this art form too if it wants to. We know that it is, and that's what we're doing.
John: Alex Laing, the principal clarinet of the Gateways Music Festival Orchestra, also serves on their board of directors. Alex, thank you for stopping by. Enjoy the rest of your brief intermission.
Alex: All right. Thank you, gentlemen. Take care.
Jeff: Pleasure to talk to you. This is Carnegie Hall Live. It's intermission at the Carnegie Hall debut concert of the Gateways Music Festival Orchestra. They'll open the second half of the program with a big work by prolific American composer, Florence Price. We'll hear her Symphony No.3, one of more than 300 compositions of hers, symphonies, concerto, chamber music, and choral music, most of which were lost for decades.
John: In 2009, some people were renovating an abandoned house outside of Chicago, lo and behold, they discovered all of these manuscripts and it turned out that it was not all, but most of Florence Price's compositions. Since then, musicians have been eagerly performing this real treasure trove of music.
Jeff: We'll hear the third of her symphonies this afternoon, which was commissioned by the Works Progress Administration's Federal Music Project. We're talking of the depression years in America, a work in four movements meant to evoke music from African American tradition.
John: In fact, the third movement is called Juba, which is a type of body percussion and dance that was widely found in musical traditions of enslaved Afro-Caribbean people. That type of dance and the music that accompanied it was so important that Florence Price actually gave that name, Juba, to the third movement of all of her symphonies. Instead of a minuet or scherzo with trio you got a Juba. At least that's the case with her first, third, and fourth symphony. We don't actually have a complete score for the second. The members of the Gateways Orchestra are heading back out on stage at Carnegie Hall.
[applause]
Jeff: Now on stage, Conductor Anthony Parnther, ready to lead the Gateways Music Festival Orchestra and the Symphony No.3 of American composer, Florence Price.
Florence Price - Symphony No. 3
[applause]
Jeff: From Carnegie Hall Live, the Symphony No. 3 of Florence Price, performed by the Gateways Music Festival Orchestra conducted by Anthony Parnther in the orchestra's Carnegie Hall debut and he first time that work has ever been performed at Carnegie Hall, written in the 1930s with help from the federal government, the WPA program at that time, Florence Price created this Symphony No. 3. Not heard in this place until just now by the Gateways Music Festival Orchestra.
[applause]
John: This program has an almost built-in encore, which is a work by James V. Cockerham Fantasia on Lift Every Voice and Sing.
[applause]
Jeff: Conductor Anthony Parnther goes on stage, to conduct the final work on this program, the Fantasia on Lift Every Voice and Sing by James V. Cockerham in this initial performance of the Gateways Music Festival Orchestra at Carnegie Hall, a performance you'll hear from Carnegie Hall Live.
James V. Cockerham - Fantasia on "Lift Every Voice and Sing".
[applause]
Jeff: The Gateways Music Festival Orchestra from Carnegie Hall Live.
John: Their conductor back out on stage, pointing out the different sections of the orchestra, thanking them for their performance on this program, and asking members of the ensemble to rise. You can hear that the audience, again, willing to go there and applaud each of the musicians as they stand.
[applause]
Jeff: Now, all the orchestra on its feet and with Maestro Parnther bow to this Carnegie audience this afternoon.
John: Another curtain call for Conductor Anthony Parnther. A very gala-feel to this event.
Jeff: Absolutely. The conclusion of seven days of performances in New York City. Now we're so pleased to welcome to the Carnegie Hall microphones, Maestro Anthony Parnther. Congratulations.
Anthony Parnther: It's a real honor to be here with all of you and in my inaugural.
Jeff: Your first appearance at Carnegie?
Anthony: This is my first time here-
Jeff: Congratulations.
Anthony: -on stage, certainly, but certainly I think this was the best possible opportunity to have my first outing with this great orchestra on this great occasion.
John: It was wonderful to see you turn and conduct the audience in that final piece as well.
Anthony: I'm from the South, and I'm from the Baptist Church tradition, and Lift every voice and sing is sacred to my community. It's our national anthem. As soon as we hear that cord progression, our congregation stands, and we sing.
[laughter]
John: Well, Jon Batiste had a little church meeting going when he was reading his poem before the premiere of "I can."
Anthony: I mean, it certainly felt like a religious experience on stage with him without a doubt.
Jeff: How was putting that piece together because it was put together pretty much in New York, I think?
Anthony: Exactly. We principally had one and a half days to piece this work together. It's complex because each section has so many different contrasting qualities. There is an improvisatory element to it. We had to really be on our feet, go with Jon wherever he decided to go at any given minute. I think the possibility of spontaneity is what makes this particular live performance so deeply engaging and organic for everybody involved including the audience.
Jeff: Now, you, as a very busy conductor on sound stages in Hollywood, are accustomed to looking at a score and getting the musicians all organized and playing it. I suppose that Gateways is a little bit like that too because you don't get together very often. The orchestra comes together and you just dig into the music.
Anthony: There's a significant difference between conducting full-time orchestras and in this orchestra of special musicians from all over the country who do not play together regularly, once every year, once every couple of years. It's a real challenge for us to in very limited rehearsal time with a lot of events going on simultaneously put together especially a program of this difficulty and variety together and lightning fast. I think we rose to the occasion.
Jeff: Oh, it was a wonderful variety of sounds as you say, and a really wonderful performance. What's the potential of this orchestra? I wonder if in working with them now if any vision has occurred to you? That's an unfair question. I should have asked you that before this began, but I'll lay it on you anyway.
Anthony: I just feel that as musicians, our first responsibility is to come together and create beauty. As long as we stick to that principle, I think that's the vision. Of course, personally, I would love to see this orchestra come together more frequently. I would love to see this orchestra record especially literature that has been under-recorded or not recorded at all by underrepresented composers. I'd love to see this orchestra personally go on tour so that audiences outside of New York State have the privilege of witnessing the power and beauty of such a special ensemble.
John: A terrific program today bookended by two sets of variations. The Brahms to begin, and then the Variations on "Lift Every Voice and Sing" to conclude and in between, four works by four composers of African descent that even if they weren't world premieres like Jon Batiste's work, were the first time they were being heard on the Carnegie Hall stage. It seems like there was a real intention behind the planning of this program today.
Anthony: There was an assembly of musicians and people here within the organization that very carefully crafted this program along with Michael Morgan. Bless the Michael Morgan. That was cemented well before I became involved. I agree with you when I saw the program that had been given to me. This was a real challenge, but a little bit of everything. The Walker in its own way is a set of variations as well.
The Brahms is a set of variations that are primarily based on toying around with the melody, but Walker toys around with interval and rhythm in a very particular way with a much more sense of harmony.
John: There were two halves to the concert, obviously before and after intermission. Before everyone dressed all in black, second half, everybody has a splash of color. The African cloth comes out and no two people look exactly the same. What was the idea there?
Anthony: I just thought that it was so beautifully executed. We did that in Rochester also a couple of days ago when we presented this program minus the Batiste work. As you noticed, the audience responded in-hand to what they saw visual and it was just another extra element of all of these people on stage celebrating our heritage. It's a beautiful moment.
Jeff: Congratulations to you, Anthony Parnther, and to the Gateways Music Festival at an amazing week in New York in an amazing combination of this concert. Congratulations. [crosstalk]
Anthony: Lift Every Voice and Sing. Thank you so much.
John: Our thanks to Clive Gillinson and the staff at Carnegie Hall, the WQXR recording crew, Edward Haber, George Wellington, Irene Trudel, Duke Marcos, and our production team.
Jeff: Lauren Purcell Joiner, Christine Herskovits, Eileen Delahunty, and Max Fine. Carnegie Hall Live is a co-production of WQXR and Carnegie Hall.
Copyright © 2022 New York Public Radio. All rights reserved. Visit our website terms of use at www.wnyc.org for further information.
New York Public Radio transcripts are created on a rush deadline, often by contractors. This text may not be in its final form and may be updated or revised in the future. Accuracy and availability may vary. The authoritative record of New York Public Radio's programming is the audio record.