Carnegie Hall Live
Re-Play: The Chicago Symphony Orchestra Presents Berlioz, Bizet, and Respighi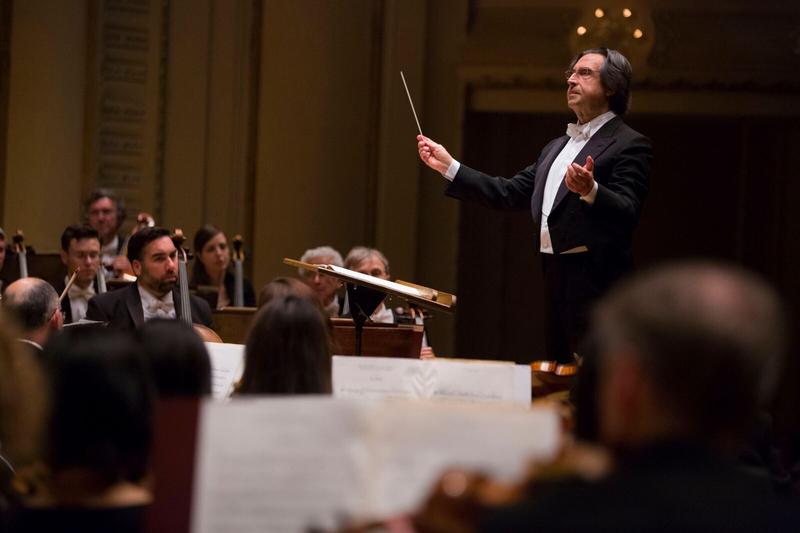 Transcript
[music]
Clemency Burton-Hill: In New York City, there are lots of ways to get to Carnegie Hall, the subway, a taxi, a walk down 57th Street. You've just found another way to get to America's most famous home for classical music. Welcome to Carnegie Hall Live. This broadcast series brings you Carnegie Hall concerts by some of the world's most celebrated artists, and you hear the performances exactly as they happen. You are part of the audience sharing the experience of music-making here at Carnegie Hall. I'm Clemency Burton-Hill.
Jeff Spurgeon: I'm Jeff Spurgeon. This is a three-city concert. It's taking place in New York at Carnegie Hall. The orchestra playing the music is the Chicago Symphony conducted by their music director Riccardo Muti. All the works we're going to hear are connected in one way or another to the eternal city of Rome where two of the composers in the program, Georges Bizet and Hector Berlioz, studied and where one of them, Ottorino Respighi, lived for many years.
Clemency: We are going to hear something that's probably as familiar as it is spectacular, Respighi's Pines of Rome, and we're also going to hear something quite unfamiliar, a symphonic work by Georges Bizet called Roma. Bizet is most famous for his operas, things like The Pearl Fishers, and of course, Carmen while his best-known work for just orchestra is a wonderful Symphony in C major, but Roma is hardly ever performed, and I suspect it will be a new discovery for many people hearing this concert this evening.
Mezzo-soprano, Joyce DiDonato, is the soloist in Hector Berlioz's The Death of Cleopatra, which depicts the suicide of the Egyptian queen who once traveled with Julius Caesar to, you guessed it, the city of Rome. Carnegie Hall Live is supported in part by the National Endowment for the Arts on the web@arts.gov. Additional support is provided in part by the Howard Gilman Foundation and public funds from the New York City Department of Cultural Affairs in partnership with the New York City Council.
Jeff: As concert-goers, we have it easy. We walk into the hall, find our seats, take our coats off, sit down, and wait until the music begins, which won't be long here at Carnegie Hall, but musicians coming on to the stage [unintelligible 00:02:41] have something else to do. They have to get used to the sound of the space they're performing in.
Clemency: That's a subject that came up today when we spoke to the orchestra's concertmaster, Robert Chen, he said they love playing in Carnegie Hall, but this place certainly sounds different from their home, Orchestra Hall in Chicago.
Robert Chen: The first day, the first rehearsal here is always quite a shock for us because we play in a space in Chicago that is relatively dry. The quality of the sound in Orchestra Hall is very beautiful, I think, but there's certain things about the resonance that's missing. When we come here, it's quite a revelation because you hear other things that you don't hear in the dry acoustic.
The ensemble also becomes an issue because certain things you don't hear as well, so you have to make adjustments. You have to listen much more carefully. Of course, the maestro is always there to balance and adjust, but I think it's up to the musicians really to make all the adjustments.
[applause]
Jeff: Some onstage adjusting is underway now, that, in fact, was applause for Robert Chen the concertmaster who's just come on stage her at Carnegie Hall.
[music]
Jeff: The Chicago Symphony Orchestra is assembled on stage, and we're just waiting for the arrival of Riccardo Muti, music director. Then we'll hear this four-movement work called Roma. It's not familiar to most audiences, took Bizet a very long time to write. He worked on the thing for nearly 10 years. Even when it was first performed in 1869, well, only three of the movements were presented.
It's maybe not quite a symphony. That was the idea that Bizet had when he wrote it, but at the end, he called it just an orchestral suite. Four movements and some wonderful music, the sounds that you will be familiar with if you love Bizet's music, whether that's Symphony in C or his operas.
[applause]
Clemency: Ready to be transported to Rome by the Chicago Symphony Orchestra under their Music Director Riccardo Muti. Live from Carnegie Hall, this is Bizet's Roma.
[applause]
Clemency: A love letter to Rome and the Italian countryside that Bizet had so fallen in love with as a 19-year-old when as winner of the coveted Prix de Rome, he went to say the [unintelligible 00:05:26] for two years to study in Rome, he was supposed to produce a Symphony in his second year, and he battled for about nine to come up with that. He said, "It was a devil of a job, but I have a real soft spot for it." It is Roma.
We heard it here performed by the Chicago Symphony Orchestra conducted by Riccardo Muti, himself, of course, great Italian musician. We mentioned that that piece is really not in the mainstream repertoire. That was the first time I'd ever heard it live. Jeff, I don't know why it's so obscure. It was Gustav Mahler who conducted its premiere here at Carnegie Hall back in 1911.
Jeff: It has been heard here before, but not very much. In fact, what Clemency did as we were listening to the performance, she said, "This is really beautiful. Why isn't it more popular?"
Clemency: I had a real soft spot for the horns in the beginning as well, I have to say, absolutely magical that opening.
Jeff: They are a special section of horns too because all the instruments I learned this afternoon are made by one man, Steve Lewis, S.W. Lewis horns of Chicago makes all of the horns for the Chicago Symphony. His instruments go many places beyond Chicago, but principal horn, David Cooper, we were speaking a little bit earlier this afternoon, and that is part of the reason why those horns have been so fabulous.
They have that synchronicity that a family of instruments all made by one man, one person, can have. That's part of the reason for that beautiful sound. Speaking of beautiful sounds, you're hearing some cheers out there. Maestro Muti is recognizing various members of the orchestra, brass section for sure, and now asking the entire Chicago Symphony Orchestra to rise to receive the applause of this very enthusiastic Carnegie Hall audience.
Place is sold out tonight, but even so, I was surprised at those cheers that followed the end of this piece, because once again, not a terribly familiar work, but they loved it just as much as you did, I think Clemency.
Clemency: It is now intermission. We have lots to look forward to though when the Chicago Symphony Orchestra and Riccardo Muti return to the stage of Carnegie Hall in a few minutes. We'll hear more Roman music from Ottorino Respighi and a performance by one of the great mezzo-sopranos on the world stage today, Joyce DiDonato. She will bring both beauty and passion to Hector Berlioz's The Death of Cleopatra.
She's also one of the busiest singers working today. We're going to hear about some of what she's been doing when we talk with her in a few minutes. Next, we're going to chat with one of the members of the Chicago Symphony.
Jeff: In front of the Carnegie Hall microphones now is the Chicago Symphony Orchestra principal clarinetist Stephen Williamson, welcome to Carnegie Hall Live.
Stephen Williamson: Thank you so much. It's a pleasure to be here.
Jeff: Thanks. Thanks for taking the time out of your intermission to talk with us a bit.
Stephen: Of course.
Jeff: You're quite familiar with New York City. You were principal clarinet at the Metropolitan Opera for eight years. What's the chief difference between working in a symphony orchestra and an opera orchestra other than the fact that the lights are very bright on stage?
Stephen: [chuckles] Well, of course, we're the featured artist on stage when you're in a symphonic orchestra. As a member of an opera orchestra, you have moments where you might be featured, but significantly, your role is to support the singing and whatever drama is happening on stage.
Jeff: I suppose that's right, but I can think of so many wonderful moments in opera when there-
Stephen: Oh, absolutely.
Jeff: -was a duet going on between the character on stage and the character in the pit.
Stephen: There's no doubt about it. It's one of the most inspiring things I've ever done in my life, and I love it.
Jeff: Opera orchestras, are they a little tighter than symphony orchestras just because the repertoire is probably smaller? Is that a fair statement?
Stephen: I don't know. Honestly, because the repertoire for opera, even though it may be more minimal in size, minimal opera is three hours, so there's a lot of music to be learned. As is with any opera, singers, every night, it's a different thing every time as it should be. It's a human experience. Every time it's different, that's what's exciting about opera. People think that you're only doing a few operas, maybe 16 operas a year or so, but every night is completely different.
As it is after intermission, that's what's so special. We're doing Berlioz's The Death of Cleopatra with Joyce DiDonato, she's just fantastic. It brings back memories for me working at the Met with great singers. Of course, maestro Muti always brings great singers to Chicago, but this is extra special. I never knew this piece until we did it I think last year, so [crosstalk]--
Jeff: [crosstalk] you're talking about.
Stephen: Yes, back in Chicago, but to do it again with her tonight is really special. We've enjoyed it very much with her.
Jeff: Had you done this Bizet piece before?
Stephen: We did it a year ago, sometime on the season last year. No, not up until just recently to bring it to Carnegie.
Jeff: You can do this work for a long time and still find lots of new things.
Stephen: Oh, every time, and like I said, it's a living breathing organism. Every moment is different than the time before. You wouldn't want it to be the same, it'd be like a robot. We don't want to be that way.
Clemency: You mentioned the Berlioz is coming up but also Respighi, and I wonder if you can let us into any of the best clarinet parts?
Stephen: Oh, well--
Jeff: What can we look forward to, Stephen?
Stephen: Gee, I don't know. [chuckles] Actually, you're very kind to mention it, but the third movement of Respighi's Pines of Rome is a very, very pinnacle moment in any clarinetist's life. We're always practicing the solo, it's on practically every orchestral audition, whether it's here in the States or abroad in Europe, or in Japan. It's one of the most challenging solos because it's so lyrical and it's supposed to be played so softly.
Jeff: It is an absolutely transcendent moment in that piece.
Stephen: It can be. It can be.
Jeff: Where do you go when that moment's happening? Is it technical? Are you thinking catch the breath, make sure you've got that embouchure, right?
Stephen: Hopefully, by the moment that you've done this so many times and practiced this solo so many times, you're hopefully past any technical aspect, and you can just be free with the music and with the atmosphere, and hopefully trying to portray what the composer's intending which is a distant Nightingale singing. Yes, that's the goal [chuckles].
Jeff: It's a beautiful moment. Well, we're looking forward to it.
Stephen: Thank you.
Jeff: We know that you need to go get warmed up for it as well, also to enjoy Ms. DiDonato's performance.
Stephen: It's a pleasure to meet you both. Thank you so much.
Jeff: Thank you so much, Stephen.
Stephen: Thank you.
Jeff: Stephen Williamson, principal clarinet of the Chicago Symphony Orchestra. He's just one of the great people on his instrument that is around today. Thank you. Thank you so much. Carnegie Hall Live is supported in part by the National Endowment for the Arts on the web@arts.gov. Additional support is provided in part by the Howard Gilman Foundation and public funds from the New York City Department of Cultural Affairs in partnership with the New York City Council.
[music]
Jeff: It's intermission here at Carnegie Hall, coming up in the second half as we mentioned, works by Ottorino Respighi and Hector Berlioz's Death of Cleopatra sung by mezzo-soprano Joyce DiDonato. We'll hear about her adventures and some of the projects she's working on, but first, let's hear some of her music.
[music]
Clemency: A tantalizing taste there of Joyce DiDonato singing Non piu di fiori from Mozart's La Clemenza di Tito. We heard Joyce there with the Lyon National Opera with Kazushi Ono conducting. Joyce DiDonato, in addition to her very busy performing and recording career, has also dedicated herself to many social justice projects, including a fascinating and timely collaboration with Carnegie Hall.
[advertisement] [music]
Jeff: Joyce DiDonato singing music created in the Lullaby Project. Well, in a few short minutes it won't be a lullaby exactly. It will be Hector Berlioz's The Death of Cleopatra with the Chicago Symphony Orchestra coming to you from Carnegie Hall Live. Backstage of Carnegie Hall, I'm Jeff Spurgeon along with Clemency Burton-Hill. Two works left on this program by the Chicago Symphony Orchestra in Carnegie Hall, Ottorino Respighi's Pines of Rome, and before that, Hector Berlioz's The Death of Cleopatra.
Joyce DiDonato in the role and she is no stranger to Berlioz's music.
Joyce: I've been singing Berlioz throughout my career, with Les Nuits d'été, and Béatrice et Bénédict, and now adding Cleopatra into the mix it feels like, even though this is so early in Berlioz's world, it's like he had all of that capacity to put the tragedy, the drama, everything. This feels like a complete opera crammed together in just 20 minutes in once scene.
It's interesting because we meet Cleopatra, the first thing she says as well, that's that she's broken, and she's over.
How he still keeps the drama going through all of this, it's astonishing.
Jeff: From Berlioz's memoirs, here is what he wrote about the subject for Cleopatra after the Battle of Actium. He said, "The Queen of Egypt clasps the asp to her bosom and dies in convulsions, but before dying, she invokes the spirits of the Pharaohs, and in holy fear demands to know if she, the Queen of crimes and dissipations, may hope to enter those mighty vault erected to the shades of monarchs distinguished for their fame and virtue."
Berlioz said that here was an idea worth expressing in music and had often in his imagination, he said, conceived a musical equivalent of Juliet's wonderful monologue, "How if, when I'm laid in the tomb," the passage from Shakespeare that had something in common with this idea in the Cleopatra text, at least in its sense of dread. "This was a start," Berlioz said, "for a great work of art."
It received its first performance in Carnegie Hall 1961. Leonard Bernstine the New York Philharmonic and Jennie Tourel.
[applause]
Jeff: Those cheers are for Joyce DiDonato and CSO music director Riccardo Muti on stage now. The musicians in the orchestra are also offering their applause to Ms. DiDonato, and so, Hector Berlioz's The Death of Cleopatra comes to you now from Carnegie Hall Live.
[music]
[applause]
Jeff: The last beats of Cleopatra's heart, the asp she has clasped has bitten her and taken her life. A bitter ending but a powerful piece of music by Hector Berlioz.
The Death of Cleopatra performed by the Chicago Symphony Orchestra, their music director Riccardo Muti, and mezzo-soprano Joyce DiDonato. The performance coming to you from Carnegie Hall Live.
[applause]
Clemency: Joyce DiDonato mentioned that incredible effect that the heartbeat that just pulses through that and there's something that is so visceral when you experience it live, I hope that comes across on the radio as well. The dramatic effects of what Berlioz, such a young man, capable of achieving. Joyce talked about cramming a whole opera into 20 minutes and you really do go through all the emotions.
Jeff: You heard the audience appreciating this performance very much here at Carnegie Hall with the Chicago Symphony Orchestra in town with this amazing mezzo-soprano. [chuckles] As she walks up, she looks a little exhausted herself.
Clemency: She also looked fabulous. She's wearing a dress which I thought for a moment might have serpents on it. It's a rather fantastic multi-colored silk confection. I think they're dragons or some sort of mythical creature.
Jeff: Or a musical lyre is the pattern that I saw, but we'll look more closely when she steps on stage again in a moment. Right now she's on stage, listen to this audience.
[applause]
Clemency: Carnegie Hall loves Joyce DiDonato. She's waving to the back of the hall. It is packed to the rafters this evening.
[applause]
Jeff: Now back on stage, maestro Muti. Very enthusiastic applause for Ms. DiDonato from the orchestra and the maestro has now asked the musicians, all of them to come to their feet and another bow for Joyce DiDonato.
[applause]
Jeff: The stage door is opening, stagehands and musicians moving out to make changes in the group of musicians on stage as we get ready for the final work on this program tonight which will be Ottorino Respighi's Pines of Rome. Cleopatra, you seem remarkably vital though your death was quite vivid on stage.
Joyce: I've been resurrected.
[laughter]
Joyce: It was just a little bite.
[laughter]
Jeff: That was thrilling, but you did come on stage and you were slightly wilted, you do go through it.
Joyce: There's no way not to do this piece and not go through it. We talked earlier, it's like one full opera condensed in one and she's so broken by the end, and Berlioz captures it quite theatrically.
Clemency: How do you muster that every single time, Joyce, it's a marathon?
Joyce: It pulls you in. You hear the downbeat especially the way maestro Muti just violente right from the start and then you have this text, the first thing she says is, "Well, it's over," and there's only one place to go from there. There's no way not to just jump into it 100%. It's a scary peice, there's nowhere to hide, and it demands everything from the voice, and it demands that you really go there.
She's lost her beauty, she's lost her power. At the end, she's destroyed a culture, a civilization, essentially. It demands that you show up and you go.
Jeff: It could get you down that sort of thing.
Joyce: It's still so fabulous, the music. What I love is that it's young Berlioz and you just think-- We talked about the prize. He did everything wrong. You're not supposed to do all that he did and it goes in so many different directions, but you hear everything that's to come. I love that it's so unbridled and he dares to go there with pushing the envelope as far as he can.
Jeff: All of the things that we love about it are all the reasons he lost the prize.
Joyce: Exactly, yes.
Jeff: It's an amazing piece. Well, I'll tell you that you can hear a performance of this without the vitality that you bring to it. It's a remarkable thing, but this is what you do in all of your roles is you go inside them and then you share what's happening with those people when you're out on stage.
Clemence: You have lost none of your beauty or power, thank goodness for us.
[laughter]
Clemence: We are the lucky recipients.
Joyce: You can say that on the radio, thank you.
[laughter]
Clemence: I just did, so it's fact. Joyce DiDonato, we love you. Thank you so much for joining us.
Jeff: Thank you [crosstalk].
Joyce: Thanks. I'm so happy that everybody tuning in gets to hear this occasion, so thank you.
Jeff: Just a great treat.
Joyce: Thank you. Thanks, WQXR.
Jeff: Thank you so much. Thank you too, Joyce. Stage doors closed now, stage reset, Maestro Muti backstage, and we are ready now for a great journey in Rome through the music of Ottorino Respighi. We're going to hear the second of his great symphonic cycles, The Pines of Rome. Respighi lived in Rome for a good long time, knew the city very well, had great success with the first of these Rome pictures, but this was the best one. This was the next one and The Pines of Rome raised all of this art to a new level.
Clemence: It was a smash hit. He wrote it in 1924. By 1925, he was here in the US. He came to New York and then went on to Chicago. He led a performance of The Pines of Rome there conducting it. Also, gave a performance of his new Piano Concerto. He was a triple-threat, composer, conductor, and pianist. He also conducted it around the East Coast, in Washington DC, in Philly, in Cleveland, in Baltimore, all around America.
Jeff: It's such a fabulous vehicle for a great orchestra like this because then you get to appreciate what a brilliant orchestrator Respighi is, was, and will always be. A little under-appreciated, in my view, but Riccardo Muti is going to make the case with the Chicago Symphony, as soon as that stage door opens, and he goes out into the hall to lead these musicians for a fabulous journey through Rome in four scenes: The Pines of the Villa Borghese, Pines near a Catacomb, The Pines Of The Janiculum, and finally, The Pines Along the Appian Way.
[applause]
Jeff: Offstage, you will be hearing some of the amazing brass players of the Chicago Symphony as well with some Wagner tubas and some flugelhorns and trumpets, and trombones, all part of the orchestration that Respighi called for in The Pines of Rome. The Chicago Symphony on its feet now, Maestro Muti on the podium turned to the audience. The Pines of Rome now from Carnegie Hall Live.
[music]
[applause]
Clemence: Respighi's Pines of Rome performed live here at Carnegie Hall in New York City by the Chicago Symphony Orchestra under the baton of their much-loved music director, Riccardo Muti.
Jeff: Respighi studied with Rimsky-Korsakov, so it's no surprise that he's a great orchestrator.
Clemence: You can really see why he has had such an impact on film composers. John Williams often cites Respighi as being a major influence, and you can really, really hear why. Riccardo Muti has come off stage looking very triumphant himself.
Jeff: Now, back on stage, for a curtain call, Maestro Muti. I dare say, he will be singling out some members of the orchestra now.
[applause]
[cheering]
Jeff: A fabulous work for rims, incredible solos, the clarinet, and the whole rest of the section, and that amazing Chicago brass. Yes, he uses all the resources that he can in the orchestra including as he designated [unintelligible 00:34:58] the buccina, which is an ancient Roman trumpet. He gave options for modern instruments to be used. In this case, the Chicago Symphony employed a group of flugelhorns and four Wagner tubas, in addition to their trumpets and trombones.
[applause]
Jeff: Again, applause for individual members of the Chicago Symphony Orchestra here on stage at Carnegie Hall as this concert concludes with that amazing and mighty sound. There is an organ that is employed in The Pines of Rome as well. You've heard it in that Journey on the Appian Way. Of course, a notorious, at the time, addition to the orchestra, was the recording of a nightingale.
Clemence: Also, curiosities like celestas, and tum-tums, and rattles, and all sorts of things really pulls magnificent forces together for this and it's often said that the daring of his orchestral writing and his language is somewhat lost on modern orchestras or audiences. It can sometimes sound a little pastiche and parody almost, somewhat passe, but in the hands of a truly great orchestra like the Chicago Symphony Orchestra and a truly great conductor like Riccardo Muti, it's just sincere [unintelligible 00:36:29]. It's the real deal.
Jeff: It's absolutely thrilling.
Clemence: [crosstalk] was Respighi's signature piece and it's as fabulous today as it ever was.
Jeff: That concludes this performance by the Chicago Symphony Orchestra at Carnegie Hall. Tonight, we heard George Bizet's Roma, Joyce DiDonato sang The Death of Cleopatra, a work by Hector Berlioz, and Ottorino Respighi's Pines of Rome to conclude this performance.
Clemence: Carnegie Hall Live is supported in part by the National Endowment for the Arts on the web at arts.gov. Additional support is provided in part by the Howard Gilman Foundation and public funds from the New York City Department of Cultural Affairs in partnership with the New York City Council.
Jeff: We would like to say thanks to all the people who helped to make this concert broadcast possible. Clive Gillinson and the staff of Carnegie Hall. WQXR's recording crew including George Wellington, Noriko Okabe, Rick Kwan, and Edward Haber. Our social media producer, Greta Rainbow, our stage manager, Max Fine, our production team, Christine Herskovits, Matt Abramovitz, and Eileen Delahunty, and our production assistant, Joel Feinberg. We thank you for listening. Carnegie Hall Live is a production of WQXR in New York.
Copyright © 2020 New York Public Radio. All rights reserved. Visit our website terms of use at www.wnyc.org for further information.
New York Public Radio transcripts are created on a rush deadline, often by contractors. This text may not be in its final form and may be updated or revised in the future. Accuracy and availability may vary. The authoritative record of New York Public Radio's programming is the audio record.