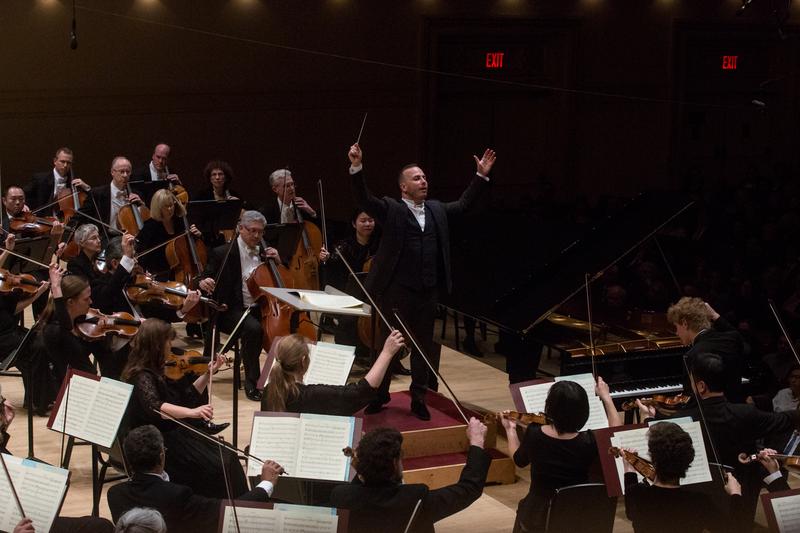 Transcript
Jeff Spurgeon: In New York City, there are lots of ways to get to Carnegie Hall. The subway, a taxi, a walk down 57th Street. This is another way to get to America's most famous home for classical music. Welcome to Carnegie Hall Live. This broadcast series brings you Carnegie Hall concerts by some of the world's greatest artists, and you hear the performances exactly as they happen. You are part of the audience, sharing the experience of music-making at Carnegie Hall. I'm Jeff Spurgeon.
Clemency H.: And I'm Clemency Burton Hill. Great orchestras come from across the globe to perform here, but they don't all come from far across the globe. The musicians we're about to hear have taken a trek of some 75 miles or so for the gig that they're about to play. It is the Philadelphia Orchestra, bringing with them an all-Russian program of Stravinsky, Rachmaninoff and Prokofiev, a young Italian piano virtuoso named Beatrice Rana and their music director, Yannick Nézet-Séguin. He says it's always worth it for the Philadelphians to wend their way to New York.
Yannick N.: Well, every time the Philadelphia Orchestra is performing at Carnegie hall, there is a sense of something special. You know, we played there three, four times a year. And so we're really lucky, actually, to be in such a hall so many times a year. And I consider it also personally really ... I welcome this with a lot of gratitude. But nevertheless I can say that the orchestra is really performing extra well when we are in New York.
Jeff Spurgeon: And there's another reason the musicians might be performing extra well as this concert begins. The Philadelphia Orchestra just got news of the largest gift in its history, $55 million, from a group of anonymous donors associated with the Silicon Valley Community Foundation. The donors describe their gift as an expression of their confidence in the artistic and organizational leadership of the orchestra. $50 million will go the orchestra's endowment fund, and $5 million is designated for its operating budget.
Clemency H.: Carnegie Hall Live is supported in part by an award from the National Endowment for the Arts. Additional support for WQXR is provided in part by the Howard Gilman Foundation and the Andrew W. Mellon Foundation. And by public funds from the New York City Department of Cultural Affairs, in partnership with the New York City Council.
Jeff Spurgeon: There are three works on this program, starting with a piece of music that was lost for more than a century, and rediscovered only in 2015. Igor Stravinsky's Chant Funèbre, a funeral song in memory of Stravinsky's teacher, Nikolai Rimsky-Korsakov. After intermission, the Philadelphia Orchestra will play Rachmaninoff Symphony No. 1, such a disaster at its 1897 premiere, that it almost ruined the composer. And in between those two, it will be the very popular Prokofiev Piano Concerto No. 3, featuring soloist Beatrice Rana. She made her Carnegie Hall recital debut in March of 2019, in Zankel Hall, one of the smaller performance spaces here at Carnegie. We will hear her first ever performance in Isaac Stern Auditorium in just a few minutes. She told us that being here is a big honor.
Beatrice Rana: Because you know I grew up with videos of great pianists, great musicians, walking on that stage and this kind of memorable performance is so ... Of course, it's a great honor, which means also a great responsibility, but at the same time a great joy.
Jeff Spurgeon: I'm just going to say, I hope it's fun, I hope some of it ...
Beatrice Rana: Oh, it is. It is, it's great to share music on such a venerable stage, and for such knowledgeable audience too, because they get to see great artists every night, and I couldn't be happier.
Clemency H.: Well, Beatrice Rana and Yannick Nézet-Séguin have already performed Perkofiev together, but it was Piano Concerto No. 2, a work in a much darker mood than the one we'll be hearing in just a few minutes.
Beatrice Rana: The 3rd Concerto is a much heavier concerto, and it shows also a mature personality of Perkofiev, because Perkofiev was a great pianist, so you can see that immediately from the very first compositions, but with the 3rd Concerto you get also a level of orchestration which is just amazing, and which makes life for the musicians of the orchestra very challenging. Because everyone has a very difficult part and ...
Jeff Spurgeon: Well you have a difficult part too, so it's only fair.
Beatrice Rana: Yeah, it's fair. One of the few concertos that are fair for the soloist.
Jeff Spurgeon: Beatrice Rana, we'll hear more from her in just a few minutes. But as the audience members get settled into their seats for this sold out performance by the Philadelphia Orchestra, here's a little bit about this article from Classical Music's lost and found department, then we'll start the concert.
Jeff Spurgeon: Igor Stravinsky's Chant Funèbre is a small work, about 10 minutes in length, written as a memorial tribute to Nikolai Rimsky-Korsakov, who was not just Stravinsky's composition teacher but also a mentor and an important friend.
Clemency H.: Stravinsky's father was an opera singer, a prominent bass in the Imperial Opera, who had created roles in several Tchaikovsky operas. In the familiar story of parents who are terrified of their children's desire for a life in music, Stravinsky's father insisted that Igor pursue a career as a lawyer.
Jeff Spurgeon: And in the familiar story of rebellious children, Igor skipped most of his law classes. But among his classmates was one of the sons of Rimsky-Korsakov, and through that connection Stravinsky began taking private composition lessons with Rimsky, and a bond was forged. Stravinsky was 20 when his father died. Rimsky-Korsakov filled that void and became something of a father figure to the young composer.
Clemency H.: Stravinsky dedicated his Opus 1 Symphony to his teacher, and another of his early compositions, called Fireworks, was written for the wedding of Rimsky's daughter. Rimsky died in 1908 and Stravinsky composed the Chant Funèbre for a concert in his late teacher's honor. It as performed just once, in 1909 in St. Petersburg. Not long after, Stravinsky's career took off, and then of course came World War I and the Russian Revolution.
Jeff Spurgeon: The score of the funeral tribute to his old teacher disappeared in the tumult, and it wasn't found again until 2015. The St. Petersburg Conservatory was going to be renovated, and a librarian found the orchestral parts. In the intervening years, Stravinsky said he couldn't remember the music itself, but he did remember the idea of the piece. All the solo instruments of the orchestra, filing past the tomb of the master in succession, each laying down its own melody, as the wreath against a deep background of tremolo murmurings. Students may also recall the work made a strong impression at its first performance. Might have been the power of the music or the sadness of the occasion, couldn't remember which. And now onstage, Yannick Nézet-Séguin, music director and conductor of this performance with the Philadelphia Orchestra. A great ovation from this Carnegie Hall audience. And now, Stravinsky's Chant Funèbre, for the first time, ever, and coming to you from Carnegie Hall, live.
Clemency H.: Long thought lost in the wake of the Russian Revolution, that funeral song described by its composer Igor Stravinsky as the best of my work before the Firebird. Performed here at Carnegie Hall Live by Yannick Nézet-Séguin conducting the Philadelphia Orchestra. A work that he had written to honor his beloved teacher, Nikolai Rimsky-Korsakov. The work was premiered at a memorial concert in January 1909 and afterwards lost, but what a treasure has been rediscovered, Jeff.
Jeff Spurgeon: Indeed, and its first performance given just now, here at Carnegie Hall. Now there's some business to do. Some musicians are leaving the stage, and the Carnegie Hall stagehands are quite busy. They have a Steinway piano to move out onto the stage for the next work on our program, the Piano Concerto No. 3 of Sergei Prokofiev is what you're going to hear. Prokofiev, born in 1891, nine years later than Stravinsky, and in contract to Stravinsky's upbringing, Prokofiev's parents realized their son's musical talents early on, encouraged them, and gave him a great musical education. His 3rd piano concerto was written over about 10 years time, and there was some difficulty at the very end. Prokofiev misplaced some of the solo part of the final movement, and then he had trouble remembering what he'd written. But he did finish it, struggled a bit to learn to play it, and was at the keyboard for its premiere in Chicago in 1921. He was also there working on the first performance of his opera, "Love for Three Oranges".
Clemency H.: Also with us in this performance tonight is the brilliant young Italian pianist, Beatrice Rana, and she told us that she loves the contradictions in Prokofiev that sharpen his work.
Beatrice Rana: Prokofiev for his lifetime, he always refused to be called a romantic composer. He really wanted to cut that kind of tradition with the old Russian music, and to set a new standard, but at the same time, he really never renounced it, he was always tempted by these romantic melodies. And that's exactly what you get in the concerto. And this contrast always strikes me so much.
Clemency H.: Prokofiev himself described the last part of this concerto as an argument between the piano and the orchestra. Beatrice Rana puts it a little bit more politely perhaps, but she does acknowledge a certain diabolical element.
Beatrice Rana: What I really like in the third movement is that there is such a huge contrast between piano and orchestra, and it's really like a devilish dance that it's just so amazing, and then all of a sudden you get this wonderful melody by the orchestra, which interrupts everything. And right after, there is this moment when the piano just starts from completely different point of view, without any kind of sense of gravity. And that's so amazing, because you know when you have a dance, or when you have a melody, there is always a feeling of being grounded to the floor and still, there is that kind of rhythmical indulgence, but at that point, Just in the middle of the third movement, you have this thing with the piano and [inaudible 00:09:57] this pianissimo. I always ask myself where we got this kind of inspiration, because it's really coming from nowhere.
Jeff Spurgeon: This moment tonight is a real occasion for Beatrice Rana. Her first appearance before an audience, in Isaac Stern Auditorium, the place people think of when they think of Carnegie Hall.
Jeff Spurgeon: A native of Cupertino, in Southeast Italy, she won first prize at the 2011 Montreal International Music Competition as a teenager, and earned a silver meal and the Audience Award at the 2013 Van Cliburn Competition. She's already recorded three albums, Bach's Goldberg Variations, an album of Tchaikovsky and Prokofiev piano concertos, and a recording of Leonard Bernstein's, Symphony No. 2 Age of Anxiety. Both of those concerto albums with Antonio Pappano and Orchestra del Academia Nacionale de Sante Cecilia.
Clemency H.: She is strolling around backstage, looking absolutely cool as a cucumber, and also radiant I might say, in a sort of sunflower-yellow gown, Beatrice is just 26 years old. It is astonishing to believe that when you hear her playing. She was actually in the Green Space, WQXR's live event space in downtown Manhattan just on Monday night, because she's a member of WQXR's Inaugural Artists to Watch scheme, called 19 for 19. She absolutely dazzled the audience on Monday night. They also had it live on the radio as well. Perhaps you too were listening, and what an extraordinary talent she is.
Jeff Spurgeon: And we might have a sample of some of her performance on Monday night at intermission, to anticipate giving her a little bit of that performance with praise. Well, the furniture moving has ceased. You hear the orchestra, the Philadelphia Orchestra tuning up once again. The stage door is closed, and backstage we have the maestro and the soloist and we are just moments away from Prokofiev's great Piano Concerto No. 3. He wrote five of them. The third is the great favorite. It is full of challenges for the piano and thrilling passages that require a great deal of technical skill. And as you heard Ms. Rana mention, then these melodies pop out that Prokofiev produces.
Jeff Spurgeon: So it's going to be a great ride, and we're just about to take it. The orchestra, quiet. Soloist and conductor backstage, just awaiting for that moment. Last couple of words being exchanged by the maestro and the young woman about to take the stage, and out she goes. And the audience welcomes Beatrice Rana, walking across the boards of the stage in Carnegie Hall for the first time, to join the Philadelphia Orchestra and music director and conductor Yannick Nézet-Séguin, to bring you Prokofiev. Maestro mounts the podium and it's Prokofiev's Piano Concerto No. 3 from Carnegie Hall Live. From Carnegie Hall Live, Prokofiev's Piano Concerto No. 3. The very first performance in this hall by the piano soloist. You hear the cheers for her, they are coming not only from the audience but from the orchestra as well. The young Italian Beatrice Rana, along with music Yannick Nézet-Séguin and the Philadelphia Orchestra. Backstage, I'm Jeff Spurgeon alongside Clemency Burton Hill.
Clemency H.: Beatrice Rana is one of the members of our Inaugural Artists to Watch scheme here on WQXR. She was with us in the Green Space on Monday evening. I think we can safely say she is an artist to watch. Imagine being 26 years old, and making your Carnegie Hall debut like that.
Jeff Spurgeon: The enthusiasm was just ... Well, it was wonderful. This is a polite and sophisticated audience that comes to see the Philadelphia Orchestra. Nothing against any other audience, they know this orchestra, they appreciate the maestro. They couldn't restrain their applause after that first moment, it was so exciting. Backstage, Nézet-Séguin and Rana, and now he's sending her out in front of him, and this is the sound of a Carnegie Hall audience for Beatrice Rana.
Clemency H.: Sounded like Yannick Nézet-Séguin and Beatrice Rana just telling a little joke there. Just cooling it, might have a little sip of water, and off they went back onto the stage, as you do. Just an average Friday night for those two. Prokofiev himself said that the piece turned out to be so devilishly difficult that "I have not yet managed to learn it." This is about 10 days before the premiere in 1921. He said, "I am cramming at the piano three hours a day." Beatrice Rana made it look relatively effortless, I would say.
Jeff Spurgeon: Oh, it just flowed out of her and out of the orchestra too. Fabulous orchestra they have in Philadelphia. Ricardo Morales, principal clarinet starting things off. It's a really a wonderful Hall debut for this young artist. So, we're very pleased that she is part of our 19 for 19 emphasis this year. And as you hear this Carnegie Hall audience, many of them on their feet, once again, Beatrice Rana receiving the ovation of this Carnegie Hall crowd.
Clemency H.: From what we can glimpse backstage, Jeff and I and actually like everyone in Carnegie Hall was on their feet. Sounds like it too.
Jeff Spurgeon: A deep bow from her, and an encore.
Clemency H.: Taking the temperature down a little bit here at Carnegie Hall, Beatrice Rana and a Chopin etude for her encore. We hope it's 25 Number One in A Flat, and it reminds me I was lucky enough to be in one of our studios at WQXR not so long ago, and Beatrice Rana came in to make a special performance for our offstage series, absolutely exquisite rendering of Chopin in this very intimate setting, and I remember just being in bits on the floor of the studio, listening to her play Chopin. It's a very very different sort of experience tonight. She's taking the hand of Yannick Nézet-Séguin, who sat on the stage at Carnegie Hall watching her, for all the world like a proud friend, proud collaborator. He's been been such a supporter of her. She made her debut at the Philadelphia Orchestra back in 2015, and what a fruitful artistic collaboration this has proven to be. Beatrice Rana, an absolutely triumphant debut, on the main stage at Carnegie Hall this evening.
Jeff Spurgeon: And one more salute for the entire Philadelphia Orchestra. All the musicians on their feet, everyone gets a bow, including Maestro Yannick Nézet-Séguin and with that, the first half of this concert comes to a close. But we have a great deal more to share with you. In fact, another recent, very recent performance by Beatrice Rana, which Clemency mentioned, that took place just a few days ago in the studios at WQXR. And once the intermission has proceeded, we will enjoy Rachmaninoff's Symphony No. 1. If you haven't heard it before, well, you're going to have a better time than Rachmoninoff did when he heard it for the first time. The performance did not go well, and it forced a sort of psychological break in Rachmoninoff that took him years to relieve.
Jeff Spurgeon: We'll tell you a bit of that story, and then we'll hear the work, which like the Chant Funèbre of Stravinsky that opened this concert, was a work that was lost for a very long time, not as long as the Stravinsky, which disappeared for more than a century, but nonetheless the Rachmoninoff didn't reappear until after the composer's death. So we have a lot to look forward to in the second half, and lots of congratulations for the musicians. But now, at the microphone, we are so pleased to say good evening to Yannick Nézet-Séguin. Welcome to our Carnegie Hall microphones and thank you for that fabulous Prokofiev.
Yannick N.: Thank you, thank you. It's always a pleasure to be here. I have to say I notice how the microphone was adjusted exactly to my height, so I thank you for this.
Clemency H.: Of course, Yannick! Nothing else for the maestro!
Jeff Spurgeon: We endeavor to offer you a professional atmosphere here at Carnegie Hall, as you offered to us.
Yannick N.: I feel like home.
Jeff Spurgeon: Well, let me ask you about home, because as musical director of the Metropolitan Opera now and music director of the Philadelphia Orchestra, where, where do you live? Where do you live? Princeton's halfway down. You should just buy a house there.
Yannick N.: It's a good question. So, I live where my cats live, and they still live in Montreal, but I have to say I actually spend equally my time in Montreal, in New York and in Philadelphia. So I do own apartments in all three cities, and so it feels like home everywhere, and I have feel like I have three families and three homes.
Jeff Spurgeon: Well, you certainly have earned all of them too, with your amazing work in Philadelphia, which as Clemency and I were talking before the broadcast, surely has to be part of the reason why the Philadelphia Orchestra has just received a $55 million donation. It's an astonishing gift, one of the largest in classical music.
Yannick N.: Yeah, of course we're overwhelmed. We're so joyful at the moment. This is such an encouragement because we've been doing now for the eight years I've been together with the orchestra, we've been doing a lot of work. Just artistically, the level of the orchestra, the kind of music making which is incredible with these incredible musicians, but even more importantly, how to share it with our community and how to share it here in New York, also abroad. We just came back from a tour of China, and I feel that this gift is just an overall encouragement for the work we're doing, and we can look at the future. You know, I signed with this orchestra at least until 2026, so this also gives me great joy, to have the next seven years knowing that we can dream bigger and we can achieve even more of what we want to achieve.
Clemency H.: That is a very significant and long term commitment, Yannick, and listen, you have the pick of the world's orchestras at your disposal. You could be with anyone. What is it about this orchestra, what is that musical chemistry that we can hear, palpable on the stage tonight?
Yannick N.: Even in my very first rehearsal with them, back eleven years ago almost, I just fell in love because yes, I tried to put all my heart and energy in every note, in every bar, in every rehearsal, and I felt really a kindred spirit from the whole orchestra that for them making music is an act of generosity. It's an act of passionate all notes, every bar, it matters. And I think this is what we can hear. Music is about electricity. It's about living in the moment, listening to each other, communicating something, communicating emotions. And that chemistry has evolved now into even deeper chemistry or what I would say just now we can feel each other, we can anticipate each other and this is even more joyful than it was eight years ago.
Jeff Spurgeon: I have to say too that you've also just provided us with a wonderful segue, so that we can talk to Beatrice Rana, who's joined us. The communication that you guys had, in that concerto, was unbelievable. Just wonderful, and Beatrice, you told us that that also was apparent in your first working with Yannick on Prokofiev.
Beatrice Rana: Absolutely, it was immediate. After the first note I understood that it worked so well, because it's ... You can discuss as much as you want, music, but as soon as you make music, it's something different and it's about chemistry. And if it works, it does immediately, from the first moment. And it's very often problematic when you get to work with an orchestra who doesn't know the conductor. And the first rehearsal is ... It's tricky, because you want to know what are your intentions, if you like him as a musician or if they like us ...
Jeff Spurgeon: Isn't that the start of every relationship? Yeah.
Beatrice Rana: But here, it's really like ... For me it was like speaking to one person because the cohesion that there is between Yannick and the Philadelphia Orchestra, I never found anywhere else. And still, that doesn't mean that, like when musicians don't have personality, because everyone has such freedom to really also inspire us when they play. Seriously, when I heard the first clarinet solo in the rehearsal, I was so inspired, and that happens so rarely, so a huge privilege for me.
Jeff Spurgeon: Ricardo Morales has got it going on with the clarinet. He's just ... It was thrilling. The ending of that first movement, the audience couldn't restrain itself.
Yannick N.: Yeah, and I kept ...
Clemency H.: `Well look at Jeff Spurgeon backstage.
Yannick N.: You know, so it happened also yesterday, last night in Philadelphia. And there's always this moment of we don't know what to do when that happens. But I knew in a way it was just so extraordinary because ... It's not because we are completely rushed or decided to do anything flashy, it's just that you're so ... You talk about cohesive approach, this is what also is striking about your musical personality. So I don't blame the audience, and I actually turned to you both times, and I said, "Look, take it." It's fine. We should not shush anyone, it's just ... This is an outburst coming from in the moment, as you said.
Jeff Spurgeon: You are making the expression, and it touches people, and they have to react, so it was ... God, it was a thrilling performance.
Clemency H.: So Beatrice, you made your Carnegie Hall debut officially in March of this year. You're coming back again later in the year. Three times in Carnegie Hall, in your debut year, that's quite the thing.
Beatrice Rana: I don't think I will get bored by this.
Clemency H.: Oh no, not this place again! You're 26 years old, we keep talking about it. You are an artist of such dazzling maturity and gifts that are beyond comprehension. What does it feel like at 26 years old, or indeed any age I guess, to be making your debut on this hallowed stage?
Beatrice Rana: Honestly, it's one of those days that I think I will remember forever, because when I was a little girl, I remember watching photos of great musicians walking on this stage, and all my greatest idols were here. And also, as soon as you walk in the backstage door, you see these pictures with Rubinstein, Horowitz, and Isaac Stern and all these people, and could be a little bit intimidating at first. But at the same time it's really something unforgettable, because ... Yes, it is a venerable stage, but tonight we had such a warmth from the audience, and also such an attention. During the performance there was such a silence, which means that these audiences knows what they are coming to listen to, and they are very supportive too, with people that are coming here for the first time, like me. So that support is really overwhelming.
Yannick N.: This love, this love that the audience has in America is something really impressive, and I think we take it for granted in America.
Beatrice Rana: No, as an European, I can say that, yes.
Yannick N.: Exactly. And these are .. She has really recently, she had the same observation, saying "Here you can feel, it's palpable, the love for the artists and the desire not to judge but to embrace, and that is very different."
Beatrice Rana: Yes, yes. And really, you can feel like ... They want to cheer up, they are like, let's give her the best time. We want them to succeed and have a great time together.
Yannick N.: We then can give our best.
Clemency H.: I was thinking of the fact that Prokofiev really wrote this as a musical calling card, to show off his own gifts, as both a pianist and as a composer in America. And in a way this is the most incredible calling card for you, Beatrice. I'm wondering, at what point did you decide that this would be the piece for tonight?
Beatrice Rana: Actually we started from a much darker piece together, because the first time it worked. It was Prokofiev's second. So I think we were both kind of designed to have such a more optimistic approach to life.
Yannick N.: Beatrice now plays everything, and I think pride, because she reminded me yesterday that I encouraged her years ago to tackle the Brahms concertos, and now she's playing Brahms.
Beatrice Rana: Yeah, after we play the second Prokofiev, you told me, "You should play Brahms" and I was like, "He's crazy, because I don't think I'm ready for that." Finally I decided to take the advice and it was because of him.
Jeff Spurgeon: Well you certainly found someone who advises you very well, so the collaboration has been just fabulous. We are so grateful to both of you. Maestro, you might want to just sit down for 30 or 40 seconds before the second half of the concert.
Yannick N.: Not that [crosstalk 00:26:41] I love talking to you.
Clemency H.: What you can't see, listeners, is Yannick basically going ... you know, quit. [crosstalk 00:26:42]
Yannick N.: But it's not because I'm not having a good time, don't get me wrong.
Jeff Spurgeon: Well thank you both for spending some time with us. Beatrice Rana, a fabulous, fabulous Isaac Stern Auditorium debut. Indeed, we are so glad to share this experience with you and that we are able to bring it to so many people as well. Maestro Nézet-Séguin, always a pleasure. We look forward to the second half. Thank you so much.
Jeff Spurgeon: It's intermission at Carnegie Hall and the second half, Sergei Rachmaninoff, Symphony No. 1, a disaster at the start, but the work has been redeemed over time, and we will have a wonderful performance by the Philadelphia Orchestra in just a few minutes.
Clemency H.: Carnegie Hall Live is supported in part by an award from the National Endowment for the Arts. Additional support for WQXI is provided by the Howard Gilman Foundation and the Andrew W. Mellon Foundation, and by public funds in the New York City Department of Cultural Affairs in partnership with the New York City Council.
Jeff Spurgeon: WQXR is supported by Carnegie Hall, presenting Yannick Nézet-Séguin, conducting the Mets Orchestra June 14th, with mezzo soprano Elina Garanca joining the orchestra for Mahler's Rückert Lieder. Also on the program, Bruckner's 7th Symphony. Tickets and information at CarnegieHall.org.
Jeff Spurgeon: Classical New York is 105.9 FM at HD, WQXR Newark, and 90.3 FM, WQXW, Ossining. This is Carnegie Hall Live.
Speaker 5: Yannick!
Speaker 6: We're watching the Philadelphia Orchestra.
Speaker 5: I just love their sound. And great conductor, and ...
Yannick N.: And is something ...
Speaker 7: Do you know his name? You know his name. I can't think of it.
Speaker 5: I read about him in the Times.
Speaker 7: Right. He's got so much publicity lately.
Speaker 6: No, I can't pronounce it. Yannick.
Speaker 8: I would say Yannick Nézet-Séguin.
Speaker 9: You got me.
Speaker 10: I know it's hyphenated and it's difficult. Yannick Nézet-Séguin.
Yannick N.: Yannick Nézet-Séguin.
Speaker 10: Ah! Yannick Nézet-Séguin. Or Seguin, I don't know. I mean, we're from Pittsburgh, so you want to hear a Phila- ... You know, the competing orchestra. It's better than going to the hockey or the football, to hear the competition, so ...
Clemency H.: Well Seguin is at Carnegie Hall, it doesn't really matter how you pronounce him, the music making is exemplary. I'll give it my best shot, we're going to hear more from Yannick Nézet-Séguin. In a few minutes he'll be coming back to the stage at Carnegie to conduct Rachmaninoff's Symphony No. 1, but before that we'll spend a little more time with tonight's virtuosic soloist, Beatrice Rana. You've heard her say she's just 26 years old. Italian born, she still lives in Rome. She was in our WQXR live event space earlier this week, live at the Green Space performing Ravel, and she completely dazzled the audience with this version of Ravel's La Valse.
Jeff Spurgeon: We do hate to break the spell of Ravel's La Valse as performed in the Jerome L. Green performance space at WQXR just a few days ago, by Beatrice Rana, but we are here at Carnegie Hall. It's intermission of a concert by the Philadelphia Orchestra. Ms. Rana playing Prokofiev just a few minutes ago, but it's Rachmaninoff, next. And the work that we're going to hear is his Symphony No. 1.
Clemency H.: And he had a ... We might just describe it as a disastrous premiere that ended up putting him in therapy. In 1897 Rachmaninoff was on the road to a great performing and composing career, but just shy of his 24th birthday, his Symphony No. 1 was premiered by the conductor Alexander Glazunov, when it was, should I say, less than well-received. `As the Philadelphia Orchestra annotator, Christopher H. Gibbs, writes tonight, Rachmaninoff told his biographer, "When the indescribable torture of this performance had at last come to an end, I was a different man."
Jeff Spurgeon: Rachmaninoff was not kidding. In a letter to a friend Rachmaninoff said, "I was amazed that how such a highly talented man as Glazunov, could conduct so badly." He said, "I'm not speaking now of his conducting technique, but about his musicianship. He feels nothing when he conducts. If the public had been familiar with the symphony, then they would have blamed the conductor. If symphony is both unfamiliar and badly performed, then the public is inclined to blame the composer." Rachmaninoff words to a friend after the disastrous premiere of his first symphony. And Rachmaninoff didn't compose another note for three years. It took the help of hypnosis and therapy, and then Rachmaninoff began to write again.
Clemency H.: His was a life that was marked by ups and downs, and in exile, and escaping. In 1917, during the Russian Revolution, he and his family fled Russia. The Bolsheviks destroyed much of the Rachmaninoff estate. He assumed that his score for the First Symphony was lost forever, but fortunately, it was discovered again in the St. Petersburg Conservatory two years after his death, and performed in Moscow in 1945.
Jeff Spurgeon: And of course in the interval, in which Rachmaninoff wasn't able to compose, he was still a great piano virtuoso, one of the greatest pianists of the 20th century, and he even began to do some conducting as well, until he was able to write again and so many great works followed that disastrous premiere of the First Symphony. Wonderful that he got back on track, and wonderful that that symphony of his was finally found. The second of two lost works on tonight's program. This concert by the Philadelphia Orchestra began with Stravinsky's Chant Funèbre, a work that was lost for more than a century also located in the St. Petersburg Conservatory archives. Much more recently, the Stravinsky, in 2015. So the Rachmaninoff First Symphony has had a new life. It does show a little bit of the beginnings of the lushness that Rachmaninoff would later present in his other works. But it has not ever had quite the affection as some of his other music. So it's wonderful that it has a showcase from this amazing Philadelphia Orchestra on stage tonight.
Jeff Spurgeon: All the musicians have been on stage for a couple of minutes, yet the stage door is not closed, so I'm guessing, Clemency, that we just wore out the conductor in that conversation we had at intermission, so hopefully he'll recover.
Clemency H.: He's so wonderfully ebullient and effervescent, Yannick. We could have just kept talking to him throughout the entire interval and just sent him back onto the stage. Well here he is, returning backstage, refreshed after little sit down, he's giving me a dirty look there.
Jeff Spurgeon: The old side eye.
Clemency H.: A little side eye from Yannick Nézet-Séguin towards me. Now he's beaming at us. Thank you, Maestro. We are very, very much looking forward to this performance of Rachmaninoff Symphony No. 1 in D minor. Such a demanding piece, such a challenging piece still, I think, to modern audiences. It's sort of shocking in its modality, and it juxtaposes very popular, idiomatic music of Rachmaninoff with music of a religious nature, and I can't think of anyone with a greater artistic and musical sensibility and intelligence, and sense of drama and all the wider spectrum of human emotions, to bring this work alive to the Carnegie Hall stage this evening. Yannick Nézet-Séguin, taking a moment backstage as the Philadelphia Orchestra tune. We heard him talking so warmly about this ensemble in the intermission. The chemistry between conductor and band ... Really, I can't think of another orchestra at the moment that sounds like this. Very exciting indeed.
Jeff Spurgeon: They have an amazing pedigree of conductors and an amazing sound with which they've been identified for many years. And are now led by, and who as a conductor is an extremely young man who's wanted to be a conductor since the age of 10 and has realized his ambition so powerfully in many cities around the world, and right now in New York City, with the Philadelphia Orchestra. And the stage door opens, and out he goes. Yannick Nézet-Séguin to lead the Philadelphia Orchestra, just up on a day trip from their home city. And now on their feet to the cheers of this Carnegie Hall audience, and we are about to hear the Rachmaninoff Symphony No. 1, from Carnegie Hall Live.
Clemency H.: The Symphony No. 1 in D Minor by Sergei Rachmaninoff, performed at Carnegie Hall by the Philadelphia Orchestra and the baton of their beloved music director, Yannick Nézet-Séguin. He is clasping the hands of many of his principles. So well loved by this orchestra. We heard him telling us earlier, during intermission, just how special the relationship has been since the very first time he conducted them. And he's extended his contract through 2026. It will make him one of the longest-serving music directors of this orchestra, in its history. What an absolutely magnificent performance of Rachmaninoff's First Symphony. Hard to believe that in a premiere of that symphony, Rachmaninoff was plunged into despair, describing it as indescribable torture. It would be three years before he would write again. I feel that if he was hearing this performance tonight, Jeff Spurgeon, he would be nodding his head.
Jeff Spurgeon: I think you're right. You know that Cesar Cui, the composer who reviewed the first performance, and said that he thought that this symphony would have delighted the inhabitants of hell, which is a real insult, I feel, to all the audience members here at Carnegie Hall, because they seem to have enjoyed it very much. Yannick Nézet-Séguin, backstage for just a moment, and now returning again. Those cheers are for him.
Clemency H.: He certainly looked like he was enjoying it very much. He was all smiles and beams backstage.
Jeff Spurgeon: He's starting to get some of his players in the audience asking for individuals in the orchestra to stand and take a few bows, acknowledging the great work of the individuals, whose combined talents make this such a special ensemble. The Philadelphia Orchestra, coming up just for a day trip from their hometown to play here in New York City at Carnegie Hall. The concert all Russian music, the last work on the program the first to be written, Rachmaninoff's Symphony No. 1, composed in 1895. The program opened with the work of Igor Stravinsky, whose Chant Funèbre, written in memory of his great mentor and friend Nikolai Rimsky-Kosakov. And we heard a stellar performance of Prokofiev, Piano Concerto No. 3, with the young soloist from Italy, Beatrice Rana, making her first appearance on the stage here at Carnegie Hall.
Jeff Spurgeon: And now, the maestro has asked the entire orchestra on its feet, and the audience has responded in kind.
Clemency H.: It's such a thought, isn't it Jeff, that this piece was so nearly lost forever after its disastrous premiere, Rachmaninoff put it aside. It was then lost, only reappeared in 1945, two years after Rachmaninoff's death.
Jeff Spurgeon: He never forgot the piece. Never quite let it go and was very sad that the work was lost for so long. And some of the themes that were in it kept reappearing, as you said, the dias irae mode appeared in a number of his works, and there is even a recollection in his Symphonic Dances, the last orchestral composition to this music, Rachmaninoff linking his beginning and his ending. In that even though the score was lost and he thought, as you said, Clemency, forever. But it's back tonight at Carnegie Hall for sure.
Clemency H.: And that observation is getting a real thumbs up from Yannick, as they say backstage, just before he went on for yet another bow, bringing the orchestra to its feet again. He will be back here at Carnegie Hall on June the 14th, with the Met Orchestra and Elina Garanca. Very, very busy man, Yannick Nézet-Séguin, wonder how he manages to fit, well at least on his Instagram profile, it's like a regularly sort of normal life. It's not a normal life by any measure. One of the great music makers of our time, a man of such energy and passion and love for his craft and for the people that he makes music with. A great, generous performer.
Clemency H.: Well, it's been a complete joy to be here tonight. Thank you to all of the folks who made this broadcast possible. Clive Gillinson and the staff at Carnegie Hall, WQXR's recording engineers Ed Haber, Noriko Akabe, Rick Wong and Bill Segman. Max Fine is our stage manager, and our digital producer is Greta Rainbow, with production help from Joe Young.
Jeff Spurgeon: WQXR's production team is Christine Herskovitz, Mata Removitz and Eileen de le Jante. Carnegie Hall Live is supported in part by an award from the National Endowment for the Arts, on the web at arts.gov.
Clemency H.: Additional support for WQXR is provided in part by the Howard Gilman Foundation, the Andrew W. Mellon Foundation, and public funds from the New York City Department of Cultural Affairs, in partnership with the New York City Council. I'm Clemency Burton Hill.
Jeff Spurgeon: And I'm Jeff Spurgeon. We thank you for listening. This program is a production of WQXR in New York.