Carnegie Hall Live
Re-Play: Sheku and Isata Kanneh-Mason Play Beethoven, Rachmaninoff and More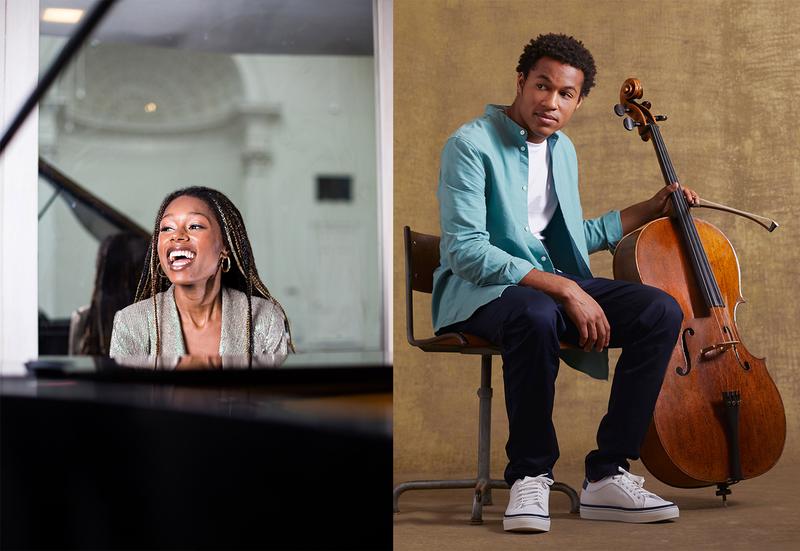 Transcript
Announcer: The following program was previously recorded.
Driver: Where to?
Passenger: Carnegie Hall, please.
Ticket seller: Here are your tickets. Enjoy the show.
Usher: Your tickets please. Follow me.
[music]
Jeff Spurgeon: In New York City there are lots of ways to get to Carnegie Hall, the subway, a taxi, a walk down 57th Street. You've just found another way to get to America's most famous home for classical music. Welcome to Carnegie Hall Live. This broadcast series brings you Carnegie Hall concerts by some of the world's most celebrated artists, and you hear the performances exactly as they happen. You are part of the audience sharing the experience of music-making at Carnegie Hall. I'm Jeff Spurgeon.
Clemency Burton-Hill: I'm Clemency Burton-Hill. What a special concert you're about to hear. It's the Carnegie Hall debut of a very talented young cellist who by all accounts has a fantastic future of fame and success before him. What makes this debut a little unusual is that this artist is already enjoying huge fame and success. Despite the fact that he's still a student at London's Royal Academy of music, he's already released one chart-topping solo album and he has another on the way. He's won major awards and performed with leading orchestras in Europe and North America.
He was seen by a worldwide television audience of something near to 2 billion people when he performed at the Royal wedding of Prince Harry and Meghan Markle last spring. In just a few moments cellist Sheku Kanneh-Mason will make his New York City and his Carnegie Hall solo recital debut. He'll be joined by one of his sisters, the pianist Isata who also had a huge year in 2019 and who's also making her New York City and Carnegie debut.
Jeff: Carnegie Hall Live is supported in part by the National Endowment for the Arts on the web@arts.gov. Additional support is provided in part by the Howard Gilman Foundation and public funds from the New York City Department of Cultural Affairs in partnership with the New York City Council.
Clemency: Sheku Kanneh-Mason's story has many fascinating angles. In 2016, aged just 17, he won the prestigious BBC Young Musician competition and I was lucky enough to be hosting that. That made him the first Black artist ever to do so. He and his sister, Isata are two of seven siblings all of who play classical music. Most of them have performed together on television on shows like Britain's Got Talent and at the BAFTA Awards which is the British equivalent of the Oscars. In fact, Sheku has performed on the BAFTAs two years in a row. He's also been a soloist at the BBC Proms and the first ever proms concert given by the Chineke! Orchestra. They're the first professional European orchestra made up mostly of Black and ethnic minority musicians.
Jeff: He is, as Clemency just told you, a full-time college student even now. Big football fan to Arsenal as his team, but most important to him is music.
Sheku: The main thing it does for me is it can really move me. It's probably the one thing where I could focus on it and nothing else for a very, very long time and still be fascinated and engaged and excited. I find there's so much to explore in music and that's a really exciting thing. I hope to be a performing musician for the rest of my life.
Clemency: Now this is a double Carnegie debut, very exciting occasions. Sheku's sister Isata, the pianist in tonight's concert, has had, as I mentioned, quite a year of her own. She's the oldest of the seven Kanneh-Mason siblings. She's all of 23 years of age. In August of 2019, she released her first album on the Decca label, music by Clara Schumann to celebrate the bicentennial of Clara's birth.
Isata even went to Leipzig in Germany to play a piano that was in Clara Schumann's family at the opening of the museum and the apartment where Clara and Robert lived when they were first married. In just a few minutes, she'll be joining her brother here on stage at Carnegie Hall in New York. We asked her how she was feeling about that.
Isata: I'm incredibly excited to come to Carnegie Hall for the first time and also to New York for the first time. We'll prepare the pieces a lot so we'll have lots of lessons and we'll do a lot of practice separately and together. Then we'll also make sure that we perform the repertoire a lot. We'll play to our friends and our peers and do lots of concerts. I think that for us has always been the best way to prepare. We've been really enjoying our concerts in the US so far and this is one that I've been particularly looking forward to. Our dad's also traveling up from the UK to come and watch. We're both just really looking forward to the concert.
Clemency: Now, Beethoven and Mozart are joined together in the music that opens this recital. We're going to hear Beethoven's variations on the aria Ein Mädchen oder Weibchen, the tune that introduces Papageno, the bird catcher in Mozart's opera The Magic Flute. As Sheku and Isata told us, you really got the best of both composers in one work.
Sheku: I think what I find these really wonderful about these pieces is Beethoven's often not thought of much for his humor. I think there's so much humor in this piece and maybe that's because of the Mozart theme, Mozart humor features much more. You could say it's a nice mixture of both composers.
Isata: It's very Beethoven in its expression but it's a Mozart theme so it's definitely a combination of both.
Clemency: Sheku Kanneh-Mason and Isata as they make their way onto the stage at Weill Recital Hall to perform music by Beethoven riffing on Mozart variations on Ein Mädchen oder Weibchen from Carnegie Hall Live.
[music]
[applause]
Jeff: Beethoven and Mozart from Sheku and Isata Kanneh-Mason. The Carnegie Hall debut recital of the young English cellist and his sister. Beethoven's variations on Mozart's tune for Papageno in The Magic Flute. Now the second work on the program the Elegy of Witold Lutosławski.
Clemency: This piece is called Grave, written to the memory of Lutosławski's great friend, Stefan Jarociński, a polish musicologist.
Jeff: The artists have not left the stage so the music is going to begin in just a moment.
[applause]
The Elegy of Witold Lutosławski. Grave is the name of the piece just performed by cellist Sheku Kanneh-Mason pianist Isata Kanneh-Mason in the artist's first recital from Carnegie Hall Live. The last work on the first half of this program will be Samuel Barber's Cello Sonata written when he was a student at Curtis Institute of Music in Philadelphia, worked by a 22-year-old played by a 23-year-old and a 20-year-old, now in the performance you are about to hear.
[applause]
Clemency: Music written by a young American icon performed here at Carnegie Hall Live by two British musical styles in the making. Siblings Shaku Kanneh-Mason on cello, just 20-years-old, and his sister at the piano, Isata Kanneh-Mason, just 23, performing music written by Samuel Barber when he was 22. That was the Cello Sonata, his Opus 6. Samuel Barber not actually a cellist himself although hard to imagine given that incredibly virtuosic writing. Sheku was talking to Jeff a little earlier and telling us a little more about that.
Jeff: Barber in a letter to his parents when he was writing this, said he wrote the first movement entirely without the piano at all then afterwards added the piano part. We talked to Sheku about Barber's writing for cello even though Barber was trained as a pianist.
Sheku: It does always amaze me how composers can write for the cello having not played it and for it to work so well. I think that Barber Sonata works really, really well on the cello. You can get so many expressive colors from how it's written. I just love playing this music and I think it works really well.
Isata: Barber was clearly an accomplished pianist. Some of the writing can be-- I mean, it's not crazy virtuosic like Rachmaninoff or anything, but it can be quite awkward and challenging in that way but he was also very much a pianist. It works once you've got your head round it.
Jeff: Isata Kanneh-Mason and her little brother Sheku talking about Barber's Cello Sonata. We just heard it on this Wille Recital broadcast from Carnegie Hall Live. Coming up in the second half of this concert, a single work, the Cello Sonata in G minor by Rachmaninoff performed again by Sheku and Isata Kanneh-Mason.
Carnegie Hall Live is supported in part by the National Endowment for the Arts on the web@arts.gov. Additional support is provided in part by the Howard Gilman Foundation and by public funds from the New York City Department of Cultural Affairs in partnership with the New York City Council. This is Carnegie Hall Live.
I'm Jeff Spurgeon, and we're broadcasting the Carnegie Hall recital debut of cellist Sheku Kanneh-Mason and his sister pianist Isata Kanneh-Mason. I'm sitting comfortably back here in the Carnegie Hall broadcast booth. In just a minute, Clemency Burton-Hill will be stepping out into the Weill Recital Hall auditorium to meet with some of tonight's concert goers. Clemency, you'll put on your sneakers shortly, I think?
Clemency: I will. Very much looking forward to seeing who's in the auditorium tonight. Now, earlier I mentioned that Sheku has a new album. His last one did incredibly well, sold 120,000 copies, hit the pop charts. It did so well. That is a really remarkable achievement for young classical artists.
He's been teaming up with the Simon Rattle and the London Symphony Orchestra for his next album, which features just one composer, someone who's very close to Sheku's heart, Edward Elgar. We have a little sneak preview from that album, which hasn't been released yet. It was recorded at the famed Abbey Road Studios in London where Elgar himself recorded. It's an arrangement by Simon Parkin for six cellos of Nimrod from the Enigma Variations.
[music]
Jeff Spurgeon: Nimrod, an arrangement for a half dozen сellos with Sheku Kanneh-Mason at the center of that arrangement by Simon Parkin. We are also enjoying Sheku Kanneh-Mason's Carnegie Hall debut recital with his sister, the pianist Isata Kanneh-Mason. I'm Jeff Spurgeon. It's intermission we have Rachmaninoff to look forward to in the second half of the concert, but right now, well, people are milling about. I'm happy to say that my colleague Clemency Burton-Hill has left her backstage perch and is out in Weill Recital Hall now to see who else is at the concert tonight. Who do you have with you now, Clemency?
Clemency: Well, I've found a rather special guest, Jeff, it's fair to say. A man who is beaming from ear to ear as well you might be of two of your children who are making their Carnegie Hall debut this evening. Stuart Mason, how wonderful to see you.
Stuart: Nice to see you again, Clemency, as well.
Clemency: What does it feel like to watch Sheku and Isata make their Carnegie Hall debut?
Stuart: I think it's the sort of thing that you dream-- I'm not even sure you dream of it. It's such a special occasion and I'm loving it really.
Clemency: You've made the trip to New York especially for this evening?
Stuart: Made the trip especially, yes, representing the family.
Clemency: Will you be able to see any of the sights while you're here?
Stuart: I don't think we'll have time to see the sights, but I've been to New York before and seen the sights. This is all about seeing Isata and Sheku and this lovely hall.
Clemency: How do you think they're doing tonight?
Stuart: I think they're enjoying it. They've been on a tour across North America, so this is probably the pinnacle of it really. They seem to be having a whale of a time.
Clemency: Do you feel nervous for them when you're watching them out there?
Stuart: I am a nervous parent, yes. As the concert goes on, I'll enjoy it more and I'll definitely enjoy the second half.
Clemency: Now, it's incredible to tell our audience that you don't just have these two extraordinarily gifted children, you've got five more at home, who are also all wonderful classical musicians in their right. I'm lucky enough that I've seen the whole Kanneh-Mason clan play together. Tell me, practice time in your household must have been quite a noisy affair?
Stuart: It's a noisy affair and it takes place in bathrooms, kitchens, bedrooms in all hours of the day. It was definitely a noisy affair, yes.
Clemency: Quite a record. Did you intend to have all of these classical music playing children?
Stuart: No, not at all. I think my wife and I, Kadi we both love music, all sorts of music actually. We just got Isata into classical music from a relatively young age. She was about four or five and it just went from there really. I think she's spurred the others on.
Clemency: This is probably a mean question to ask, but to what degree is it about practice, and to what degree is it about raw talent? Do all seven of them have this level of talent? Because it really is extraordinary what Isata and Sheku are doing.
Stuart: I think talent comes into play. I think enjoyment is a big factor. There was always a lot of music in the house, classical music, rock music, reggae music, and I think they enjoy that. There was a passion. Then I think there's a lot of hard work. I think classical music takes a lot of dedication and hard work.
Clemency: I am lucky enough to have known your family for a long time now as the host and presenter of BBC Young Musician. I will never forget the first time I heard Isata play in that competition, and of course, hearing Sheku, and he won in 2016. One of the things that really struck me when I got to know Sheku and Isata and you guys a little bit is that you're very ordinary, extraordinary family, if you like. It doesn't feel like you've put them all through this sort of hothouse classical education. I think sometimes we think of when it comes to classical, pushy parents. How important is it that Sheku has this very rounded life with football and soccer and Bob Marley and all the rest of it?
Stuart: I think is vital. I think you've got to get it in perspective. It is music and it's something that we love, but I think it can't take over everything. We've always encouraged them to do sports and to go out with their friends. I think that's hopefully made them grounded and relatively normal.
Clemency: How often that all seven get to play together now, given how busy Sheku and Isata's own performing and recording careers are?
Stuart: They don't play together huge amounts, but they were on the Royal Variety show. They will all be playing together next year in Australia. They've been invited to do a tour there. They do get their moments, but inevitably it's diminishing over the years.
Clemency: If you could sum up what this moment feels like for you, Stuart.
Stuart: I think it's probably lucky. Everyone back home is very jealous that I've managed to make it here. I'll take lots of pictures and reminisce.
Clemency: Well, enjoy every moment. It's not every night of the year that you get to watch two of your children make that Carnegie Hall solo recital debut. Stuart Mason, congratulations. Thank you very much indeed for joining.
Stuart Mason: Thank you. Thank you very much.
Clemency: Back to you, Jeff.
Jeff: We're in the broadcast booth here at Carnegie Hall. Clemency Burton-Hill is backstage. We have a little more music in this intermission as it continues before the second half of the Carnegie Hall debut recital of cellist Sheku Kanneh-Mason and his sister Isata. This time we'll hear from Isata's recording. As Clemency mentioned, both of these young people are very busy in their own individual careers as well. Isata released a recording called Romance, featuring piano music of Clara Schumann made to celebrate the 200th anniversary of Clara's birth.
As part of the project Isata visited Clara Schumann's home in Leipzig, a home that she and Robert shared when they were first married, and played on a piano that belonged in the Clara Schumann family. Right now from that recording, here is Isata Kanneh-Mason with the Rondo from Clara Schumann's Piano Sonata in G minor.
[music]
Some of Clara Schumann's piano music performed by Isata Kanneh-Mason from the recording released earlier in the year 2019 to mark the 200th anniversary of the birth of Clara Schumann, one of the most extraordinary and perhaps underappreciated artists in all of classical music. We'll hear more from Isata, she'll be joined again by her brother Sheku Kanneh-Mason and music of Rachmaninoff shortly. As intermission continues in this Carnegie Hall Live broadcast, Clemency Burton-Hill is once again, not backstage, but in the audience in Weill Recital Hall to capture a little more of the artist debut recital excitement. Who do you have by your side now, Clemency?
Clemency: Well, I have found a rather important man around these parts, Sir Clive Gillinson, Executive and Artistic Director of Carnegie Hall. Clive, you are a cellist yourself, is that correct?
Clive: I'm a was cellist.
[laughter]
Yes, I used to play.
Clemency: You played in the National Youth Orchestra of Great Britain and you've been passionate, I would say, during your tenure here at Carnegie Hall. When it comes to music education, increasing access to classical music for children and young people of all ages, you've got so many extraordinary initiatives. Just how important is it to you that we celebrate young artists here at Carnegie Hall and that we push the boundaries when it comes to access?
Clive: Well, you've stated these two very different things. One is creating the opportunity for kids across the widest spectrum of society to have access to and engaged in music. We're very, very involved with that. That's one of the fundamental planks of our education work. The other is nurturing the finest talent and that includes the National Youth Orchestra, National Youth Orchestra Jazz, we've got other programs as well that nurture finest talent.
Then we do a lot of social impact work in prisons and hospitals and lots of other places as well. It's really about music being able to be part of the lives of everybody, but also at the same time nurturing the finest talent where it is, and it's here tonight.
Clemency: It certainly is and [unintelligible 00:18:12]. Sheku Kanneh-Mason's such a wonderful role model and ambassador for classical music. He's got a real social conscience, as well as this gigantic talent, and that he gives often his performing fees to his old school in Nottingham. I mentioned to Stuart Mason earlier, the father, and they're very ordinary, extraordinary family. He didn't go to a specialist music school here, he and Isata and the siblings, regular, comprehensive school in Nottingham. Regular life as it were and yet this gift, this extraordinary gift. When did you first become aware of the Kanneh-Masons?
Clive: Well, only a couple of years ago. He won the Young Musician of the Year, didn't he? Then I heard of him which actually was probably about three years ago, I'm not sure. I heard of him then. Obviously, the Royal wedding. It's part of our job here, as it is, I think, with every concert, you've got to keep up with who the young talent is. It always takes quite a long time to create the space because we have plans so far ahead. The opportunities are quite long way ahead in bringing somebody in, but we're obviously thrilled to have him here now.
It's especially meaningful to me as a cellist, to hear somebody who is a truly natural, brilliant talent. Some people are incredibly skillful, and that you can see they've worked unbelievably hard, but I love it when you listen to somebody where it's absolutely part of who they are. It's as if they were born to play an instrument. I think that's the truth with him.
Clemency: Well, I was saying, I will never forget the first moment I saw him play and it was exactly that he was a human being who was just born to make music. It's interesting. I mentioned that his next album, which is dedicated to music of Elgar, and, of course, you think that iconic Cello Concerto by Elgar, and immediately think of Jacqueline du Pré. It was very interesting to me that Jacqueline du Pré's family have actually come out and said how much they love the cello playing of Sheku, that they do really do see him as the successor and heir to Jacqueline du Pré. That is praise indeed, given that every single cellist worth their salt has to play the Elgar Cello Concerto.
Clive: Although funny we all feel that in Britain. It's not so well-known around the rest of the world, although he's coming here to play it next year at Carnegie Hall.
Clemency: You heard it here first, folks.
Clive: It's interesting. Yes, every British cellist grows up playing that and wanting to play it. I think it's lovely. I didn't know that Jacqueline du Pré's family had said that about him. I think one has to be very careful because nobody is a successor to anybody. He's an artist in his right, and of course, she was a giant, she an incredible star and a real genius, but he will make his own career, he will make his own footprint and it won't relate to what anybody else did.
Clemency: I think that's very beautifully put. Clive Gillinson, Artistic and Executive Director of Carnegie Hall. Thank you very much indeed for your time.
Clive: Well, lovely talking to you again.
Clemency: I'll hand you back to Jeff Spurgeon.
Jeff: All right, in the broadcast booth here at Carnegie Hall. This intermission continues in this debut recital by the cellist, Sheku Kanneh-Mason and his sister, Isata Kanneh-Mason. They will play at Rachmaninoff's Cello Sonata in the second half of this debut recital from Weill Recital Hall. As the intermission mission continues, we'll bring you a little more recorded music, another performance by Sheku Kanneh-Mason, a music by Shostakovich from the film score for The Gadfly. A performance here with the Birmingham Symphony Orchestra conducted by Mirga Gražinytė-Tyla.
[music]
A bit of the music of Shostakovich performed by Sheku Kanneh-Mason, an adaptation of music that Shostakovich wrote for the film The Gadfly. Well, I think we are getting ready to bring our artists back on stage for the rest of their Weill Recital Hall debut from Carnegie Hall live with a work by Rachmaninoff.
Clemency: The final piece we are going to hear this evening is the last cello music composition that Rachmaninoff ever wrote, it's Cello Sonata in G min, his Opus 19, written not long after Rachmaninoff had come out of a long depression, his cure, hypnosis. Well, pianist Isata Kanneh-Mason keeps this in mind when she performs the piece that composes the transition from darkness to joy.
Isata: Actually, one of my favorite pieces growing up was Rachmaninoff's Second Piano Concerto which was also written in this time. I remember as a young child being fascinated by the fact that this incredible music had come out of such a depression. I think that's also what makes the Cello Sonata so beautiful. There are very tragic elements to the piece, but there's also such a joy, and I think that kind of joy only comes from such a depression. That's what makes it so special for me.
Jeff: Isata Kanneh-Mason, speaking of the Rachmaninoff Cello Sonata that we are about to hear from Sheku Kanneh-Mason and Isata Kanneh-Mason, as this debut recital continues from Weill Recital Hall, coming to you from Carnegie Hall Live.
[music]
[applause]
From Carnegie Hall Live, a performance of Rachmaninoff's Cello Sonata. The debut at Carnegie Hall by cellist Sheku Kanneh-Mason and his sister, pianist Isata Kanneh-Mason. We are full of that Rachmaninoff beauty that we know, especially in that Second Piano Concerto which was given its premiere just a month before Rachmaninoff was the pianist in the first performance [unintelligible 00:24:07] Such beauty. That slow movement had this Carnegie Hall audience absolutely wrapped. I'm Jeff Spurgeon along with Clemency Burton-Hill sharing this amazing Carnegie Hall recital with you.
[applause]
Clemency: Rhapsodic, rapturously beautiful, joyful, exhilarating, really this enormous-hearted, heart-on-sleeve romanticism. I think Sheku Kanneh-Mason, this is his perfect repertoire in a way. He is a cellist of such musicality, such lyricism, such ability to inhabit every note, every phrase, and somehow convey and transmit what you'd hope the composer wanted. I feel Rachmaninoff, if he's looking down on us, this is a very, very fitting tribute indeed. Rachmaninoff just 28 years old when he wrote that Cello Sonata.
It's arguably his finest piece of cello music, alas also his last. Absolutely played with such magnificence here at Carnegie Hall by Sheku Kanneh-Mason and Isata. They look at each other, these siblings. They are cool as a cucumber. They gave each other a little smile and a shrug as if to say, "Yes, that's all right. We did it." You can hear the response at Weill Recital Hall here at Carnegie. I mean, everyone, the audience on their feet cheering these two young British musicians, just 20 and 23 years old respectively.
Jeff: They've taken a couple of curtain calls as well. It's a very short distance from the center of the stage to the edge of the stage, and that seems to have concluded the evening.
Clemency: Isata and Sheku, congratulations. You have made your New York City and your Carnegie Hall solo debuts. How does it feel?
Sheku: Really good.
Isata: Really exciting, yes.
Sheku: Yes, really amazing. It's such an amazing hall to play in, and some of my favorite pieces. Yes, I loved it.
Clemency: It was truly tremendous. Now I should tell our radio audience that you are clutching a broken string.
Sheku: Yes, so my A-string broke just in the curtain.
Clemency: Right at the end.
Sheku: Luckily it was right at the end, but it would be nice to play some of those lesser notes, but it happens and it's fine.
Clemency: I don't suppose the audience have even noticed. In a way, you held your composure as you always do. Is that every cellist's nightmare, a broken string during your Carnegie Hall debut?
Sheku: It kind of is. It's something that I would not think about and not expect to happen. This kind of thing has happened to me before and I guess you just have to deal with it in the moment when it happens. I think also we've been traveling around the US for quite a bit now and lots of different temperatures, so the cello can't quite cope.
Clemency: We can blame the weather in New York today, it was pretty grim.
Sheku: It was cold, yes.
Isata: It was very cold, yes.
Clemency: Isata, you must be very proud of your younger brother.
Isata: I'm really proud and I'm really glad that we kept going towards the end because it wouldn't have made sense to stop 10 seconds before the end of the performance. Yes, I'm really proud and we really enjoyed the performance.
Clemency: Your levels of communication are really extraordinary to witness. Is that just what it is to be a sibling making music like this at that level? Do you work on it? Is that a conscious thing that you do together?
Isata: I think it just comes from playing together a lot. We don't consciously work on it, but I'm not sure if it's because we are siblings. I think it's just from playing together so many times. We really know each other's playing back to front.
Clemency: Any highlights from this evening before the string broke?
Sheku: I really enjoyed the Rachmaninoff, it's one of my favorite pieces of music ever, and particularly the third movement which I think everyone loves. This is so amazing to play.
Clemency: Do you decide on the repertoire that you work on together?
Sheku: Yes.
Isata: Basically, yes. We have a discussion and think about what would fit best and then come to a conclusion, and we both have loved the Rachmaninoff for years.
Clemency: I can't get over this idea. It would be such a dream to make one's Carnegie Hall debut anyway, but to do it with a sibling that is as close as you two are, your dad out there, very, very proud of you this evening, and rightly so. How does it feel to have him in the audience tonight?
Sheku: It's very, very special. It's always really nice when you go somewhere else to perform and there's a familiar face or two in the audience, so it's lovely that our dad could come today. When we perform together, there's always a familiar face on the stage together, so it's nice.
Clemency: I guess your mom had to stay home and look after the other five Kanneh-Mason siblings. Tell us briefly, what's it like to play with all of your siblings? I've been lucky enough to see that happen and it is very magical as an audience member.
Sheku: It is really, really fun when we can all get together. There's lots of different personalities between us as a family and then that all comes together, it's great fun.
Isata: I should add that my mom's now only looking after three siblings because there are another two out there in the world, so the nest is gradually getting empty.
Clemency: Out there in the world and probably seeing you two making that Carnegie Hall debut. Stay tuned for more news of the extraordinary Kanneh-Masons. Well, Isata Kanneh-Mason, Sheku Kanneh-Mason, thank you very much indeed, and huge congratulations for this magnificent Carnegie Hall debut.
Isata: Thank you. Thank you.
Sheku: Thank you very much.
Clemency: Back to you, Jeff.
Jeff: That's Clemency Burton-Hill backstage at Carnegie's Weill Recital Hall with Sheku and Isata Kanneh-Mason, after their Carnegie Hall Live debut. We have a few minutes left in this podcast, so let's listen to a bit of a program from earlier in the season. The Munich Philharmonic was here with their much director, Valery Gergiev, performing works by the contemporary German composer Jörg Widmann, as well as works by Johannes Brahms.
In the second half of their concert, it was Shostakovich, his Fifth Symphony. The Shostakovich symphony N5 is seen by many as a document of the oppression of Soviet Russia. The composer was constantly walking a line between party politics, and his own personal creative expression. Gergiev told us that he sees this Symphony as a representation of the turbulence in Russia and in all of Europe in the 1930s.
Valery Gergiev: It was clear that he expressed the most phenomenal, even dramatic, and even tragic feelings of millions of people who lived not only in Russia, in the entire continent, in Europe. First of all, he couldn't ignore it. Second, he as a composer, as a prophet also, was hearing the trouble, hearing the tragedy. It was becoming like-- everyone was facing a huge fire, which will burn so many lives and so many cities, so much of cultural life, that his symphonies are a document of an epoch where people lived from early '30s to early '50s, I would say easily.
Jeff: Munich Philharmonic conductor, Valery Gergiev. For the time remaining in this program, let's listen to a bit of his very popular and much scrutinized Symphony by Shostakovich from Carnegie Hall Live.
[music]
Performance by the Munich Philharmonic and conductor Valery Gergiev. A bit of Shostakovich's Fifth Symphony, recorded earlier this season as part of our Carnegie Hall Live series. That concludes this broadcast, which also feature the Carnegie Hall debut of brother and sister team cellist Sheku and pianist Isata Kanneh-Mason. Carnegie Hall Live is supported in part by the National Endowment for the Arts on the web@arts.gov. Additional support is provided in part by the Howard Gilman Foundation, and with public funds from the New York City Department of Cultural Affairs in partnership with the New York City Council.
Thanks to all of the folks who helped with this concert, Clive Gillison and the staff of Carnegie Hall; WQXR's recording crew, including George Wellington, Bill Sigmund, Duke Marcos, and Edward Haber. Our social media producer is Gretta Rainbow. WQXR's production team includes Christine Herskovits, Matt Abramovitz, Joe Young, and Eileen Delahunty. I'm Jeff Spurgeon. Thank you for listening. Carnegie Hall Live is a production of WQXR in New York.
[music]
Copyright © 2020 New York Public Radio. All rights reserved. Visit our website terms of use at www.wnyc.org for further information.
New York Public Radio transcripts are created on a rush deadline, often by contractors. This text may not be in its final form and may be updated or revised in the future. Accuracy and availability may vary. The authoritative record of New York Public Radio's programming is the audio record.