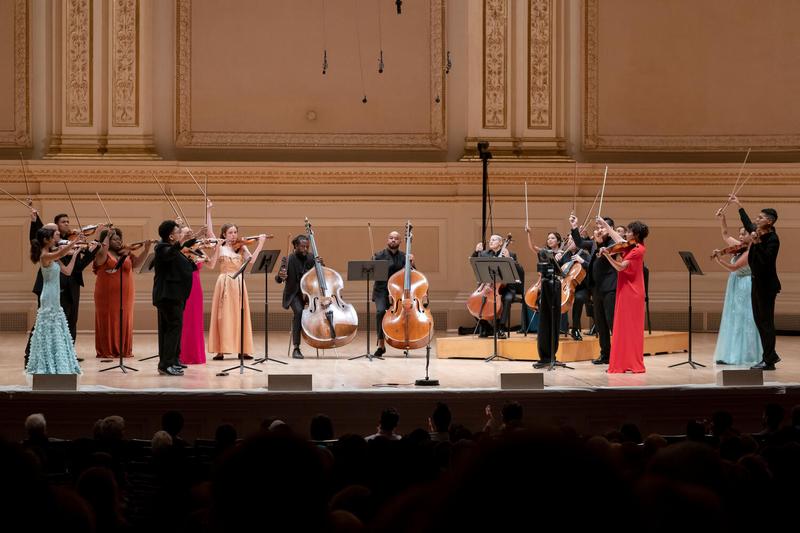 Transcript
The following program was previously recorded,
Where to?
Carnegie Hall, please.
Okay. Here you are, enjoy the show.
Your tickets? Please, follow me.
Jeff Spurgeon: In 1997, the Sphinx Organization was founded by violinist Aaron Dworkin. The Sphinx Organization is a social justice organization dedicated to transforming lives through the power of diversity in the arts. Now in Stern Auditorium on the Perelman Stage, Carnegie Hall for the 25th anniversary of the organization's founding their premier ensemble. The Sphinx Virtuosi present a program called Songs for Our Times.
I'm Jeff Spurgeon and this is Carnegie Hall Live. This program has music, old and new on it: Beethoven, Villa-Lobos, and by other composers, two New York premieres and one World premiere. All of the premieres are inspired by current events. The first one that we'll hear is a work by Valerie Coleman, composer and former flutist of Imani Winds. Her work is called Tracing Visions. It's in two movements, the first of which is titled Till as in Emmett Till. It is dedicated to the parents of children lost specifically in the Uvalde school shooting in Texas, but also to parents of other children whose lives have been disrupted and destroyed by hate.
The second movement is in an entirely different mood. It's a Juba called Amandla, which is the Zulu word for power, and it celebrates the Sphinx Organization itself. And if you know Morse Code and listen closely to the beginning of the Amandla movement, you can hear Valerie Coleman spell out the word Sphinx in Morse code in the rhythms of the music.
We'll hear a world premiere tonight by double bassist and composer, Xavier Foley first prize winner of the Sphinx Organization's competition in 2014. He's been performing with the organization since, including making his solo debut in Carnegie Hall with the Sphinx Virtuosi.
Tonight, he will premiere An Ode to Our Times for violin and double bass, a piece celebrating the work of the Sphinx Organization and the skills of the performers themselves. Right now, here's a little bit of another work by Xavier Foley called Shelter Island.
MUSIC – Foley: Shelter Island
Some of bassist Xavier Foley's composition Shelter Island, performed by Xavier Foley on bass with violinist Randall Goosby. We'll hear more of Xavier Foley's music tonight, including a world premiere that will be performed by a young woman just 14 years of age, making her Carnegie Hall debut. This concert opens with a work by Brazilian composer Heitor Villa-Lobos while exploring connections between Brazilian music and the works of J.S. Bach.
Villa-Lobos wrote a series of nine compositions. He called them Bachianas Brasileiras in tribute to Johann Sebastian Bach. The Sphinx Virtuosi begin their program with the ninth of these Bachianas Brasileiras works. This one was originally written for chorus, but Villa-Lobos himself rescored it for strings, and that's the version we'll hear tonight in its two movements, a Preludio and Fuga.
The Sphinx Virtuosi are backstage here at Carnegie Hall just about ready to take this chamber ensemble onto the stage for the celebration of the 25th anniversary of the Sphinx Organization, which began in Detroit, Michigan. As you hear, this is a celebratory concert, the 25th anniversary of the organization. The musicians on stage all bowing together and taking their places. Only the cellists are seated. And now music of Villa-Lobos from Carnegie Hall Live.
MUSIC – Villa-Lobos: Bachianas Brasileiras No. 9
The music of Heitor Villa-Lobos, his Bachianas Brasileiras No. 9, played for you by the Sphinx Virtuosi. And now one of the members of the Sphinx Virtuosi Chamber Ensemble approaches the microphone to take us a little bit farther into this concert. Coming to you from Carnegie Hall Live.
Sphinx Virtuosi Member: What's up? New York City. Thank you so much. We are Sphinx Virtuosi, the self-conducted string ensemble comprising of 18 of this nation's top Black and Latinx classical musicians. And we are delighted to be here. We represent the Sphinx Organization, the national Detroit based organization committed to transforming lives through the power of diversity in the arts.
Sphinx conducts programs from early musical studies for young people all the way to supporting this nation's top administrators, entrepreneurs, and professional artists. This year marks Sphinx's 25th anniversary, and over the course of our month-long celebratory tour, we are premiering, not just one, not two, but five brand new works, all written by Black and Latinx composers, three of which you will hear this very evening.
And to speak about our previous work and our upcoming works, I'm gonna hand my mic off to one of our colleagues in the cello section. Thank you.
Deanna: Good evening. My name is Deanna, and this is my first time joining the Sphinx Virtuosi on tour. This piece you just heard Bachianas Brasileiras by Villa-Lobos. It's a tribute to Bach, um, as Villa-Lobos was obsessed and inspired by the Baroque form. In the Bachianas, you can hear how he combines textures from the Baroque period with rhythms and harmonies from Brazilian folk music in a masterful way.
The next piece we will perform is a New York premier by the amazing Valerie Coleman. Tracing Visions is a piece about empathy and unity. The first movement, Till, is an elegy dedicated to the parents of the Uvalde massacre, Emmett Till, and to parents who have known profound loss. In this movement, we hear a battle cry that all children are human beings who have a right to exist in a safe world. The second movement, Amandla, which means power in Zulu, is a tour de force that celebrates the mission and work of the Sphinx Organization. This movement is full of dancing rhythms and groovy melodies that have brought us so much joy to discover and perform. Please enjoy Tracing Visions.
MUSIC – Coleman: Tracing Visions
Jeff Spurgeon: You've just heard the Sphinx Virtuosi perform The New York premiere of Valerie Coleman's composition Tracing Visions, a work in two very different moods, a worked composed in the year 2022, and a worked given its New York premiere in this concert. Those cheers are for Ms. Coleman who was in the audience at this Carnegie Hall concert celebrating the 25th anniversary of the Sphinx Virtuosi, and the Sphinx Organization.
This celebratory concert continues now. The members of the Sphinx Virtuosi are leaving the stage, leaving the stagehands to set things up for the next work, which will be by composer Carlos Simon, a work called Between Worlds. We will hear it performed by a rising star, a violinist just 14 years of age. Amaryn Olmeda is her name, and tonight she makes her Carnegie Hall debut on this concert, celebrating the 25th anniversary of the Sphinx Organization from Carnegie Hall Live.
Amaryn Olmeda: This piece composed by Carlos Simon, recipient of the Sphinx Medal of Excellence and Composer in Residence at the Kennedy Center speaks to the disparate worlds of a man named Bill Traylor. Bill Traylor was born a slave in 1853 in Alabama. His long, extraordinary life afforded him the opportunity to see our country evolve through the Civil War, Reconstruction, Jim Crow Era, and beyond.
Bill Traylor was a self-taught artist whose work depicts the duality of rural and urban, black and white, and old and new, which resonates profoundly with the duality of our world today. Please enjoy Between Worlds by Carlos Simon.
MUSIC – Simon: Between Worlds
Jeff Spurgeon: A performance by 14-year-old violinist, Amaryn Olmeda, performing music of American composer Carlos Simon. A work given its Carnegie Hall premiere on this program, saluting the 25th anniversary of the Sphinx Organization. And a huge ovation for an obviously very talented young woman, and she's going to take a well-deserved curtain call.
Carlos Simon wrote this work three years ago, Between Worlds. It's a musical reflection on the life and work of the self-taught American artist Bill Traylor. He was born in 1853 in Alabama, born into slavery. He lived nearly a century and made more than a thousand works of art. And that spirit is, uh, packed into this work by Carlos Simon that you just heard and that wonderful performance.
The next work on this program is by composer Jesse Montgomery. And it, like Valerie Coleman's Tracing Visions, which we heard a few moments ago, is a co-commission of Carnegie Hall, the Sphinx Organization, and the New World Symphony. Jesse Montgomery's work is called Divided. It's for cello and orchestra.
The cello soloist is Tommy Mesa, the 18-member chamber ensemble taking the stage once again after a few changes made, uh, to the way the musicians are arranged on stage. Once again, they take a unison bow to the audience with the cellists seated, the bass perhaps too, but everyone else on their feet. And one of the musicians steps forward to tell us a bit more about this New York premiere Divided by Jesse Montgomery that we're about to hear from Carnegie Hall Live.
Maïthéna: Good evening. It is such a joy to be here with you and to share this fabulous music on this historic day of celebration. My name is Maïthéna, and it is my absolute pleasure and privilege to say a few words about our next incredible piece. But first, on behalf of every one of us at this Sphinx Organization, a huge congratulations to Jesse Montgomery on being named Composer of the Year by Musical America. Bravo could not be more deserved.
Divided by Jesse Montgomery is what I like to think of as a song of collective isolation written in the year 2020. This work is a response to the social and political unrest that has plagued us in recent years. While the internet has given us the power to directly observe the disparity in between our circumstances, Divided expresses the feeling of helplessness many of us experience as the witnesses of a chaotic, unequal world. Can we do enough good to set the balance straight and bridge our differences? This dramatic work features an individual, the solo cello, reaching for an ideal as the masses hear the orchestra stalk and pull at him. The soloist toils looking for an answer and cries out to be heard.
I believe this work poses our most ancient and controversial question, our search for unity and community. Please join me in welcoming on stage our wonderful soloist, Tommy Mesa in Jesse Montgomery's Divided.
MUSIC – Montgomery: Divided
Jeff Spurgeon: The work is called Divided, the composition of this year, 2022, by Jesse Montgomery. Given its New York premiere in this performance from Carnegie Hall by cellist, Tommy Mesa, and the Sphinx Virtuosi. On this concert celebrating the 25th anniversary of the Sphinx Organization. And those cheers are for the composer, Jesse Montgomery, who is in the audience here at Carnegie Hall.
And we're backstage at Carnegie Hall with Tommy Mesa, who is a cellist in the Sphinx Virtuosi. How long have you been working with Sphinx?
Tommy Mesa: Yeah, so it's been about six years since the year I won the competition. And that was, yeah, 2016.
Jeff Spurgeon: And what has Sphinx meant to you?
Tommy Mesa: Oh, yeah, that's a very big question. I mean to me in my life, it's meant an incredible amount professionally, but also personally. Um, met so many wonderful friends from, you know, just get togethers with this organization, playing together, collaborating together, and of course these tours with Sphinx Virtuosi, you know, they bring us very close.
Jeff Spurgeon: Right.
Tommy Mesa: And, uh, you know, we, we enjoy, you know, being on tour together and on the buses and all these things. As much as we enjoy being on stage, sharing moments with each other, and, um, we call it La Familia, and that's exactly what it is. Yeah.
Jeff Spurgeon: How did you learn about Sphinx? How did you become involved with them or find out about them?
Tommy Mesa: I mean, they, they were on my radar for, for many years. I mean, growing, growing up in Miami, uh, being Cuban, it's kind of on everyone's radar, who's Hispanic or, or Black growing up. I mean, people in classical music, um, they know about Sphinx and, uh, it's a testament to reach as an organization educationally, but also, you know, on the big stages.
Um, so I grew up, you know, thinking, you know, one day maybe that might be something I want to do. And finally in 2016, got my first shot, and that, that ended up working out. I just love, you know how I've met so many wonderful people from this organization over the years.
Jeff Spurgeon: And had a wonderful aspiration realized too.
Tommy Mesa: Yeah. Yeah.
Jeff Spurgeon: That's pretty awesome. Not everybody gets to have a dream come true. Absolutely.
Jeff Spurgeon: Sounds like, sounds like that's happened for you. Uh, you've performed in lots of places. Carnegie Hall, I don't think, uh, presents any great, uh, intimidation to you. How is it playing at the Supreme Court? What's that like?
Tommy Mesa: Yeah, yeah. That is, that is very fun. Um, you know, it's, you kind of feel like you are…
Jeff Spurgeon: I'm sorry, could you just say that again?
Tommy Mesa: Yeah. Um,
Jeff Spurgeon: It's very fun to play at the Supreme Court. Those were your words, right?
Tommy Mesa: Those were my words. Yes. Exactly. I gotta say it is like, you know, you feel like a, a foreigner going into the Supreme Court, like, I don't belong here, but somehow, I'm here.
You know, there's all these background checks to make sure you can get through the front door. And, um, you know, uh, Justice Sotomayor, uh, she organizes an event every year and, um, for, for Sphinx. And, uh, I've played at that, that kind of award ceremony a couple of years now. And this coming year, um, I'll be actually getting the award instead of just playing for it. So, I'm, I'm actually very excited about that. And that's the Sphinx Medal of Excellence.
Jeff Spurgeon: That is a great honor. Indeed.
Tommy Mesa: Yeah, it is.
Jeff Spurgeon: You talked about, about feeling like you don't belong here, and I feel you were referring to you being at the Supreme Court, but, but that feels like it, that's a piece of what Sphinx is about to make sure that everybody does. It feels like they belong in a place where classical music is.
Tommy Mesa: 100%. Yeah. And that, that is, you know, not just with people and, you know, compositions, but, but with the sense of family that everyone creates, with every move that everyone makes in the organization. I mean, it just feels like there's real, you know, wonderful care going on.
Um, you know, and, you know, it's, it's one of those things where, uh, you know, as, as a soloist on their roster, the relationship is manager to performer. And a lot of the times those relationships with manager/performer are very, very, you know, they're very professional, and they stay that way. But, but this feels like there is a real personal touch, a personal support that they provide for their soloists.
And, uh, I've enjoyed that. And I've gotten to know, you know, wonderful people like Afa, of course, and, and Andre who are at the head of the organization. And, and you know, of course, Aaron, you know, formally, um, but just wonderful people who genuinely care about us as people. You know.
Jeff Spurgeon: Tommy Mesa, you have a fabulous career, and you're part of a fabulous organization. Congratulations on all your honors from Sphinx, and thanks for talking to us tonight. It's wonderful to be a part of this celebration.
Tommy Mesa: Thanks a lot. It's an honor. Thank you.
Jeff Spurgeon: The stage is being reset for the world premiere of Xavier Foley's work called An Ode to Our Times, and it will feature Foley himself playing bass and violinist Hannah White. This is not Xavier Foley's first Carnegie Hall premiere either. He wrote a work called for Justice in Peace, which was premiered by the Sphinx Organization in 2019.
Xavier Foley: Good evening. My name is Xavier Foley, the composer and one of the performers in the next piece. This work we are about to perform for you was written less than six months ago when Sphinx was creating a program that would tell the stories of our times. An Ode to Our Times is a celebration of the resilient spirit of our people.
It is about the courage, strength, and the promise that comes when we all connect. It is exactly what we are experiencing right now. Together I am joined by my friend and colleague, virtuoso violinist Hannah White. So please welcome her to the stage and enjoy An Ode to Our Times.
MUSIC – Foley: An Ode to Our Times
Jeff Spurgeon: A world premiere coming to you from Carnegie Hall Live. That work. An Ode to Our Times its title, a composition of Xavier Foley who played that world premiere on bass, along with Hannah White, a member of the Sphinx Virtuosi at this concert celebrating the 25th anniversary of the Sphinx Organization.
That is one of three premieres in this concert tonight. That one, a world premiere of Xavier Foley's music. A jubilant welcome now from the crowd here as Aaron Dworkin, founder of Sphinx comes to the stage, and he will share a few words of his own on this very special anniversary occasion.
Aaron Dworkin: Wow. Thank you so much. It is an extraordinary, extraordinary moment to be able to be here. And as I was thinking about remarks to share, since so much of how I speak these days is as a poet journalist, I thought I would share them in poetic form. In part, inspired by Maya Angelou's iconic poem "Still I Rise," so I entitled them Rise.
Eight years before my birth, this hollowed hall trembled with the strains of a black man's violin whose resonance waned too soon for too many who do not know the name Sanford Allen.
And the same is certain for me and ultimately you as such is the lesson of memory and history without which we would not be. But this music brings immortality to composers and creators capturing a reality of the lives we lead. A rebel violinist destined for desertion. There was a lack of family for me, byproduct of adoption and reunification where you remain the ancillary additive of a blended family.
My community was built by those whose identity graced stages and delivered an attachment unconditional. Beyond the art we make and lives we urgently transform. I took a step and planted the seed to bring a permanency to this delicate discipline that defines our human condition. In the end, a movement constituted from ingredients of talent and noble ambition for which my greatest contribution was merely its inception.
Afa has taken Sphinx so far past its creation and each of them so much more than I ever was, and yet I am so much more because of them. So I am filled with obligation, grown from the Virtuosi's devotion of practice and craft pursued with courage to take the stage that wasn't built for them yet now they call their own.
And Tommy Mesa's sonorous cello solicits strength as battles still lie ahead for the incomplete story of our art form is yet to be penned. And I may not get there with you, my friend. Like Martin, I see the land of promise we will realize in the harmonies manifested by Jesse Montgomery. In genuflection like Angelou, I rise in ovation to them.
I rise to what they convey with creative cultural fusion. Xavier Foley's fingers bearing notes, expelled from a principled soul to the musical page. I rise. Amaryn Olmeda's melodies and oral turbulence echoing my children's laughter in the morning. So I rise. Carlos Simon's chordal remedies restoring a democracy diminished within audiences of diversity as I rise. Rubén Rengel's regal virtuosity, rendering in awe of immensity for the rigor required, gaining a perfection within a discipline of complexity I never attained.
I rise. Steadied by the E string of Hannah White, allowing hope spilling across my furrowed brow from the tragedies of the day, compelling me to rise. As my founding vision is traced by Valerie Coleman's victorious voice depicting our people's protection for our youth in a world of dereliction. In recognition, I rise.
I rise, Joseph Conyers, for your compassion of sound, enveloping me with a profound character and capacity for greatness and generosity. I rise. I rise for their fearlessness. I rise for their black and brownness. I rise for their boundless intensity. I rise for my soul renewed. I rise for La Familia. This Sphinx family.
In gratitude, I rise.
Jeff Spurgeon: Aaron Dworkin, the founder of the Sphinx Organization, paying homage to the musicians and the sense of family found among these musicians that you are hearing in this broadcast. A well-deserved and most exalted round of applause for Aaron. There is one work left on this program, the final movement of Beethoven's Sonata for Violin and Piano in A Major, a work known today as the Kreutzer Sonata named for a violinist who surprisingly never played it. But, when it was premiered, it was known as the Bridgetower Sonata named after the musician for whom it was originally composed, a violinist and composer of African descent. A friend, at least for a while, of Beethoven, a man named George Bridgetower. The irascible composer Beethoven renamed the Sonata when he and Bridgetower had a falling out.
And now, here comes the Presto movement from that Beethoven Sonata. Number nine, the Kreutzer Sonata made into an arrangement for strings by Rubén Rengel and played by the Sphinx Virtuosi from Carnegie Hall Live.
MUSIC – Beethoven: Finale (Presto), Sonata for Violin and Piano No. 9 in A Major, Op. 47, "Bridgetower"
You might have recognized that music in another form for violin and piano, the final movement of Beethoven's Sonata No. 9, Op. 47. A work known for many years as the Kreutzer Sonata, but this particular arrangement was made by the Venezuelan violinist Rubén Rengel, who is on stage now at Carnegie Hall, saluting the performers of his arrangement of this work by the Sphinx Virtuosi.
And now curtain calls for some of the other performers on this concert, celebrating the 25th anniversary of the Sphinx Organization. This concert coming to you from Carnegie Hall Live. So on-stage, violinists Amaryn Olmeda and Hannah White, cellist Tommy Mesa, and bassist, Xavier Foley performers, composers, all members of the Sphinx Organization, a social justice organization dedicated to transforming lives through the power of diversity in the arts.
They celebrate their 25th anniversary with this concert that comes to you from Carnegie Hall Live. We heard several premieres, a world premiere, couple of New York premieres, including a work by Valerie Coleman, who is now on stage receiving applause from the audience after the world, uh, the New York premiere of her work, Tracing Visions.
All of these musicians have been part of the Sphinx Organization, which was started in Detroit 25 years ago by Aaron P. Dworkin. And over those 25 years, the organization has grown to include an ensemble, which you've heard tonight, the Sphinx Virtuosi, as well as the Symphony Orchestra Award programs for many kinds of musicians, education programs, training for administrators, and much more.
We're really happy to welcome to our Carnegie Hall live microphone, Valerie Coleman, who had an amazing experience tonight at Carnegie Hall. Congratulations on your new work Tracing Visions and its first performance here at Carnegie tonight.
Valerie Coleman: Thank you so much. I'm thrilled to be here. Um, the Sphinx Virtuosi they performed amazingly
Jeff Spurgeon: They're such a tremendous ensemble.
Valerie Coleman: Yeah. Truly heartfelt playing, rhythmically sound, everything just all together in a beautiful way they really brought together.
Jeff Spurgeon: Yeah. Tell me about your work. It, it was, it was, it's wonderful Tracing Visions. And it, it's in two such distinctive moods. And the first mood, you wrote it as a lament, and I want to ask you about the process of writing that.
And it's terrible to ask composers about their process, but you can throw the question aside and say, I won't do it, but, but you must have spent some time in a very painful and dark world to have this music come, or did it come to you out of that? I guess I'm asking how much of this is inspiration and how much of its perspiration?
Valerie Coleman: Oh, both in equal parts. But I, I tell you, the events that happened in Uvalde, um, really jumpstarted the process because I'm a mom of a nine-year-old who's just right here next to me, wearing her, her ruby sequined jacket.
Jeff Spurgeon: That is a, that is a fabulous jacket.
Valerie Colemand: It is indeed. Um, but yeah, what happened to Uvalde, um, the movie that's coming out, um, about Emmett Till, um, and also thinking about Ruby Bridge, it's made me really think about how parents, um, really put a lot of faith and a lot of worry. Um, we, we contain both in, I don't know how, what kind of proportion, um, but that feeling that our children should be safe and the need to keep them safe, the need for them to grow and find their divine pattern um, is, is of utmost importance. And I thought that that would be an amazing message that ties, um, into what Sphinx is all about: helping, uh, youngsters to realize their talents and become all that they can be. Which leads me to the second movement, Amandla, which is power, right? Sphinx has done so much to really, truly transform lives.
So what better way, um, to celebrate that than to put Morse code at the beginning with the word "Sphinx" over and over again, um, in such a way that it rallies this sense and groove of power.
Jeff Spurgeon: It was, it's a, it's a wonderful note. I'm wondering, who knows Morse code, it, how do you know Morse code?
Valerie Coleman: Oh, you know, we composers, we gotta study some things. That's the best part about creating, you dive into things, and you learn about history. You learn about different techniques in the world and try to transform them into music, find those connections so that audiences may share in the process as well.
Jeff Spurgeon: When did your connection, your relationship with Sphinx begin?
Valerie Coleman: Oh, that's a good question. I don't, you know, Sphinx to me is like a really great friend that you've known a long time that you can't exactly point a finger to that moment that of meeting. But I think I've admired Sphinx for a very, very long time. Um, I knew about their platform, I knew all the people. It seems like those that come, that have come out of Sphinx, um, whose lives have been transformed.
So, in a way I've been this, this family member from a distance. And so, when they asked me to write a piece for them, I just had this, um, sense of "at last, let's go, let's do something here." So, um, that's why the piece, in particular, the second movement was a real joy to write. Um, the first movement was a little going deep, but the second movement was a true celebration.
Jeff Spurgeon: Well, and you heard the response of the audience, they were with you all the way and with the performance by the Sphinx Virtuosi as well.
Valerie Coleman: Thank you much.
Jeff Spurgeon: You're having, you're having a wonderful time right now.
Valerie Coleman: Oh yeah.
Jeff Spurgeon: This is not your only recent premiere at Carnegie Hall. Uh, and so what else is in, what else is coming up? Can you talk about some upcoming projects that you have?
Valerie Coleman: Yeah, absolutely. Um, I'm going to be writing for the New York Youth Symphony, um, NYO2. Um, and that is going to be a five-minute work that is commissioned by Carnegie Hall and another work that is going to be premiered by the LA Phil, um, which is actually a commission that happened a while ago, but it's coming back around in a different form. And it's a dedication to Serena Williams, um, and her retirement and the greatness that she is.
And so the LA Phil's going to take it on with Monica Ellis on bassoon playing that solo. And it's a really interesting depiction right from the tennis match all the way to her triumph.
Jeff Spurgeon: Oh, that's just great. Valerie Coleman, thank you so much. Congratulations on yet another premiere at Carnegie Hall on this Sphinx Organization's celebratory concert. Thanks for spending a little time with us.
Valerie Coleman: My pleasure. Thank you so much.
Jeff Spurgeon: And with that, we bring this Carnegie Hall broadcast celebration of the Sphinx Organization's 25th anniversary to a close. Our thanks to Clive Gillinson and the staff of Carnegie Hall. WQXR's team includes engineers, Edward Haber, George Wellington, Noriko Okabe, and Duke Marcos. Our production team, Lauren Purcell-Joiner, Eileen Delahunty, and Laura Boyman.
I'm Jeff Spurgeon. This program is a co-production of Carnegie Hall and WQXR in New York.
Copyright © 2022 New York Public Radio. All rights reserved. Visit our website terms of use at www.wnyc.org for further information.
New York Public Radio transcripts are created on a rush deadline, often by contractors. This text may not be in its final form and may be updated or revised in the future. Accuracy and availability may vary. The authoritative record of New York Public Radio's programming is the audio record.