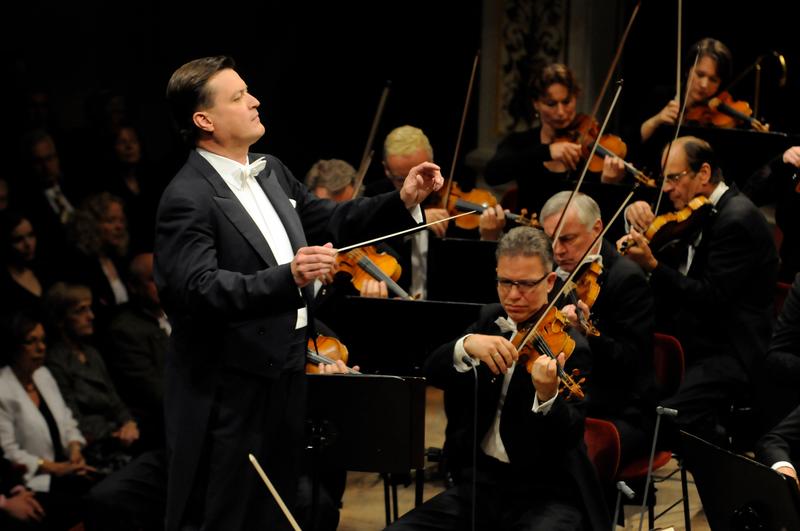 Transcript
Where to?
Carnegie Hall, please.
Okay, here are your tickets. Enjoy the show.
Your tickets please? Follow me.
Jeff Spurgeon: On this broadcast from Carnegie Hall Live, we're telling stories, two stories from Germany and Austria. Our storytellers tonight are musicians from one of the world's most celebrated orchestras, the Vienna Philharmonic. I'm Jeff Spurgeon backstage at Carnegie Hall, alongside my fellow spinner of tales, John Schaefer
John Schaefer: And oh, what tales we shall tell in the next, uh, hour and a half to two hours here at Carnegie Hall. We have two tone poems as they're known in music terms. One is from the German composer, Richard Strauss. We'll hear his Alpine Symphony about his love of nature. He was a, a mountain climber himself as well as a composer. And the other is for Verklärte Nacht or Transfigured Night by the Viennese composer Arnold Schoenberg. Now, Jeff, people see.
Jeff Spurgeon: I felt a little chi, I felt a little chill go down my spine when you said that name. Why does that happen?
John Schaefer: You know, uh, Schoenberg is known for kind of upsetting the world of tonality, but that revolution of his at the early part of the 20th century came out of something.
Jeff Spurgeon: No, you bet.
John Schaefer: And it came out of these ultra-romantic, lush, beautiful works like for Verklärte Nacht or Transfigured Night that he wrote at the end of the 19th century. And both of these tales will be told by one of the most storied of European orchestras. You see what I did there? Tonight, it's the Vienna Philharmonic led by the German conductor Christian Thielemann.
Now the Vienna Phil does not have a principal music director, so it's a thrill and a privilege for conductors to get a chance to, to drive this Mercedes-Benz of the orchestra world. Thielemann has a long history of conducting the Vienna Philharmonic, one that goes back 40 years. And he told us some conductors might be intimidated by giving too much direction to this esteemed group, but he said for him that hasn't been the case.
Christian Thielemann: When you meet an orchestra of this quality, then you have so much respect that you don't dare to say something. No, they want you to say and to do something because they know the repertoire very, very well and uh, they are curious, and they want to know your point of view. So, as they are so nice in a rehearsal and so friendly, then I felt during all the years that I was relaxed, too. Yeah, and so I could give my very best.
Jeff Spurgeon: Conductor Christian Thielemann. The first work on the program tonight is by Schoenberg - Verklärte Nacht, written in 1899, and based on a poem by Richard Dehmel, um, a poem from a collection called Woman and the World. The story of the poem and of this musical work is about two lovers walking through a moonlit forest.
The woman is in dread. She tells her lover that she is pregnant by a man she used to know, and she is fearful of her lover's reaction now. But unexpectedly inspired by the natural beauty of the woods, the beauty of the night, he embraces the woman and offers to raise the child as her own, the two of them together.
John Schaefer: And the title Transfigured Night plays out in the music. Schoenberg originally wrote this piece for string sextet, but we know it usually in this format for string orchestra. And the material at the beginning, you, you can almost feel the darkness of the night and the clouds scuttling across the sky. That music returns transfigured at the end when the night is suddenly full of hope and and wonder.
It's an extraordinary piece, uh, presented several years before Schoenberg would unveil his 12-tone system. So, this really is the, the height of the German Austrian romantic tradition and conductor Christ- uh, Christian Thielemann told us that the then 25-year-old Schoenberg was still very much conforming to the romantic system of composition and that this is a very challenging piece for the orchestra.
Christian Thielemann: And Schoenberg was very young and was in this, in a cage. But this is a beautiful cage. And it was, it is one of the most beautiful pieces ever written and has such a great atmosphere. It's extremely difficult for the strings. It is a, it is a piece in which you have to be very much aware of not adding too much sugar and not doing too much.
Jeff Spurgeon: And the cage that Thielemann refers to is the cage of romanticism and of harmony, as it had evolved to that point in music. Verklärte Nacht was written right on the cusp of the 20th century, and Schoenberg would soon turn the musical world upside down.
Now the Strauss work that we'll hear in the second half of the program, an Alpine Symphony was written 16 years after Verklärte Nacht. And as a contrast, it has its feet still firmly planted in the romantic camp, but with some changes. Thielemann told us how all the composers in the late 19th and early 20th centuries were influenced, which is maybe a kind word by Wagner's Tristan und Isolde. It had such an enormous impact on music at that time, especially the Tristan chord.
John Schaefer: That that four note Tristan chord, as it's known, was just, that was the sound of Wagner kicking open the door on the house of tonality and inviting in all of the other sounds. I mean, it's not so much that he put together four notes that had never been put together before. I mean, you can, you can actually spell notes a couple of different ways and if you change the spelling of the Tristan chord, it's, it's a not uncommon chord.
However, in the context of the rest of that passage, it is totally off-key and admitting all kinds of freely tonal and perhaps even atonal possibilities, which Arnold Schoenberg would pick up on, uh, years later. And Christian Thielemann told us a little bit about this long shadow that this, this chord, this opera by Wagner cast on the composers of the time.
Christian Thielemann: Tristan was a shocking nightmare for everybody, so people could not get away from it. And then they had to, and there were different solutions to get away. And the solution Schoenberg chose was the free tonality first, which is extremely interesting. He tries to do, there are some things are tonal and then it is so free and let's say wrong notes and he didn't know where to go and then he invented the the 12th tone, uh, which is I think a good solution for him, not for everybody else. Yeah. And other people would go a different way, like Strauss for example. The older Strauss got more subtle. He got when, when you hear his last operas or especially Capriccio or so, he gets always slimmer. Yeah. And and more refined.
John Schaefer: It's interesting to hear conductor Christian Thielemann use words like slimmer and more refined about the Strauss piece because Jeff, as we will hear in the second half of the program, it is enormous.
Jeff Spurgeon: The orchestra is huge, and the sound is huge. Right.
John Schaefer: It's totally sumptuous. And if Strauss and Schoenberg seem on paper to be a strange pairing, they are both growing out of this watershed moment that happened with Wagner's Tristan und Isolde and the break in tonality that that four note Tristan cord represented.
Jeff Spurgeon: Yeah, it was a complete revolution. There was, there was nothing else to do after Wagner did what he did, they had to find another way. All the composers did. And now the Vienna Philharmonic on stage, stage door opened, and out walks conductor Christian Thielemann asking the Vienna Philharmonic to rise to its feet for a warm greeting by this audience at Carnegie Hall.
We are off on a great storytelling adventure. But first, the first story is Schoenberg's Verklärte Nacht coming to you now from the Vienna Philharmonic and conductor Christian Thielemann from Carnegie Hall Live.
MUSIC - Schoenberg: Verklärte Nacht
John Schaefer: From Carnegie Hall Live, that is Transfigured Night, Verklärte Nacht, the original German title of a work by Arnold Schoenberg, written at the very end of the 19th century and played here by the Vienna Philharmonic Orchestra. Christian Thielemann conducting a work by a man who in the early 20th century would turn the classical music world on its head. But no hint of that, uh, that controversy and, uh, the 12-tone technique that Schoenberg would later develop in this exquisite piece of late romanticism, Transfigured Night by Arnold Schoenberg. Backstage at Carnegie Hall, I'm John Schaefer, alongside Jeff Spurgeon.
Jeff Spurgeon: And now a few of the section leaders are on their feet. And now the rest of the Vienna Philharmonic and we should say it's just the string section. And no small company of string players. I counted- I may be incorrect by a number or two- 58 players on stage for this amazing work. An enormous string orchestra.
John Schaefer: And after intermission, we will get the full shebang, the whole Vienna Phil.
Jeff Spurgeon: More than twice as many.
John Schaefer: For, uh, for the Richard Strauss piece, the Alpine Symphony, but, uh, certainly no lack of sound from the string section of the Vienna Philharmonic in that work by Arnold Schoenberg. And I should say that, you know, Schoenberg was a guy who, who knew how to end a piece. I mean, the, the conclusion of, of Verklärte Nacht, of Transfigured Night is in fact a transformation of the music that you heard at the beginning of the piece, and which recurred in the middle. And I will put in a plug for yet another hyper romantic work by, uh, Arnold Schoenberg, the Gurre-Lieder.
Jeff Spurgeon: Yes.
John Schaefer: An ambitious work that is even bigger than the Strauss tone poem that we'll hear later. A work so big, in fact, that the music publishers had to make a special size of music notation score paper for him to write on.
Jeff Spurgeon: It's enormous in every sense, uh, that work and,
John Schaefer: and ends with a glorious C major chord to herald a sunrise. All this from the man who we now think of as Mr. 12 Tone.
Jeff Spurgeon: Right. The, the difficult guy. Well, he was more famous for writing the music that no one else had written before. So, that's understandable. But as you said, John, about the, the transformation of the music in this work, it completely reflects the transformation in the poem by Richard Dehmel, the first line of this poem on which this piece is based is "two people are walking through a bare, cold wood" and the last line of the poem, after the woman has confessed her pregnancy by another man, and the man has embraced the woman and the child that she will bear. The last line of the poem is "two people walk on through the high, bright night." Yeah. It's a transformation. It's not of the weather, it's of the mood and the possibility and the future. And, and the, the piece of music was a little bit controversial. Its form is a little bit unusual, but it was also controversial when the piece came out because of the poem on which it was based.
Um, there was criticism of, of Dehmel. He seemed to be not condemning premarital sex. And it was, it was scandalous in its time for that sense.
John Schaefer: He was actually arrested and charged with, uh, indecency, I believe, and blasphemy. right now. You know, we're talking,
Jeff Spurgeon: we laugh about it now. But it was no laughing matter at the time. So that I think at least for me, adds a tremendous amount of context to this work and really just increases its beauty. How many works can you say are about a journey from fear and guilt to one of forgiveness and compassion and consolation and hope for the future? It's so powerful in that way I think.
John Schaefer: It, it, the, the original poem is a moment of grace and um, and to be arrested for that says a lot about the state of Europe at the end of the romantic period.
Jeff Spurgeon: I know.
John Schaefer: It was the- although they didn't know it at the time- they were coming to the end of the European Empire period. And so, the transfiguration of Music by Arnold Schoenberg from the 19th into the 20th centuries was part of the same context of an historic upheaval,
Jeff Spurgeon: An alteration in all kinds of, of culture and society in that part of the world.
That is absolutely right. Well, it's intermission of this concert that we're bringing you from Carnegie Hall Live tonight, the Vienna Philharmonic performing music by Arnold Schoenberg and in a few minutes by Richard Strauss. But right now, we have a few minutes to, uh, spend with one of the members of the Vienna Philharmonic.
Her name is Laura Kusztrich, and she joined the violin section just a couple of years ago. Welcome to the microphones of Carnegie Hall.
Lara Kusztrich: Thanks for having me.
Jeff Spurgeon: Is this your first performance in Carnegie Hall?
Lara Kusztrich: No, I've performed here in 2022. And in 2019.
Jeff Spurgeon: You're an old veteran.
John Schaefer: And how long have you been with the Vienna Phil as opposed to the Vienna State Opera? Because people, I, I think forget you, you have to work in the Vienna State Opera Orchestra first to get to the Vienna Phil, right?
Lara Kusztrich: Exactly. You audition for a position in, uh, Vienna State Opera Orchestra and kind of three years after you start at Vienna State Opera, you become a member of Vienna Philharmonic, but you basically start playing the Vienna Philharmonic concerts right from the beginning. So yeah, I started at Vienna State Opera in September 2020.
Jeff Spurgeon: Is it, is it a good way to learn? Is it a good way? I mean, because you're in the opera orchestra, so you are grinding away night after night after night. It's a, it's quite a discipline, I would think.
Lara Kusztrich: It definitely is. And I think it's also really cool that you have both, that you have like playing in the pit of Vienna State opera and playing on the most beautiful stages of the world, and you, it really enriches like each other. I think the, the singers, the listening to the singers, like it's a, it's a living organism at the Vienna State Opera. And then you can take that to stage and also keep that kind of homogeneity that you have from like your sound in, in inspiration from the opera. Yeah.
John Schaefer: Now Laura, you are from Vienna, right?
Lara Kusztrich: I'm from Vienna. I was born and raised there, yes.
Jeff Spurgeon: So, when was your first visit to the Musikverein or the Vienna State Opera? How old were you when you first heard it?
Lara Kusztrich: I can't remember, but I was a kid. Definitely. Yes. I mean, I remember going to the standing area at Vienna Musikverein, listening to the greatest violinists, you know, and also of course Vienna Philharmonic.
Jeff Spurgeon: When did you say to yourself, I would like to do that, or dared to think I might be able to do that.
Lara Kusztrich: Well, actually I started at the age of seven. I could play the violin and I knew right away I wanted to be a violinist. But it just kind of, uh, I figured it out kind of later to that I wanted to become a member of this fantastic orchestra.
John Schaefer: Yeah. Well, and here you are with your hometown orchestra, and you've just played a piece by one of your hometown composers. I know he's considerably before your time or my time, but does that, does that mean more when you're keeping alive that, that tradition of Viennese music making?
Lara Kusztrich: Well, the tradition of Viennese music making definitely is extremely important to me because I think it's a very unique thing that also kind of, I don't know, it's, um, linked to the Viennese language, like how you speak or how your kind of, that kind of Schmäh like the kind of joke and I, that's really important to me. And I think it's, it's really important that we treasure that, that we know that it's a treasure and that we keep, keep it living, keep it, keep it, keep it alive.
Jeff Spurgeon: So, you've worked with lots of opera conductors and lots of symphonic conductors. Maestro Thielemann is both of those. What has he told you about these pieces? What are you bringing from him to these performances?
Lara Kusztrich: Well, I think he's a master at not only creating like really magical moments in like during the piece but creating that arc from the beginning of a piece till the end. And he's, he really knows how to celebrate it, you know? It, it's really all these richnesses that, that the music that the score gives, he carves them out and makes one amazing event out of it. That's so beautiful. I really love working with him.
John Schaefer: He was telling us, um, we, we heard from him earlier in the broadcast about how some conductors might be a little intimidated by the Vienna Philharmonic and not want to really insert themselves and their, their thoughts and feelings about a piece, but that he had no problem with that. Is there a real kind of rapport, do you, do you have a special rapport with conductors like him?
Lara Kusztrich: Well, yeah, I think conductors, when they manage to kind of get into the heart of the musicians, like of Vienna Philharmonic, then it's like super cool and it's like, I think that, um, Christian Thielemann is very much liked by the orchestra. And he's also very friendly and respectful like he respects the orchestra. You can feel is that there is respect from both sides, and I think that's really important and really enriching.
John Schaefer: Well, I know you've got another big piece to play. A second,
Jeff Spurgeon: A mountain to climb. We might say.
John Schaefer: [laughs] A mountain to climb. Very nice.
Lara Kusztrich: Absolutely.
Jeff Spurgeon: Well, so go enjoy a little bit of your intermission. Thank you for this performance in the first half. It was just wonderful. Such a pleasure to talk to you.
Lara Kusztrich: Thank you so much.
Jeff Spurgeon: Thank you so much, Lara Kusztrich, in the first violin section of the, the Vienna Philharmonic. How old she looks at, she's what 14? She looks 14, 15 years of age. It's remarkable. I don't know. All the players are getting younger all the time for me, no matter what the orchestra.
John Schaefer: Or is it possible that... nope. Nevermind.
Jeff Spurgeon: Couldn't be, couldn't be. You're listening to a broadcast from Carnegie Hall Live. This is Classical New York, 105.9 FM in HD WQXR Newark and 90.3 FM WQXW Ossining.
John Schaefer: Now this concert we're presenting from Carnegie Hall offers two examples of what is sometimes known as program music, that is pieces composed with specific ideas of what the music is about or what it depicts. Uh, you could call it music that comes with instructions, but sometimes images and meanings get attached to music that have nothing to do with what the composer intended. So, does that mean we're hearing the music wrong? How does music we love change when we learn something about who or why or when it was written? Jeff, you've put together a, a, a few examples to show what we're talking about.
Jeff Spurgeon: Rossini's opera William Tell was first performed in Paris in 1829. It's a story set in Switzerland in the 13th century. But in the middle of the 20th century, the last section of this opera's Overture was one of the most famous pieces of music in the American popular conscience, and we didn't think of Swiss soldiers on the march for a minute when we heard it.
What we thought of was a fiery horse with a speed of light, a cloud of dust, and a hearty high of silver. The Lone Ranger, the masked Texas crime fighter, known as the Lone Ranger, appeared on a Detroit radio station in 1933, became a hit across the country, moved television and brought Rossini's Overture with him. Who hears that music and thinks of Switzerland?
What do you think of when you hear this?
I'll bet it isn't intrigue amid the inquisition in seventeenth century Venice, but that's the background of this music. A ballet from the opera La Gioconda. You more likely thought of dancing hippos and ostrich's and alligators in Walt Disney's movie, Fantasia, or perhaps of this.
Hello, Mother. Hello, Father. Here I am at Camp Granada. Camp is very entertaining. And they say, we'll have some fun if it stops raining.
Thank you, Allan Sherman for that very funny song, and thank you Walt Disney for putting those funny images in our head when we hear a ballet from an opera set during the Inquisition. Maybe you both did us a favor, but it hasn't always been forces outside the music business that have changed how we hear music.
Here's the Beethoven Sonata that famously evokes the beauty of moonlight over Lake Lucerne in Switzerland.
Oh, Beethoven knew how to write a picture of moonlight, didn't he? Except Beethoven didn't suggest the moonlight image. That idea came some years after Beethoven had died from a critic who nicknamed the piece, the Moonshine Sonata. And by the way, the literal translation of that term would be the moonshine sonata.
So maybe you'll think of this Sonata the next time you're whipping up a batch of corn liquor in the woods. And what about this piece?
A young English musician wrote this work as an introduction to a more pastoral piece, but its greatest association is less with a pastor than a pair of priests, because less than a year after Mike Oldfield released this recording, Tubular Bells, it was used as the theme of the movie The Exorcist.
Suddenly, it's hard to hear it as anything else. And what emotion is conjured up when you hear this?
Most people say this music sounds of sadness, mourning, grief, deep, dark emotions.
This Adagio's second movement from Samuel Barber's, Opus 11 String Quartet was not created to evoke sadness, but that seems to be how the music strikes most people. Is it because it was played on national radio after President Franklin Roosevelt died in 1945 and after President John Kennedy was assassinated in 1963?
Or because it's been used in a number of movies, perhaps most famously Oliver Stone's film Platoon about the Vietnam War. I find it hard to shake the music free of those images when I hear this work. But a listener recently told me she did not know of any of those other associations I just mentioned.
She said she finds this Adagio very erotic. Is she hearing the music incorrectly or is she just hearing the music without anyone else telling her what it's supposed to mean?
We hear music with our ears, but we listen with our minds and hearts. Our minds add ideas, contributed by words, visual images, or other kinds of associations, including as in the case of the works on this concert association suggested by the composers themselves. How and why music touches our hearts is ultimately beyond understanding, but when it happens, we make powerful, fulfilling connections to the world, to others, and to ourselves. It's one of the richest mysteries of being alive.
John Schaefer: A little bit of Samuel Barber's Adagio for Strings. And you know, Jeff, um, we were talking earlier about, uh, the, the sea change in music history with Wagner's opera Tristan und Isolde. Yes. And the kind of soaring, but never quite, uh, resolving lines of, of the love death in Tristan und Isolde. Kind of similar to the Adagio for Strings. So, the listener who heard that as erotic was, responding to something that has, you know, uh,
Jeff Spurgeon: precedence.
John Schaefer: antecedents in, in, in music history.
Jeff Spurgeon: I, I, I find this program tonight so fascinating because we are told exactly what's happening in the music. Yeah. And now there are, there are pieces that are pure music, Haydn Symphony, for instance, no program at all. And it's an entirely different experience. And yet we, we feel emotion in those works as well. And I, I just think that that's why music is so rich. It really is a language that cannot be translated, but it reaches us so directly and so deeply. It's incredibly powerful.
John Schaefer: And the amazing thing is how, uh, songs with words mm-hmm. that would seem to have a fixed meaning can also mean very dramatically different things to different listeners. Very often not what the songwriter intended at all. And this is, this is the continuing mystery and wonder of music.
Jeff Spurgeon: And I think that it, that it's true for composers as well. They are, they are expressing things that are even beyond their own understanding sometimes. It is, it's a wonderful mystery. It's a, and it's very pleasurable to be able to explore that mystery with, I don't know, say the Vienna Philharmonic, just to toss out a name. Uh, speaking of of whom, they are all around us now with the stage doors open during this inter, uh, intermission of this concert from Carnegie Hall Live.
So we have some cellists and violinists in front of us, but we're seeing some brass and woodwinds for the first time appearing. Didn't have any in the first half, but boy will they show up in this next work.
John Schaefer: The next work is, uh, an Alpine Symphony by Richard Strauss, uh, written in 1915. And to call this piece a showcase for large orchestra might be an understatement. It is a tone poem, and there is a, a, a kind of set of written directions in the score.
Jeff Spurgeon: Step by step, up the mountain.
John Schaefer: Up the mountain, back down the mountain, a terrible thunderstorm at the top of the mountain. So, you, you get all the emotions, you get, uh, fear, you get jubilation, um, satisfaction, but you get it all musically.
And, and so, the, the text, the titles, the subtitles of the Alpine Symphony by Strauss are basically a list of locations and atmospheres rather than your usual allegro or adagio or lento. So, um, it's, it's an extraordinary piece. And the conductor, Christian Thielemann tells us it's even more than just a day spent in the Alps.
Christian Thielemann: Alpine Symphony is alive somehow, birth and death with very happy moments in your life, with the moment of don't know how things will move on, bad things happening to you, and the very end. It's kind of when the, this wonderful melody comes again, then you think, oh, yes. But it has been wonderful. Yeah. And you have to live through many experiences. Otherwise, it's no life. Cannot be everything positive. And Strauss there's always a twinkle in his eyes. Yeah, it's kind of, don't take it so seriously.
Jeff Spurgeon: Christian Thielemann talking about Richard Strauss, who Strauss himself was a mountain climber. Loved the Alps, as you mentioned, John. And, uh, as you said, there's a depiction of a thunderstorm in mm-hmm in this work, which most likely is a reference to an actual storm that Strauss was caught up in, on, uh, an alpine hike in Bavaria when he was a, a young person. And Christian Thielemann told us that his favorite section of this work comes before that storm. It's the Elegy. He'll say it in German.
Christian Thielemann: The elegy and this is [vocalizes] so it's not sad, yeah. But it is kind of standstill. He just stops. After that, it's very clever. Strauss made it very clever. You know, after the, the big fortissimo and, and everything, the whole orchestra played an organ and everything. And then you go back, the mist comes, uh, and it's kind of getting the weather, the weather worsens and, and you know, and then it's this point of going back totally. He was very clever in dramaturgical things. Yeah. He knew exactly how to pace things. Yeah.
John Schaefer: Well, it's a good thing Strauss knew how to pace things because uh, he had to be very good at that to, uh, to write his operas, uh, Salome and Elektra and so forth. Uh, there is something almost operatic about the Alpine Symphony.
Huge work for orchestra. There will be some 125 musicians on the Carnegie stage and some more offstage too. Jeff, I hope you brought your, uh, earplugs because some of the, there's an offstage brass section that's going to be right where we are. And, uh, that will be happening at some point during the course of this piece. Um, we have mentioned the name Wagner numerous times during this broadcast, and just to show you how long a shadow he cast, four of the eight French horns called for in this piece are doubling Wagner tubas, instruments invented specifically for Wagner's Ring Cycle.
Jeff Spurgeon: It's, um, an amazing force of instruments, two harps and all of those horns and a string section of nearly 16. And that is simply what Strauss called for. He wrote enormous parts for orchestras, the opera orchestras, some of them are extremely large, also wrote this time. You get to see all of those people on the stage at Carnegie Hall. And in fact, they have just entered, the Vienna Philharmonic on stage. Uh, they are settling down into their seats and getting ready for this performance of Richard Strauss's Alpine Symphony.
And in just a moment, we will see Maestro Christian Thielemann take the stage again, very warmly welcomed, and the first work on this program so warmly received by the audience for that Schoenberg Verklärte Nacht. Now we have a great big journey to take. It's a, it's a whole day or as Thielemann told us a whole life, but we'll start, uh, in, in nighttime, in darkness before sunrise.
And that's when the ascent of this Alpine Mountain begins. I don't know. I've had the privilege of being at a couple of those places, John, on the sides of those mountains. And, and to wander into those forests to see those brooks, those waterfalls, those meadows in the Alps, it is just a thrill and I'm so looking forward to taking that journey in music with this orchestra tonight. Now on-stage Christian Thielemann, the Vienna Philharmonic on its feet, and we are ready for an Alpine Symphony of Richard Strauss from Carnegie Hall Live.
MUSIC - Strauss: Alpine Symphony
A whole day in the Alps. You've just spent it in this concert performance that you are hearing from Carnegie Hall Live, the Vienna Philharmonic orchestra and conductor. Christian Thielemann just brought you Richard Strauss, An Alpine Symphony. Well, John, we just had an experience thereof, um, of the battle between the magic moment that happens at the end of a piece and the enthusiasm and audience that wants to appreciate what they've just heard.
So, the applause started as soon as the piece was ended, but the conductor had not really dismissed everyone just yet.
John Schaefer: had not dropped his arms, which is the universal signal for I am done now.
Jeff Spurgeon: And so, he held it and the audience waited a moment. He just wanted to hang on to that nightfall that that begins and ends this day up a mountain top in the Alps.
John Schaefer: If you're going to play an orchestral showpiece like that in an orchestral show hall like this, you want that last note to have its life to, to let it ring out. And that's what Christian Thielemann wanted. He wanted to hear that last lingering note. And I think the audience is generally pretty happy with what they heard.
Jeff Spurgeon: Cheers now for, uh, principal horn, other members of the horn section. Thielemann is going to be calling out, uh, salutes to various members of the orchestra now some more of those amazing brass players with, as you, uh, noted earlier, John, uh, lots and lots of brass in this particular piece. We had 10 of them around us in the area that we are in just off stage, just through the stage door here at Carnegie Hall in that beginning section. There were six horn players and two trumpets, and two trombones right around us.
John Schaefer: Uh, and not doing a, um, not doing a a, a sort of ambient wash of sound, but very rhythmic, you know, hunting calls with, you know, out of sight of the conductor. Difficult thing to do. And as soon as they were done, they were all fist bumping each other.
Jeff Spurgeon: They'd done it again.
John Schaefer: Pleased with a job well done that nobody saw.
Jeff Spurgeon: Right. It was a wonderful moment to, uh, to be backstage, to experience. I'm Jeff Spurgeon alongside John Schaefer, and we are indeed just backstage at Carnegie Hall at the conclusion of this concert by the Vienna Philharmonic conductor, Christian Thielemann on stage, and he keeps pointing out individual members of the orchestra to stand.
And now a recognition for the percussion section. There's a double, uh, tubes, uh, timpani players and some exotic instruments. You heard perhaps the wind blowing in the midst of that storm. A giant wind machine, a huge wooden barrel that's turned with a piece of canvas across it to create that wind sound. And I have never seen a thunder sheet in an orchestra before you heard the thunder there.
It's a, it's a piece of metal about 12 feet high, and one of the percussionists grabs it and shakes it to make that thunder sound. And now all the Vienna Philharmonic on its feet. That was that great cheer for the orchestra.
John Schaefer: And with 125 members on stage, not counting the ones that were here with us, uh, that is quite an assortment of musical talent on the stage here at Carnegie Hall.
Jeff Spurgeon: Christian Thielemann just off stage, and he went back on stage with an accessory. He has his baton in hand. And so, I suspect that we will be getting an encore from this orchestra. And in fact, here it comes now.
MUSIC - Hellmesberger: Entr'acte Valse
John Schaefer: Well, conductor Christian Thielemann and the Vienna Philharmonic gave us a big meaty program tonight. And so, for dessert, a little Viennese pastry, the Entr'acte Valse by Joseph Hellmesberger.
Jeff Spurgeon: Hellmesberger was one of the, one of the, uh, group of composers working in the last part of the 19th century. And well, you heard that signature Vienna Philharmonic sound and that signature sound of old Vienna in that lovely little work.
Hellmesberger was a violinist, son of a violinist, became a great and successful composer, and was a conductor of the Vienna Philharmonic as well. And so, yes, just as you said, a little slice of musical sachertorte tonight to conclude our program from Carnegie Hall Live. Thielemann back on stage, the Vienna Philharmonic on its feet once again.
Yeah, that was a wonderful little slice of dessert, as you said, John, little of that signature sound after this great big program by the Vienna Philharmonic tonight of two extraordinary works from around the beginning of the 20th century. Following as Thielemann, uh, explained to us and you explained additionally, John, following that explosion in the musical world that Wagner created when he sort of broke conventional harmony and other composers were left to pick up the pieces and figure out new ways to go. Schoenberg found his own way. Hints of that we heard in his Verklärte Nacht. Strauss found his own way too, and there were even traces of that in the, all of the scope of the Alpine symphony, some Mahlerian sounds and, and even a little play at just a surprising harmonic change here and there that might not have occurred had Wagner not come along beforehand.
John Schaefer: No. The, the freeing of harmony with Wagner. We certainly heard that in both pieces and interesting that both pieces began and ended at night. Verklärte Nacht all through the night. Uh, but even with, uh, our Alpine symphony, uh, it went from night to night. Nighttime before sunrise and then, and then after sunset as well.
Jeff Spurgeon: Well, speaking of sunset, this concert's over, but we do have a couple of minutes to talk to, uh, Daniel Froschauer, who is the chairman of the Vienna Philharmonic. Delightful to see you again, sir. And thank you for a wonderful concert tonight. What a great performance.
Daniel Froschauer: Good evening. Thank you for having me as your guest.
Jeff Spurgeon: It's wonderful. And, uh, this is a big year for you in the Vienna Philharmonic, your 25th season with the orchestra.
Daniel Froschauer: That's right. How did you know that that's, that's great.
John Schaefer: you seem surprised. Have no one mentioned this to you?
Daniel Froschauer: That's funny. I, I, I've never been asked about this. Actually, I started as a substitute player in 1980 when I was 15. So, I really have seen a lot of different sides of our orchestra. My first time at Carnegie Hall was 1977 with the Vienna Choir Boys. And then, and the next time was 1988 with Leonard Bernstein playing Mahler Five here. And as I was a student at Juilliard, I, I heard many great performances here. I heard Isaac Stern, I heard Horowitz. I heard Yehudi Menuhin. You know, you know, it's, it's, playing at this hall is kind of a homecoming for me.
Jeff Spurgeon: What's, what's the difference between the sound of Carnegie Hall and the sound of the Musikverein, which is, uh, the Golden Hall that is the home of the Vienna Philharmonic.
Daniel Froschauer: Okay. Both halls radiate tradition, history, and, you know, in both halls you want to go out and play your very best. Uh, my orchestra, the Vienna Philharmonic, has a great respect for Carnegie Hall, and everybody wants to play really well here. I, I have to say Carnegie Hall is much higher. Uh, the Musikverein is, it's much, uh,
Jeff Spurgeon: the ceiling is lower.
Daniel Froschauer: Yes. And it's like a box shape. And here it's, it's round shaped. So it just has a different feeling. But both, both halls, you have a very immediate contact to the audience. And I think that's really what makes a great hall, is the contact to the audience. And, you know, New York audiences are special and, and we, we love them. And.
Jeff Spurgeon: Do audiences in Vienna ever jump on the conductor as the audience did tonight at the end of the Alpine Symphony?
Daniel Froschauer: Different, different, in a different way. But this, this was unique today, I. It was fun. It was fun, but I could already see that the people were really happy with the concert also at the, at the end of the first half. And of course, the encore piece, um, Helmesberger Valse by Helmesberger was, was perfect because, you know, after two, two truly heavy pieces in the literature, we played something really, really light.
Jeff Spurgeon: Yeah, just exactly what John said. A little slice of dessert.
John Schaefer: Mit Schlag.
Christian Thielemann: Yeah. Mit Schlag, that's right.
John Schaefer: So, um, you, you are the chairman of the Vienna Phil, but you're also one of the violinists in the orchestra and it is a democracy and has been for throughout, its, its history the orchestra, so, you're elected as chairman by your fellow musicians, that's the way it works, right?
Daniel Froschauer: That's correct. I would actually say I'm a violinist in an orchestra and then I'm also the chairman. Um, yes, everything is done by democracy and, and you know, that that's, that's the way for us to go. And that makes it very unpredictable sometimes, you know, because you think something goes in a certain way, but then it goes another way. On the other hand, it's, it's truly the best way of making decisions. And if you're not in the, in the, on the right side, so to speak, you have to learn to accept the others' opinions. And, and we basically Michael the, the, the, the Managing Director of the orchestra and I will basically do what, what the orchestra wants us to do.
John Schaefer: And who, so how does a program like tonight come together?
Daniel Froschauer: Um, at first, we talked to Christian Thielemann, what, what he would like to do. Then we put, you know, it's three programs. We wanted to show, uh, strong pieces for him. You know, we also wanted to, to play something, you know, like Schoenberg and, and, and then show um, Richard Strauss was a, a long associated with our orchestra. He conducted the first time in 1906 in Salzburg. He stepped in and he was with our orchestra until 1944. So that's a long, long time. Um, Schoenberg, um, the Verklärte Nacht was premiered by Arnold Rossi, who was a concertmaster in our orchestra. And we have been playing the orchestra version for a long time. This was the version of 1943. Um, it, it hasn't been with the orchestra for, for a while now, but, but we, we enjoy playing it.
Jeff Spurgeon: And I understand that you would create a program with a conductor. How are the conductors chosen? How, how do you work that schedule out?
Daniel Froschauer: Well, we know three years, four years in advance what we are going to do. And, and Carnegie Hall is a great partner of ours, and, and we always have our Vienna Philharmonic week around this time of the year. Um, so it's, it's, uh, pretty set. And, and so we, we wanted to come to America with Christian Thielemann for a long time, and this year it, it, it just happened. He, his schedule allowed it. And, and so we, we are happy to be here with him.
John Schaefer: You mentioned three programs, so there are two more to come.
Daniel Froschauer: Yes, it's two more programs. In the other programs. We, we, of course, we chose also pieces that we premiered, like the, the Brahms second symphony, like Bruckner Eight. Um, so these, these are pieces that special show us from a special side.
John Schaefer: New recording of Bruckner's music out today in fact.
Daniel Froschauer: We, we are doing all the 11 symphonies by, by Anton Bruckner because we count the early symphonies as well.
John Schaefer: You know the Symphony Number 0 as well?
Daniel Froschauer: The number zero it's actually number two. But, you know, Otto Dessoff then asks Bruckner, where's the theme in the first movement? And he immediately, he, he discarded it. He, he, he, he put a zero on it. So, it's now number zero. This whole project really saved us in the Corona time, because we had a lot of time all of a sudden. Also, Maestro had a lot of time all of a sudden. So, we could record a lot. Uh, you know, if, if there was a regular schedule that would not have been possible.
Jeff Spurgeon: An amazing, uh, legacy in this orchestra that continues, uh, and its collaboration with Carnegie Hall continues. Wonderful to see you again and to hear this orchestra again. What a privilege.
Daniel Froschauer: And thank you for having me on your radio broadcast.
Jeff Spurgeon: We're so pleased to do it. Daniel Froschauer who is not the chairman and a violinist in the Vienna Philharmonic. He's a violinist in the Vienna Philharmonic,
John Schaefer: …who is also…
Jeff Spurgeon: and the chairman of the orchestra as well.
John Schaefer: And our thanks to Clive Gillinson and the staff here at Carnegie Hall. WQXR's team includes engineers George Wellington, Irene Trudel, Chase Culpon, and Duke Markos.
Jeff Spurgeon: Our production team is Eileen Delahunty and Max Fine and Aimee Buchanan. I'm Jeff Spurgeon.
John Schaefer: And I'm John Schaefer. Carnegie Hall Live is the co-production of Carnegie Hall and WQXR in New York.
Copyright © 2023 New York Public Radio. All rights reserved. Visit our website terms of use at www.wnyc.org for further information. 
New York Public Radio transcripts are created on a rush deadline, often by contractors. This text may not be in its final form and may be updated or revised in the future. Accuracy and availability may vary. The authoritative record of New York Public Radio's programming is the audio record.